Items Available to Order
All Prices in CDN Funds, and do not include taxes and shipping (if applicable)
This list does not represent what I have in stock at ECH, only what has been released this week, and that I can order in. Some items I order as normal, other items are for "special order" only. If you are looking for something, and wonder if it is in stock or not, simply shoot me an e-mail and ask. If not in stock, I would happily order it in for you.
New Items Available to Order - Mar 23 - Mar 27
Wednesday, March 25, 2020

AFV Club 1/35 British Centurion Mk I Main Battle Tank
$106.25
-Centurion Mk.I turret developed with new mold.
-Metal 17 pound barrel.
-All hatches can be opened or closed.
-Ball-type weapon holder.
-20mm pole stainless gun or 7.92mm besa machine gun can be selected as a sub weapon.
-Side skirt for Centurion Mk.I.
-Centurion Mk.I dedicated rear fender.
-Centurion Mk.I exclusive exhaust louver.
-New storage boxes for the turret and car body.

AFV Club 1/35 IDF M60A1 Magach 6B GAL Tank
$149.50
-Resin turret rear storage basket.
-Resin wind sensor.
-Resin gunner's sight.
-Storage box for resin-made commanders.
-Resin engine oil and lubricant storage box.
-Resin shovel and dedicated storage box.
-Resin starting wheel.
-Resin instructor chair.
-Resin fire extinguisher.
-Gun rack for etching Gary Assault Rifle.
-Dedicated base for etching car storage box or map box.
-Chip-connected Merkava 2 tracks.


Tamiya - Finishing Abrasives Medium Pack: P180, P240, P320 (5 Sheets)
$5.00
Sandpaper that can be used when modifying and finishing Tamiya products. For use on metal, plastic or wood. Can be used wet or dry and is clog-resistant.
180 x 2pcs
240 x 1pc
320 x 2pcs


Tamiya - Finishing Abrasives Fine Pack: P400, P600, P1000 (5 Sheets)
$5.00
Sandpaper that can be used when modifying and finishing Tamiya products. For use on metal, plastic or wood. Can be used wet or dry and is clog-resistant.
400 x 2pcs
600 x 1pc
1000 x 2pcs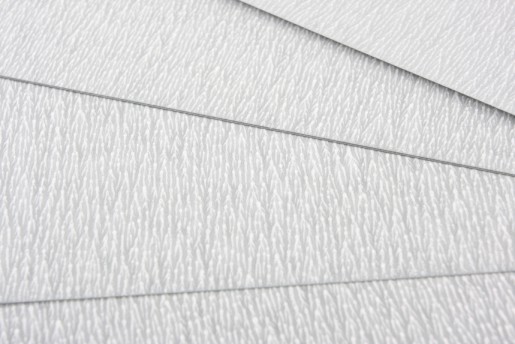 Tamiya - Finishing Abrasives Ultra Fine Pack: P1200, P1500, P2000 (5 Sheets)
$6.00
Sandpaper that can be used when modifying and finishing Tamiya products. For use on metal, plastic or wood. Can be used wet or dry and is clog-resistant.
1200 x 1pc
1500 x 2pcs
2000 x 2pcs
Friday, March 27, 2020

Academy 1/35 German Sturmpanzer IV Brummbar Mid Version Tank
$73.00
-German infantry direct cooperation fire support tank `Blumbear` will appear.
-The product recreates a larger battle chamber and gun mount with modest parts counts.
-Includes three types of troop decals and a special Twin Merit coating decal.
-The track is a belt type.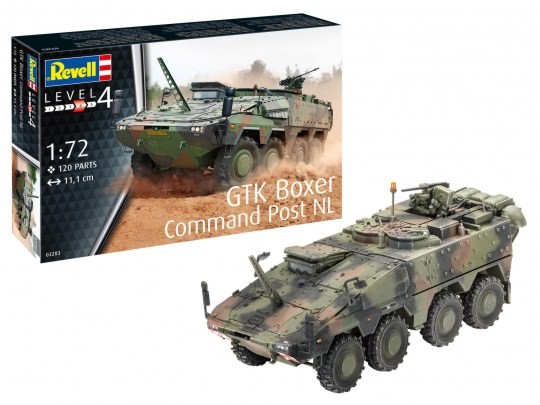 Revell Germany 1/72 GTK Boxer Command Post NL Vehicle
$23.50
Model kit of the state-of-the-art GTK BOXER transport vehicle used by the Dutch Army as a command or command vehicle.
- Detailed surface engravings
- True to original modular design
Authentic representation of the following verson
- GTK Boxer Commando Post NL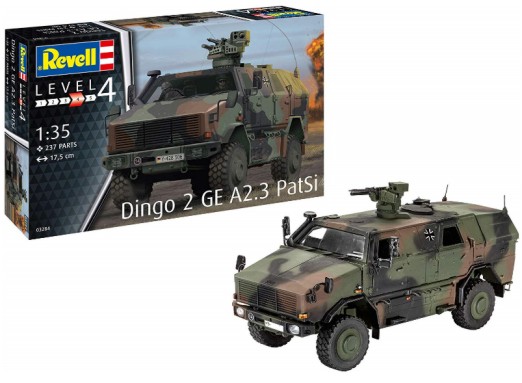 Revell Germany 1/35 Dingo 2 GE A2.3 PatSi Armored Vehicle
$44.50
Model kit of the modern transport vehicle Dingo 2 in the version A2.3 PatSi, which is equipped with a weapon station FLW 200 for patrol and fuse operations of the German Armed Forces in Afghanistan.
- FLW 200
- Detailed chassis
- Rubber tyres
- Authentic Decals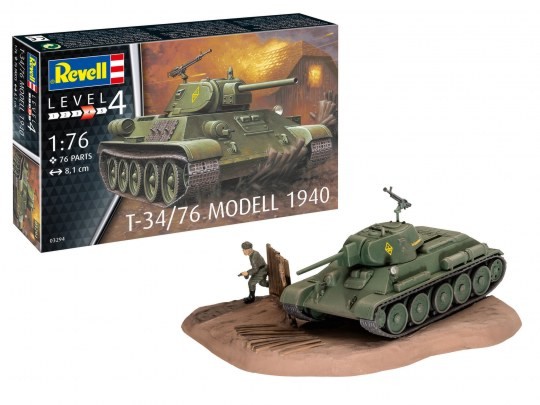 Revell Germany 1/76 T34/76 Model 1940 Medium Tank
$12.50
The T-34 was a shock for the German troops at the beginning of the Russian campaign. Totally unnoticed by them the Soviet Union had constructed a tank which was superior to any German tank with its 7.62 cm cannon.
Vinyl missile
Height-adjustable cannon
Rotating tower
Additional fuel drums
Dirama panel with board fence
1 Russian soldier figure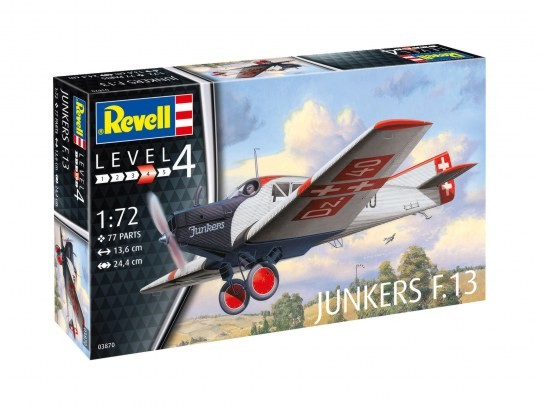 Revell Germany 1/72 Junkers F13 Aircraft
$19.75
Model of the Junkers F.13. It was a milestone in aircraft construction, the world's first all-metal commercial aircraft, first flight on 25 July 1919.
corrugated iron structure
Detailed passenger cabin
Reproduced motor
Sea version with floating bodies optional
decal with 2 versions, Gdansk and a Swiss version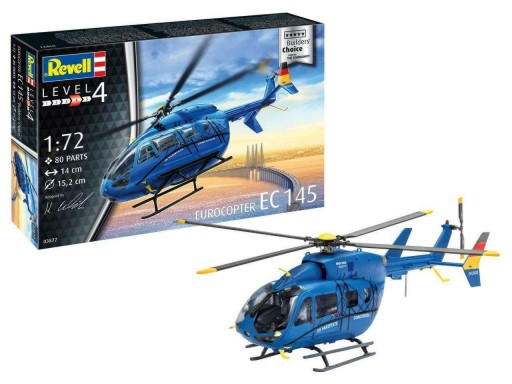 Revell Germany 1/72 Eurocopter EC145 Helicopter
$16.00
This kit of the EC145 light multi-purpose helicopter is something very special, because it shows the winning design of the "Revell Builders' Choice" competition. The Revell community was able to contribute their ideas and vote on the winning design. So the EC145 "Builders' Choice" is a model from the community for the community.
- Design Result of a Contest
- Winner chosen by the Revell Community
- A must for all Revell collectors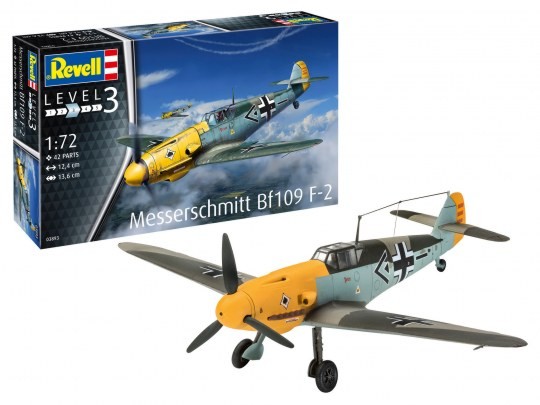 Revell Germany 1/72 Messerschmitt Bf109F2 Fighter
$16.00
A model of the Bf109, one of the most well known German fighter aircraft of the Second World War - here in the F2 version.
- Cockpit with instrument panel
- Pilot figure
- Rotatable propeller
- Under-carriage
- Decal set for one German version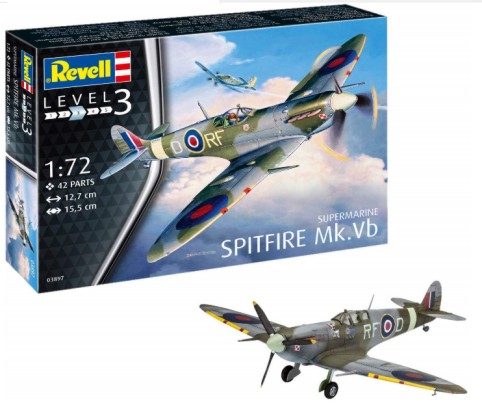 Revell Germany 1/72 Supermarine Spitfire Mk Vb Fighter
$12.50
A model reproduction of the Spitfire Mk. Vb with improved armament.
- Detailed cockpit
- Auxiliary fuel tanks
- Rotatable propeller
- Under-carriage
- Decal set for a RAF version

Revell Germany 1/48 Dassault Aviation Rafale C Combat Aircraft
$44.50
A replica model of the Rafale C, a light and agile multi-purpose fighter aircraft of the Armée de l'air which was successfully deployed in Afghanistan and Libya.
2 pylons with 6 GBU 12 bombs
Detailed cockpit
Ejection seat Detailed under-carriage
Detailed thrust jets
Decoy dispenser on the tail
1250 ltr auxiliary tanks
Two SCALP EG cruise missile's
One 2250 ltr tank
4 MICA guided weapons
Authentic representation of the following versions:
Rafale C - 330-EF NATO Tigermeet 2012 EC 5/330 Cóte d'Argent , Armée de l'Air, BA118 Mont-de-Marsan, 2012
Rafale C - 30-GF EC 2/30 Normandie-Niemen , Armée de l'Air, BA118 Mont-de-Marsan, 2017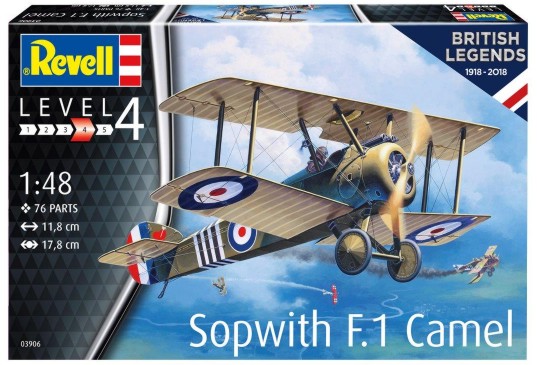 Revell Germany 1/48 Sopwith F1 Camel BiPlane Fighter
$31.00
A highly detailed model construction kit of the most successful British fighter aircraft of the First World War. The Camel was fast, very manoeuvrable and well-armed. About 5500 were built.
- Finely structured fuselage and wings
- Multi-part engine
Authentic representation of the following versions:
- Sopwith F.1 Camel, No.73 Squadron, Royal Air Force, Ruisseauville, France, July 1918
- Sopwith F.1 Camel, No.139 Squadron, Royal Air Force, Villaverla, Italy, July 1918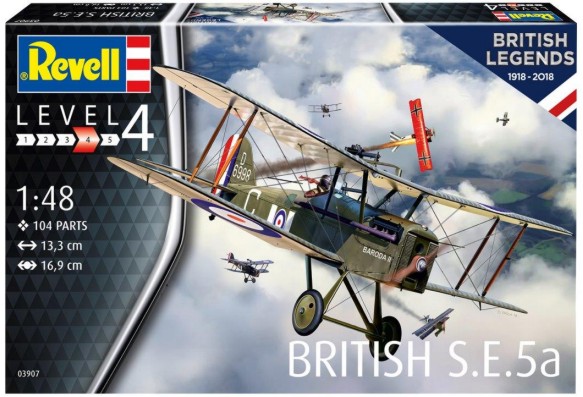 Revell Germany 1/48 British SE5a BiPlane Fighter
$31.00
Built at the Royal Aircraft Factory this single seat bi-plane could achieve 209 km/h (130 mh). It entered service in mid-1917. About 5000 Scout Experimental were built.
- Finely embossed surfaces
- Multi-part engine
- Mounted machine gun
Authentic representation of the following versions:
- Royal Aircraft Factory SE.5a, No.24 Squadron, Royal AirForce, Cappy, France, September 1918
- Royal Aircraft Factory SE.5a, No.60 Squadron, Royal Air Force, Inchy, France, November 1918

Revell Germany 1/144 F16C Falcon Aircraft
$12.50
The F-16 is considered to be one of the most versatile modern fighter aircraft. It has an almost unlimited role potential. Almost all types of weapon in the arsenal of the United States Air Force can deployed on the seven external weapon stations of the F-16 C.
- New tooling, recessed panel joints
- 2 HARM Missiles
- 2 LGB Bombs
- AIM 120 Guided Missiles
- Detailed cockpit
- Detailed Undercarriage
- Centre and Under-wing Tanks
Decals for a USAF version:
- F-16C - 149FW Texas ANG 65th anniversary scheme 2012 Lockland AFB, San Antonio, Texas, USA

Revell Germany 1/144 F/A18E Super Hornet Combat Fighter
$12.50
The F/A-18 Super Hornet is the most modern combat fighter aircraft in the US Navy and replaces the F-14 as well as the F/A-18C. Enemy targets can be attacked with significantly greater precision through the use of JDAM and Laser Guided Bombs . The F/A-18E also has an extensive arsenal of the latest generation of guided missiles at its disposal.
- New Mouldings
- Detailed Surfaces with engraved Panel Joints
- Cockpit with Ejection Seat
- Detailed Undercarriage
- 6 Wing and Fuselage Pylons
- 2 GBU-31 Pods
- 2 Mk 83 Bombs
- 2 AIM-9x Guided Missiles
- 2 Additional Wing-tanks
- Authentic decal set for following version:
- F/A-18E Super Hornet, VFA-31 Tomcatters, 75th Anniversary Scheme 2010, NAS Oceana, USA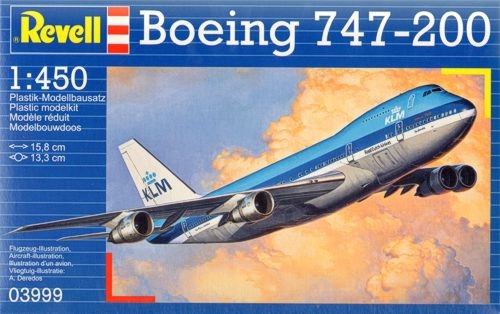 Revell Germany 1/450 B747-200 Jumbo Jet Airliner
$7.50
Up until 2005 the Boeing 747 - commonly known as Jumbo-Jet - was the largest transport aircraft in the World. After its maiden flight and start mass production
- Textured Surfaces
- Simulated Undercarriage
- 4 Engines
- Authentic decal set for following versions:
- Boeing 747-206B of KLM (Royal Dutch Airlines) September 1988
- Boeing 747-206B of KLM (Royal Dutch Airlines) July 1989

Revell Germany 1/72 Ju87G/D Tank Buster Aircraft
$16.00
By the end of the first year of the war the German Luftwaffe command must already have known that the Junkers Ju 87B was not longer capable of meeting the requirements in many respects. The gradual improvement in the ground defences and the increasing use combat aircraft during the war led to the transformation of the Ju 87 into a fighter-bomber. The D version received a more powerful engine, new aerodynamic fairing and stronger armour. Its new role was now primarily that of ground attack, including anti-tank warfare with a 37 mm cannon. In the spring of 1944 the work of converting the Ju 87 D-3 into tank destroyer types G-1 and G-2 finally began.
- Jumo 211 engine
- Movable propeller
- Detailed cockpit
- Surface structural details
- Removable engine cowling
- One twin-barrelled MG
- Two SC 50 bombs
- Two separate cannon for the G-2 version
Decals for a D and a G-2 version:
- Junkers Ju 87G-2 of 10. (Pz) St.G 3, Jakobstadt, Lettland, July 1944
- Junkers Ju 87D-3 of 4./St.G 2 Russia 1944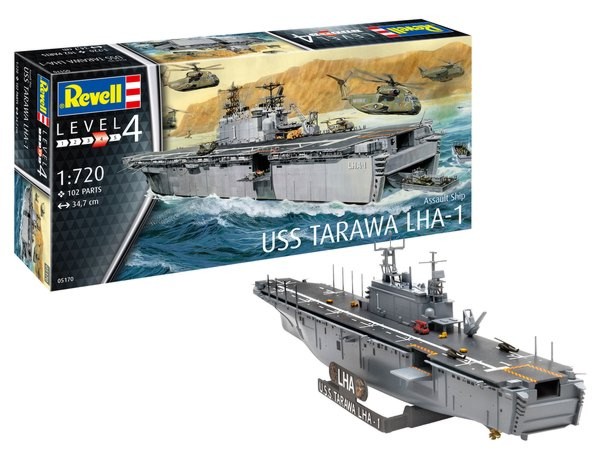 Revell Germany 1/720 USS Tarawa LHA1 Assault Carrier Ship
$31.00
Model kit of an amphibious attack ship of the US Navy. The ships are a combination of a helicopter carrier and a floating port for landing craft.
hoisting crane
Gun turrets
Landing boats
Helicopters
Display stand
Decals for 5 ships of the Tarawa class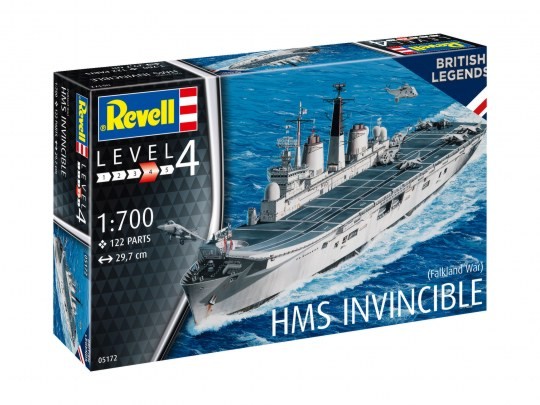 Revell Germany 1/700 HMS Invincible Aircraft Carrier Falklands War
$44.50
Model kit of the British aircraft carrier HMS Invincible, which was especially designed for the use of vertical take-off aircraft. The Invincible took part in the 1982 Falkland War.
Structured deck
4 Sea Harrier
2 Sea King-Helicopters
1 Lynx-Helicopter
Strukturiertes Deck
Display stand
Detailed decals

Revell Germany 1/72 Verena Search & Rescue Daughter-Boat
$19.75
The VERENA is the daughter boat of the high seas rescue cruiser HERMANN MARWEDE, the largest rescue ship used by the German Society for the Rescue of Shipwrecked Persons (DGzRS). The rigid hulled inflatable boat (RHIB) has an enclosed cabin and is equipped with 2 water-jet propulsion units.
- One piece hull
- Transparent parts
- Decal set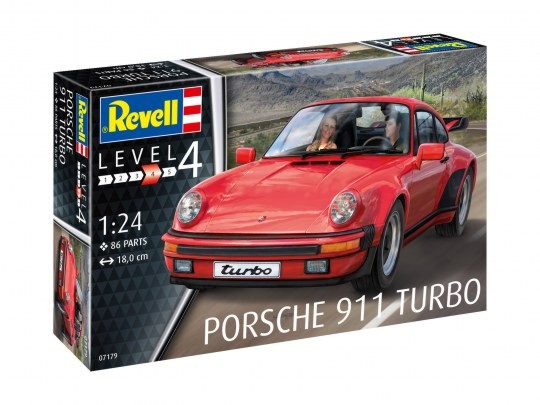 Revell Germany 1/24 Porsche 911 Turbo Sports Car
$44.50
A challenging model construction kit of the powerful 260bhp Porsche 911 Turbo which in 1974 was the world's fastest production sports car.
- Separate engine cover
- Various chrome parts including wheel rims and engine parts
- Decal set with various registration plates (D, A, NL, B, F, GB, E, I, CH)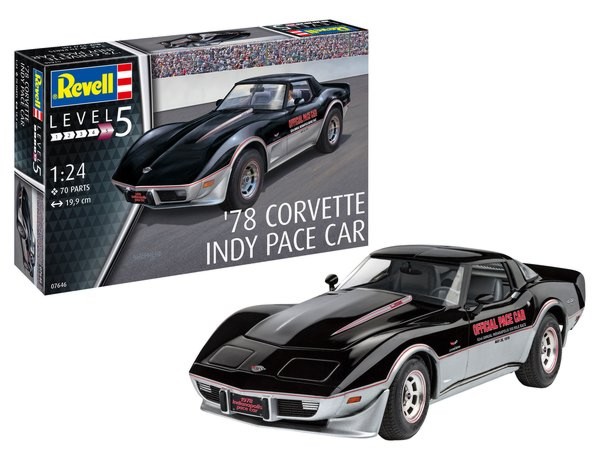 Revell Germany 1/24 1978 Corvette Indy Pace Car
$42.00
In 1978, a Corvette took the start of the legendary Indianapolis 500-mile race for the first time. General Motors thus honored the 25th anniversary of the highly successful Corvette line.
Separate movable hood
5.7-litre V8 engine detailed in several parts
Authentic sticker
New Items Available to Order - Mar 16 - Mar 20
Tuesday, March 17, 2020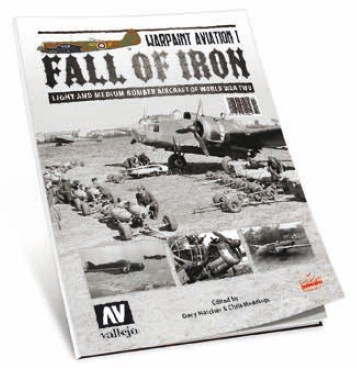 Vallejo - Warpaint Aviation 1: Fall of Iron Light & Medium Bombers of WWII Book
$37.00
Fall of Iron - Light and Medium bomber aircraft of World War 2
Authors Gary Hatcher & Chris Meddings
Fall of Iron is the first in a series of compendium volumes covering military aircraft with a focus on some of the less well-covered subjects. The series is designed to offer a brief one-stop historical reference combined with colour artwork and is aimed primarily scale modellers but offers plenty for the general aviation enthusiast too.
This first volume looks at some of the twin-engined medium bombers of World War Two and includes a selection of profiles written by Richard Mason, as well as a ground-breaking piece of research on the early B-25 Mitchell by Brian Derbyshire that offers an incisive look into the business of wartime mass-production and the vast number of changes to the ensuing airframes brought about as a result of ongoing combat experience. Other aircraft covered include the rarely discussed Tupolev SB-2, the Mitsubishi G4M Betty, Bristol Blenheim, Savoia-Marchetti SM.79, Petylyakov Pe-2 and the Handley Page Hampden.
Many of these aircraft have been overlooked as 'also-rans' by history and the scale modelling community but an examination of similar types designed for similar roles from various Axis and Allied air forces demonstrates just how much aircraft development kept pace during the conflict, and how despite their clear external differences aircraft designers all over the World were drawing the same conclusions as a result of experience gained in a shooting war.
Comprehensive enough to inform but concise enough to be useful, Fall of Iron presents a picture of Wartime bomber development that will help the reader understand the essential role these unsung machines played and the sometimes remarkable use that was made of them. This books is 92 pages

Ammo by Mig - Visual Modelers Guide Steel Series Vol 3 - T-54 / Type 59
$23.50
Steel Series volume 3. A work entirely devoted to the T-54 / Type 59 tank.
Fun and easily referenced sourcebook where you can visually analyze and distinguish the characteristic details of the variants T-54A / Type 59 and T-54B. The introduction includes historical notes about the design and development process of the different variants of the vehicle. All of this with high-quality photographs that clearly show both internal and external details.
70 pages, with more than 180 high quality photographs including close-ups of all the details.
19 fully detailed color profiles with different camouflage and markings.

WWP Books - SA-8 Gecko In Detail
$61.75
Over 450 colour photos and 10 manual drawings 120 pages, paperback soft cover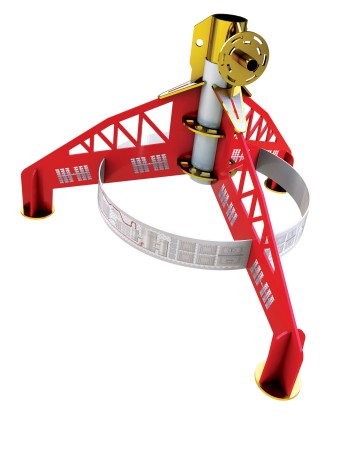 Estes Rockets - Space Corps Lunar Scout Model Rocket Kit (Skill Level Intermediate)
$12.50
When humanity returns to the moon, look for the Space Corps Lunar Scout to lead the way. Compact, easy to build, and constructed from laser-cut cardstock, this highly detailed rocket flies up to 200 feet on an Estes A10-0T engine and returns by featherweight recovery – ideal for small fields!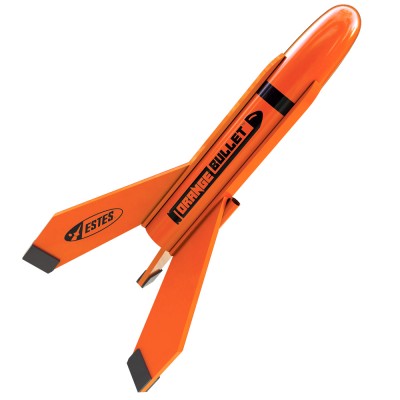 Estes Rockets - Orange Bullet Model Rocket Kit (Skill Level Intermediate)
$15.00
The Orange Bullet will be the first release in the brand new Estes Designer Signature Series. This series will re-introduce lesser known classics and launch never-before seen designs by some of the most famous pioneers of the model rocket industry. The Introductory rocket was designed by none other than Vern Estes himself!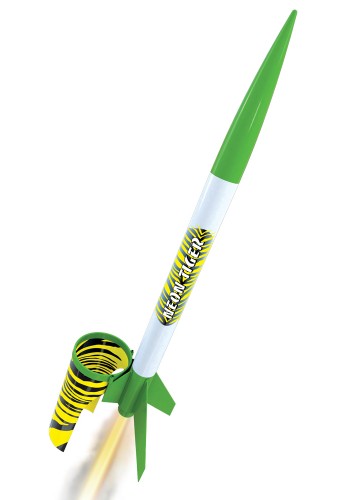 Estes Rockets - Neon Tiger Model Rocket Kit (Skill Level Beginner)
$24.75
An easy-to-build rocket with detachable glider. Watch as the scoop-shaped flyer falls away at apogee and glides to a landing while the host rocket floats home via 15 inch parachute. The 24-inch long, tiger-striped, Estes Neon Tiger is a definite "must have" for all ages!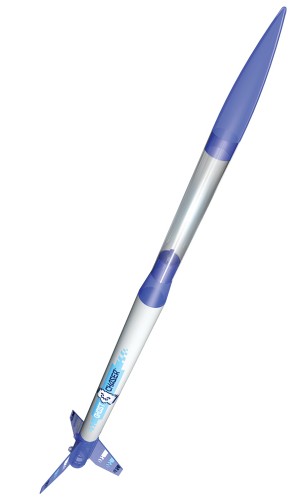 Estes Rockets - Ghost Chaser Model Rocket Kit (Skill Level Beginner)
$24.75
The translucent blue and silvery-white Ghost Chaser features a transparent cargo section for lofting your favorite small payloads to altitude. Reach up to 1100 feet on an Estes C6-5 engine. Start flying quickly with the no glue, snap-together construction and cool custom sick-on decals.
Friday, March 20, 2020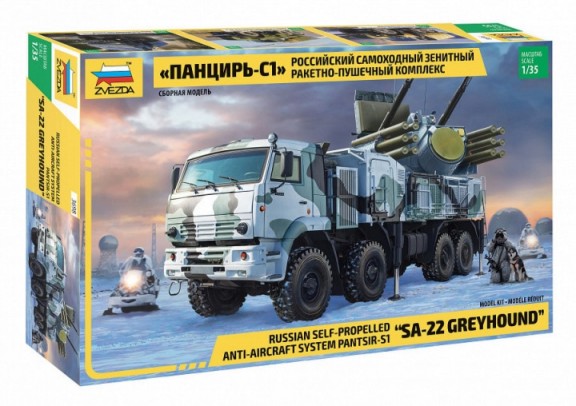 Zvezda 1/35 Russian Pantsir-S1 SA22 Greyhound Self-Propelled Anti-Aircraft System
$106.25
The Pantsir-C1 anti-aircraft missile and gun system is a short-range air defense system. "Shell-C1" was created in 1994 and adopted for service in 2010. The Pantsir-C1 anti-aircraft missile and cannon system is designed to cover civilian and military targets, including long-range air defense systems, from all modern and promising air attack systems.
The complex is equipped with a two-band three-coordinate radar station with a phased array antenna, as well as fast-firing automatic guns and radio-controlled missiles.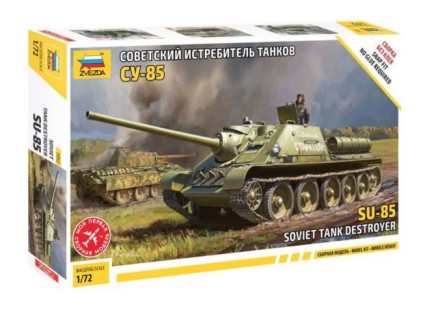 Zvezda 1/72 Soviet Su85 Tank Destroyer (Snap)
$23.50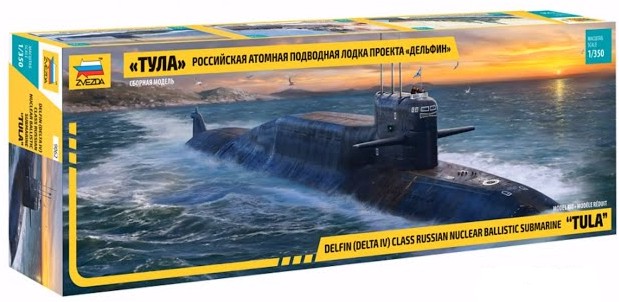 Zvezda 1/350 Russian Tula Delfin Delta IV Class Nuclear Ballistic Submarine
$52.00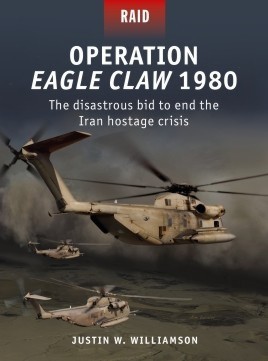 Osprey Publishing - Raid: Operation Eagle Claw 1980 The Disastrous Bid to end the Iran Hostage Crisis
$27.25
Following months of negotiations after the seizure of the US Embassy in Tehran on 4 November 1979, President Jimmy Carter ordered the newly formed Delta Force to conduct a raid into Iran to free the hostages. The raid, Operation Eagle Claw, was risky to say the least. US forces would have to fly into the deserts of Iran on C-130s; marry up with carrier-based RH-53D helicopters; fly to hide sites near Tehran; approach the Embassy via trucks; seize the Embassy and rescue the hostages; board the helicopters descending on Tehran; fly to an airbase captured by more US forces; and then fly out on C-141s and to freedom. Unfortunately, and unsurprisingly given the complexity of the mission, things went wrong from the start and when the mission was called off at the refueling site at Desert One, the resulting collision between aircraft killed eight US personnel.
This title tells the full story of this tragic operation, supported by maps, photographs, and specially-commissioned bird's-eye-views and battlescenes which reveal the complexity and scale of the proposed rescue and the disaster which followed.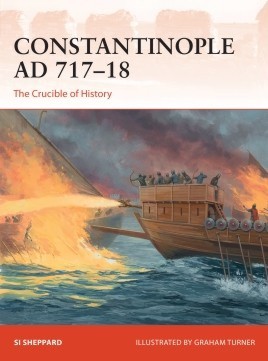 Osprey Publishing - Campaign: Constantinople AD717-18 The Crucible of History
$29.75
The siege of Constantinople in AD 717-18 was the supreme crisis of Western civilization.
The Byzantine Empire had been reeling under the onslaught of Arabic imperialism since the death of the Prophet, whilst Jihadist armies had detached Syria, Palestine, Egypt, and Carthage from imperial control and were in the process of imposing their ascendancy at sea. The Empire had been reduced to its Anatolian and Balkan heartland, and Arab incursions threatened even this - Arab naval forces had appeared under the walls of Constantinople every year from AD 674 to 678. But all this was only a prelude to the massive combined-arms invasion force that advanced on the capital in 717.
This title offers a comprehensive study of the ensuing clash between the ascendant Caliphate and the Empire at bay. It details the forces available to each side, with their respective advantages and vulnerabilities, evaluating the leadership qualities of the rival commanders and assessing their strategic and tactical initiatives. It also accounts for the trajectory and outcome of the campaign and emphasises the fundamental significance of the struggle. By holding the line, the Byzantines gave Europe enough time to develop at its own pace and emerge strong enough to face down its Islamic counterpart on equal terms. If Constantinople had fallen in 717, could Europe have endured as an independent entity? Could Christianity have survived as major religion? What would the future course of world history have been?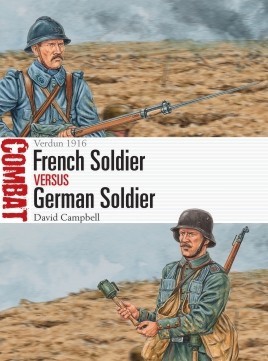 Osprey Publishing - Combat: French Soldier vs German Soldier Verdun 1916
$27.25
On 21 February 1916, the German Army launched a major attack on the French fortress of Verdun. The Germans were confident that the ensuing battle would compel France to expend its strategic reserves in a savage attritional battle, thereby wearing down Allied fighting power on the Western Front. However, initial German success in capturing a key early objective, Fort Douaumont, was swiftly stemmed by the French defences, despite heavy French casualties. The Germans then switched objectives, but made slow progress towards their goals; by July, the battle had become a stalemate.
During the protracted struggle for Verdun, the two sides' infantrymen faced appalling battlefield conditions; their training, equipment and doctrine would be tested to the limit and beyond. New technologies, including flamethrowers, hand grenades, trench mortars and more mobile machine guns, would play a key role in the hands of infantry specialists thrown into the developing battle, and innovations in combat communications were employed to overcome the confusion of the battlefield. This study outlines the two sides' wider approach to the evolving battle, before assessing the preparations and combat record of the French and German fighting men who fought one another during three pivotal moments of the 10½-month struggle for Verdun.

Osprey Publishing - Men at Arms: Japanese Armies 1868-1877 The Boshin War & Satsuma Rebellion
$23.50
The restoration of the Meiji Imperial dynasty in 1868, after 250 years of the Tokugawa Shogunate, decisively opened Japan to the outside world and the monarchy embraced modernization, including the creation of a new Westernized army. However, this modernization process was resisted by the traditional Samurai feudal nobility, leading to a series of battles.
The first clash between the two cultures came swiftly. During the Boshin War of 1868­-69, a French military adviser, Jules Brunet, changed sides to join the insurgents. They won several engagements before the final crushing of the rebel Ezo Republic. After this point, the Imperial Army continued to modernize along French lines, and social changes began to impoverish Samurai noblemen, who lost their social and political role and their associated privileges.
During 1876, the powerful Satsuma Domain, around Kagoshima in south-west Kyushu, became a focus for discontent. Its leader Saigo Takamori effectively ignored the central government, and in January 1877, increasing unrest broke out into open rebellion. The Imperial forces were now much stronger, and the Navy could land troops and bombard Kagoshima. The bitter Satsuma siege and attempted capture of Kumamoto Castle finally failed in April, and the Samurai made a last stand at Shiroyama on 24 September, choosing to go down fighting. This marked the final defeat and displacement of the Samurai class.
This fully illustrated title explores the fall of the Samurai in detail, examining the arms, tactics, key figures of both sides, and charting the increasing Westernization of the Imperial forces.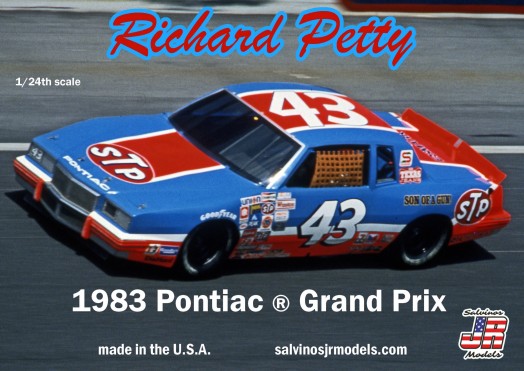 Salvinos JR Models 1/24 Richard Petty #43 Pontiac Grand Prix 1983 Winston Cup Race Car
$44.75
Richard Petty 1983 Talladega Winner with Texas Jeans associate sponsorship. This is the first time this decal configuration has ever been available, so you will finally be able to add this Pontiac Grand Prix to your collection!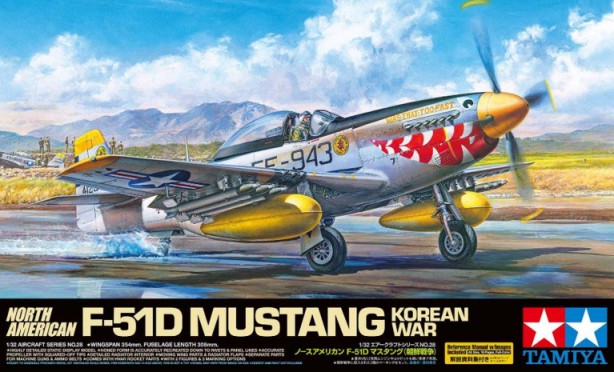 Tamiya 1/32 F51D Mustang Fighter Korean War
$235.50
Considered by many the most capable WWII fighters, the Mustang was also active in the Korean War, and this model creates one such F-51D. Renamed from the P-51D to the F-51D to go along with the creation of the US Air Force, the Mustang seemed set for gradual retirement as the jet aircraft took center stage. With the outbreak of hostilities on the Korean peninsula, however, that all changed. United Nations forces were hard pushed in the early stages of the war, and USAF P-80s were unable to land in areas where there were frequently no proper runways. The F-51D stepped in and performed admirably in a ground attack role as the United Nations forces pushed back.
• 1/32 scale plastic model assembly kit. Length: 308mm, wingspan: 354mm.
• The six wing machine guns feature individual parts for ammunition belts.
• Underbelly radiators have depictions of interior structure. Radiator and oil cooler flaps are moving parts.
• Choose whether to display the kit in flight or parked (can be changed after assembly), with dedicated landing gear parts included. The tail wheel is attached with a magnet.
• Moving ailerons, rudders and elevators use metal shafts and photo-etched parts. Flaps are also movable with the use of poly caps.
• Magnet-attached engine cowls are molded in appropriately thin plastic.
• Features a 16-page full color A5-size booklet packed with information, and a dedicated four-language cover story.
What's NEW:
• Parts included for six 5-inch HVAR rockets.
• Wider paddle blade propeller is accurately recreated.
• Features a choice of SCR-522 transceiver with BC-453B receiver, and new AN/ARC-3 transceiver set. Each has dedicated cockpit parts.
• New parts depict slitted fuselage side radiator access panel.
• Seated and standing pilot figures. The former uses new head parts featuring the P-1A helmet used in the Korean war.
• Comes with three marking options (two U.S. and one Korean)
New Items Available to Order - Mar 9 - Mar 13
Monday, March 9, 2020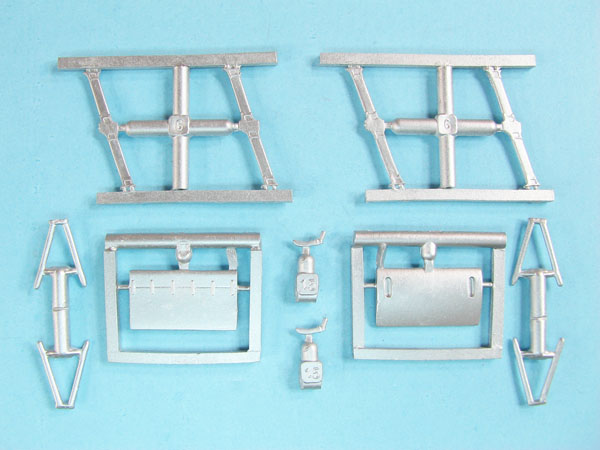 Scale AC Conversions 1/72 Fokker Dr.1 Landing Gear [2 sets]
$16.25
For: replacement for 1/72 Eduard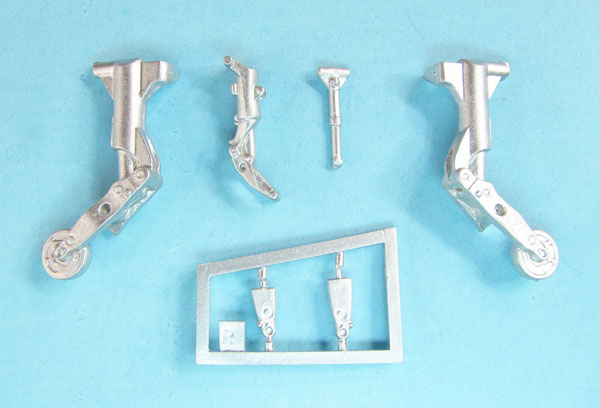 Scale AC Conversions 1/72 Blackburn Buccaneer S.2C Landing Gear
$16.25
For: replacement for 1/72 Airfix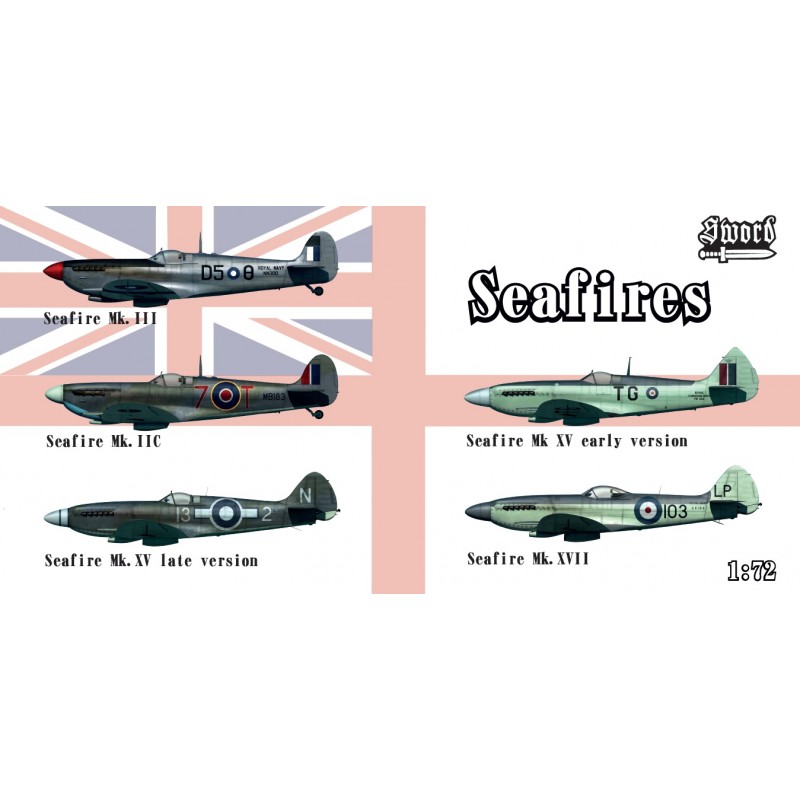 Sword Models 1/72 Seafires Collection (Seafire Mk.III / Mk.IIC / Mk.XV Late / Mk.XV Early / Mk.XVII) [5 kits]
$89.00
Contains a total of 5 kits (1 each of the Seafire versions shown on the picture)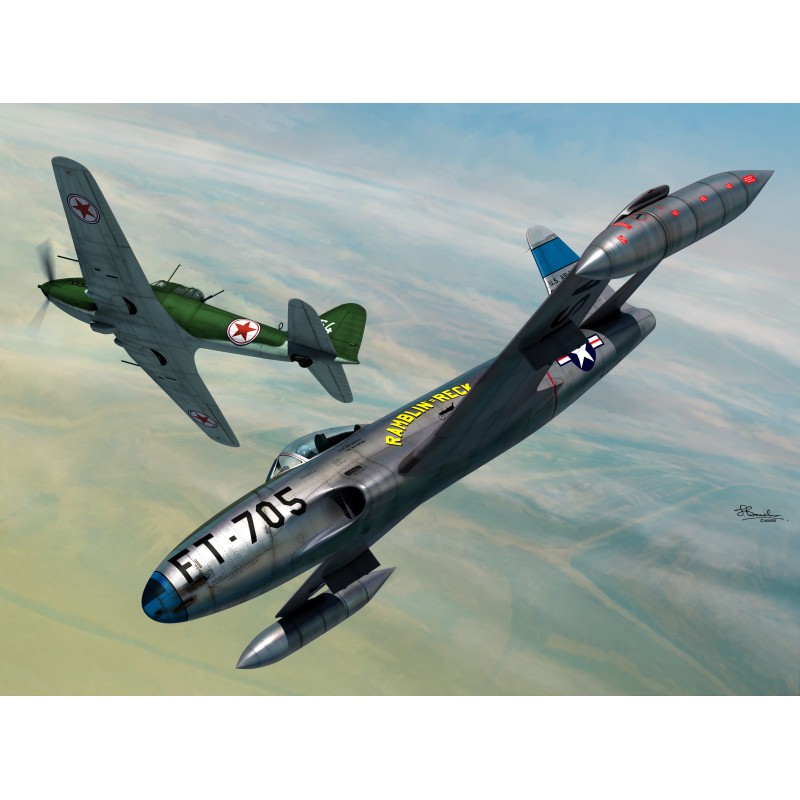 Sword Models 1/72 P-80C Shooting Star & IL-10 Over Korea (2 kits)
$49.50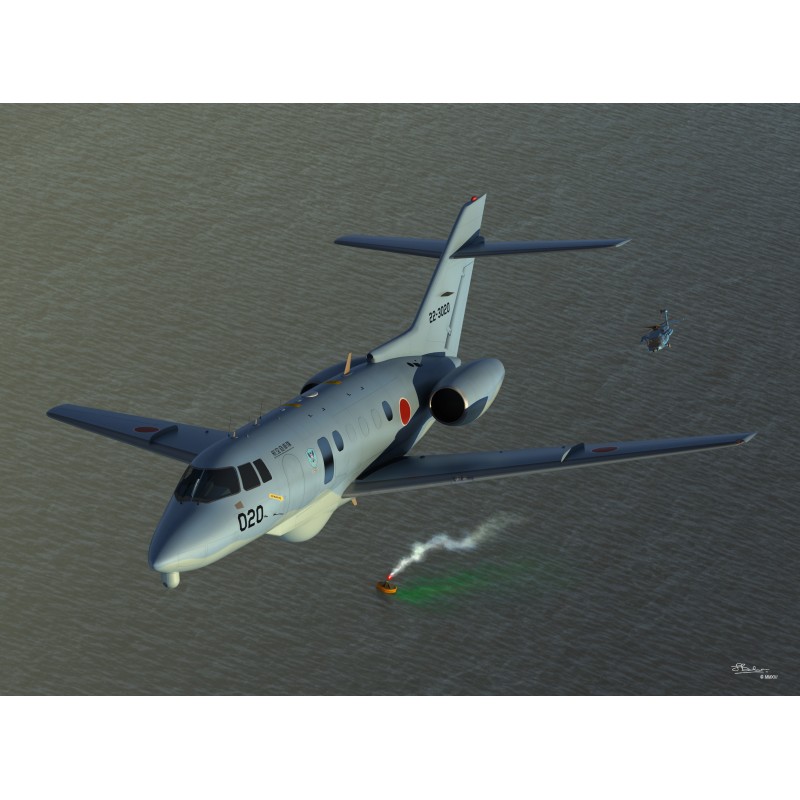 Sword Models 1/72 U-125A JASDF Air Rescue
$37.25
Tuesday, March 10, 2020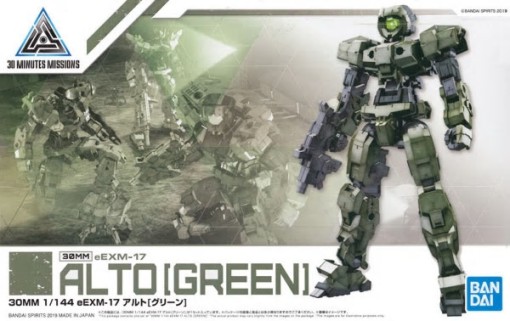 Bandai 1/144 30 Minute Missions (30MM) Series: #011 eEXM17 Alto Green (Snap)
$20.75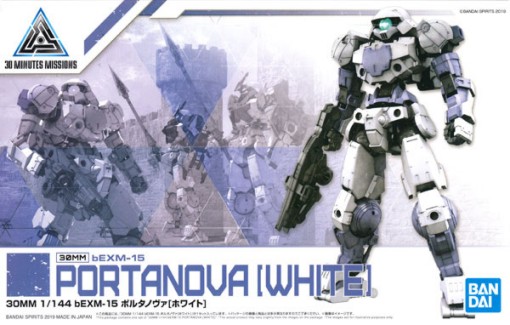 Bandai 1/144 30 Minute Missions (30MM) Series: #012 bEXM15 Portanova White (Snap)
$20.75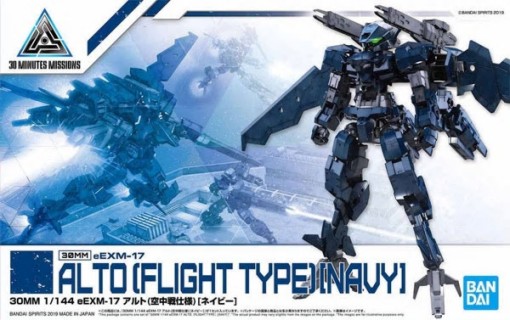 Bandai 1/144 30 Minute Missions (30MM) Series: #015 eEXM17 Alto Flight Type Navy (Snap)
$30.50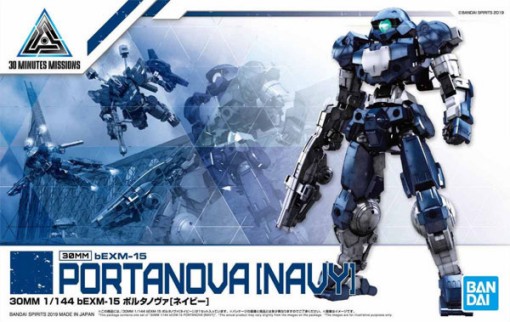 Bandai 1/144 30 Minute Missions (30MM) Series: #014 bEXM15 Portanova Navy (Snap)
$20.75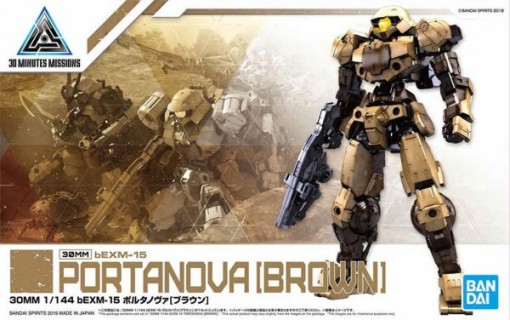 Bandai 1/144 30 Minute Missions (30MM) Series: #016 bEXM15 Portanova Brown (Snap)
$20.75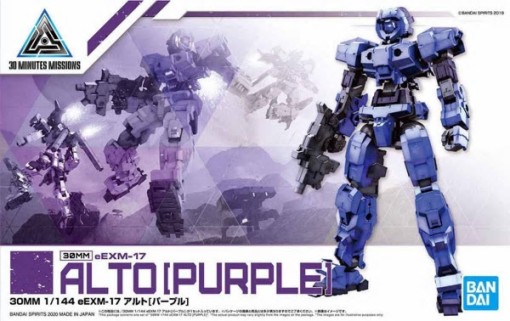 Bandai 1/144 30 Minute Missions (30MM) Series: #017 eEXM17 Alto Purple (Snap)
$20.75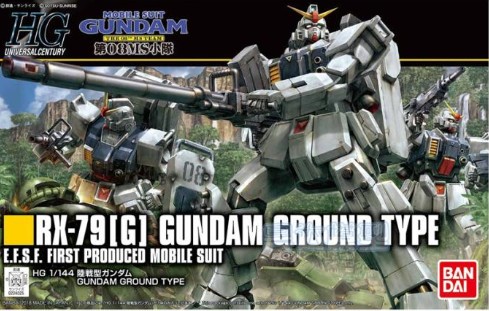 Bandai 1/144 HG Universal Century Series: #210 RX79(G) Gundam Ground Type Gundam 08th MS Team
$27.75

SAM Publications - The Grumman F-14 Tomcat
$57.00
Immortalised by the film 'Top Gun', the Grumman F-14 Tomcat was an iconic American supersonic, twin-engine, two-seat, twin-tail, variable-sweep wing fighter aircraft. Developed for the US Navy after the collapse of the F-111B project, it was designed to incorporate the air combat experience gained against MiG fighters during the Vietnam War. The F-14 first flew on 21 December 1970 and made its first deployment in 1974, replacing the F-4 Phantom. The F-14 served as the Navy's primary maritime air superiority fighter, fleet defence interceptor, and tactical aerial reconnaissance platform into the 1990s. The Low Altitude Navigation and Targeting Infrared for Night (LANTIRN) pod system were added in the 1990s and the Tomcat began performing precision ground-attack missions as the 'Bombcat' The F-14 was equipped with an internal 20mm M61 Vulcan Gatling cannon mounted on the left side, and could carry the AIM-54 Phoenix 'fire and forget' missile as well as the, AIM-7 Sparrow, and AIM-9 Sidewinder. Operationally, the capability to hold up to six Phoenix missiles was never used, as there was never a threat requirement to engage six hostile targets simultaneously and the load was too heavy to safely recover aboard an aircraft carrier in the event that the missiles were not fired. During the height of Cold War operations in the late 1970s and 1980s, the typical weapon loadout on carrier-deployed F-14s was usually only one AIM-54 Phoenix, augmented by two AIM-9 Sidewinders, two AIM-7 Sparrow IIIs, a full loadout of 20mm ammunition and two drop tanks. The Phoenix missile was used twice in combat over Iraq in 1999, but the missiles did not score any kills. The Tomcat was also sold to Iran, who made use of the Phoenix system, claiming dozens of kills with it during the 1980–1988 Iran–Iraq War. This revised and updated Datafile one not to be missed!
Wednesday, March 11, 2020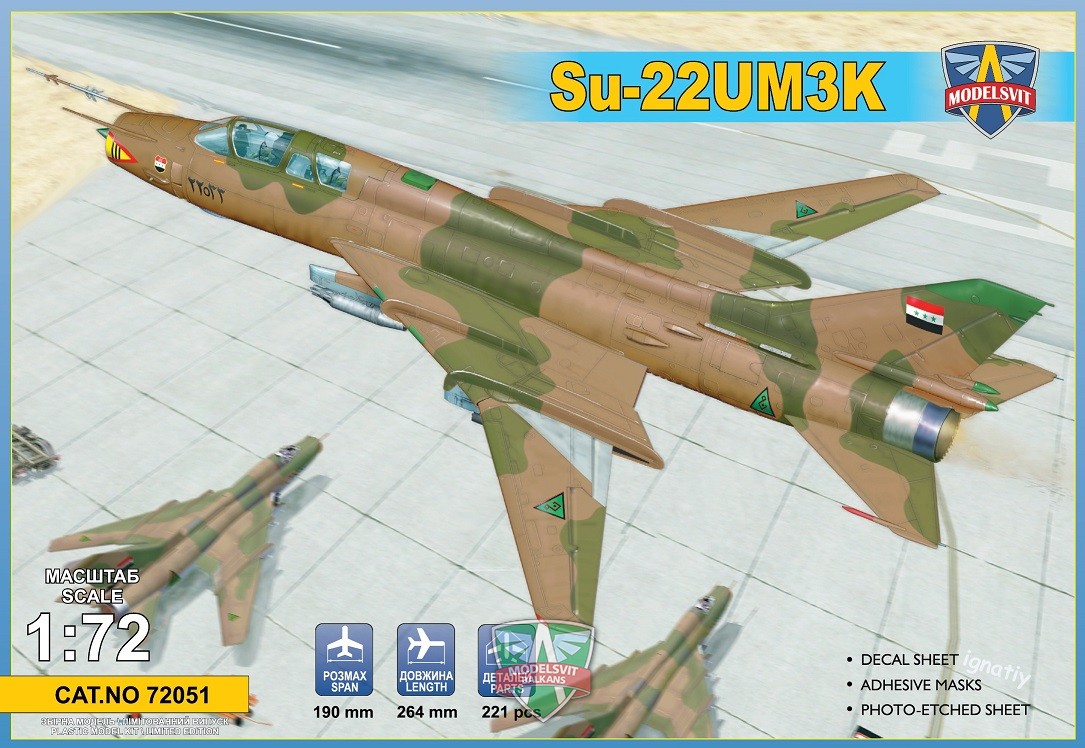 Modelsvit 1/72 Su-22UM3K Fitter
$63.00
- PE sheet
- Variable wing geometry
- 2 canopies (Open/Closed)
- 4 camo schemes (Poland, Czech, DDR, Iraq)
- 2 x UB-16 rocket pods
- 2 x external fuel tanks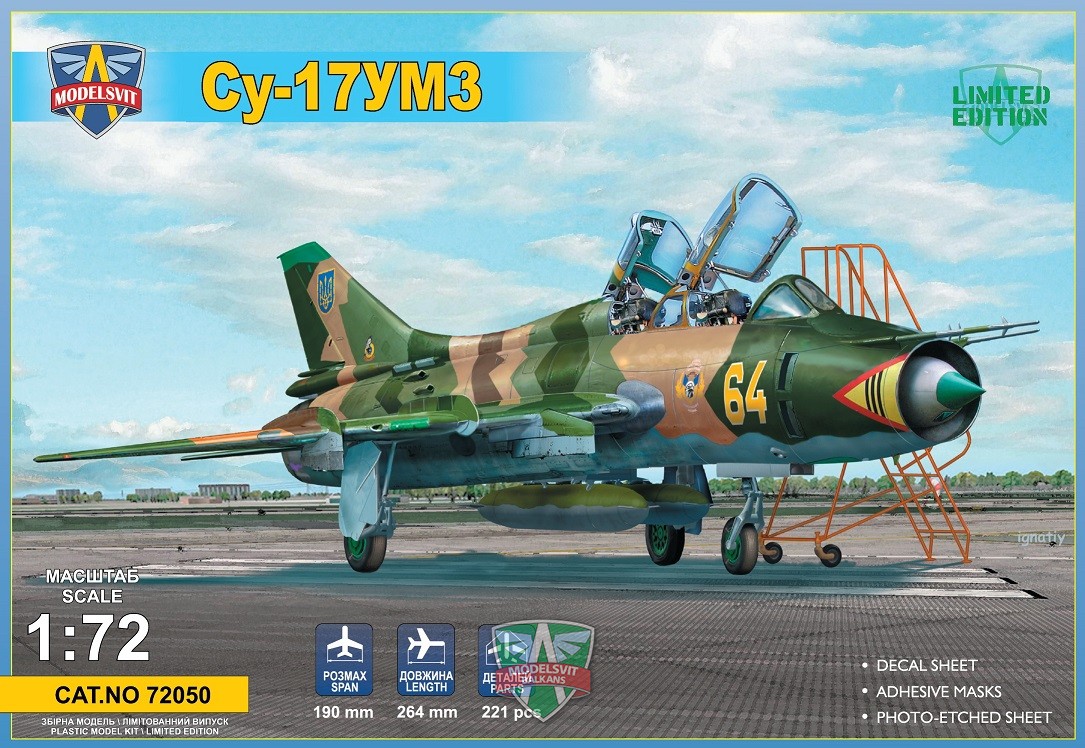 Modelsvit 1/72 Su-17UM3 Fitter
$63.00
- incl. Photo-etched sheet
- 2 canopies (open/closed)
- variable wing geometry
- 2 camo schemes : USSR / Ukraine
- 2 x "UB-16" rocket pods
- 2 external fuel tanks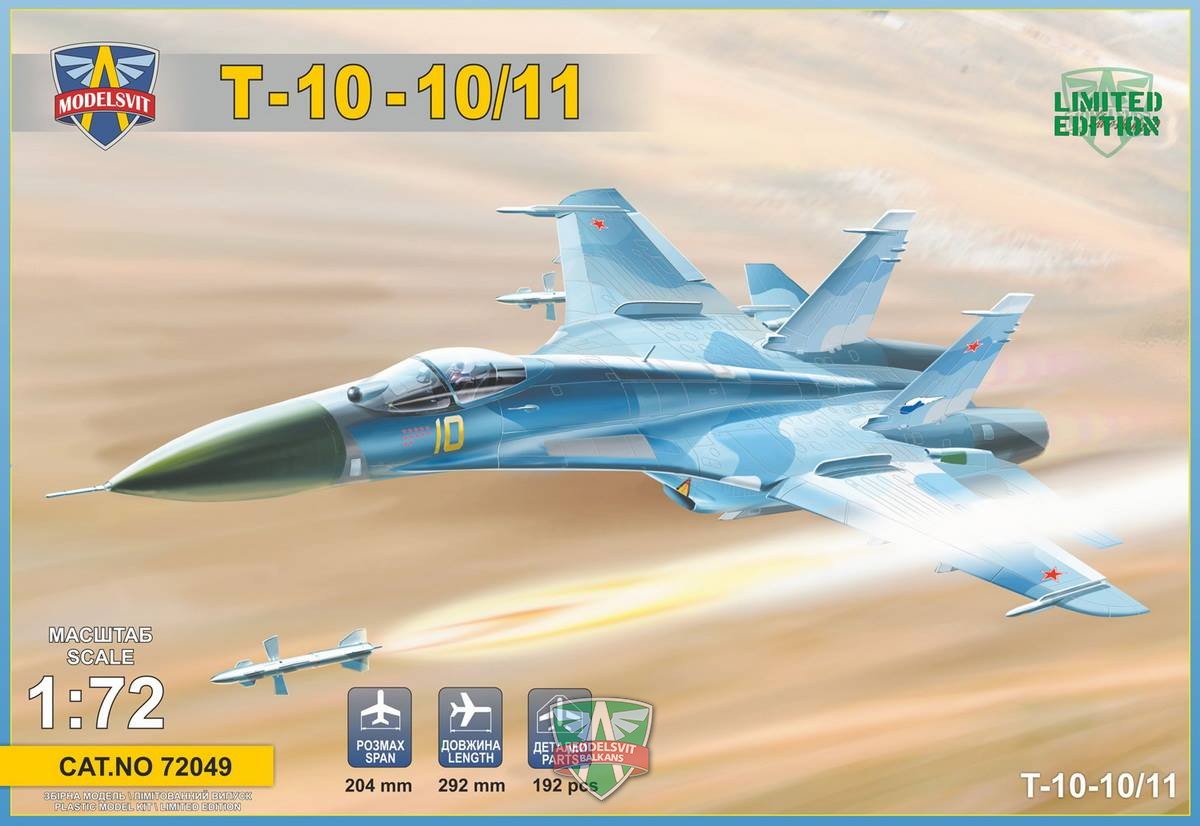 Modelsvit 1/72 T-10-10/11
$63.00
- open/closed canopy
- photo-etched sheet
- adhesive masks
- transparent HUD display
- 3 markings variants

In 1970s, the USSR had a strong demand of a new fighter, being highly efficient against F-15, F-14, Mirage-F.1, F-111B and B-1 strategic bomber, and the SR-71 reconnaissance aircraft.
In March 1971, the "Prospective Frontline Fighter" technical specification was approved by the Soviet government and forwarded to the leading design bureaus, including the Sukhoi's. In that way, the first concept design of the required aircraft appeared, receiving factory code - T-10.
During the designing process, several construction schemes of T-10 have been tested. In 1974, the T-10-4's design was revised and its general drawings were approved as a base of the future Su-27, under the designation "mark 10" or T-10-10.
T-10 was all-metal monoplane, having high-wing with ailerons and flaps, twin tail arrangement and all-movable horizontal stabilizer. It's power plant consists of 2 turbojet engines AL-21F3. The plane has following armament: medium-range K-27 missiles, short range K-73 missiles, built-in GSh-301 cannon.
By November 1982, all fine adjustments to T-10-10 have been completed and in the spring of the next year, 7 test shoots were accomplished.
The tests were conducted "intensively". In total, 11 flying targets were shot down.
Till April 1984, the prototype performed in total 202 flights. Further on, like most experimental machines, it was turned into educational sample. T-10-10 made a flight to Zhuliany airfield, then a last one to Vasilkovo aviation technical school. Currently – it is exhibited at the Lugansk Aerotechnical museum, Ukraine.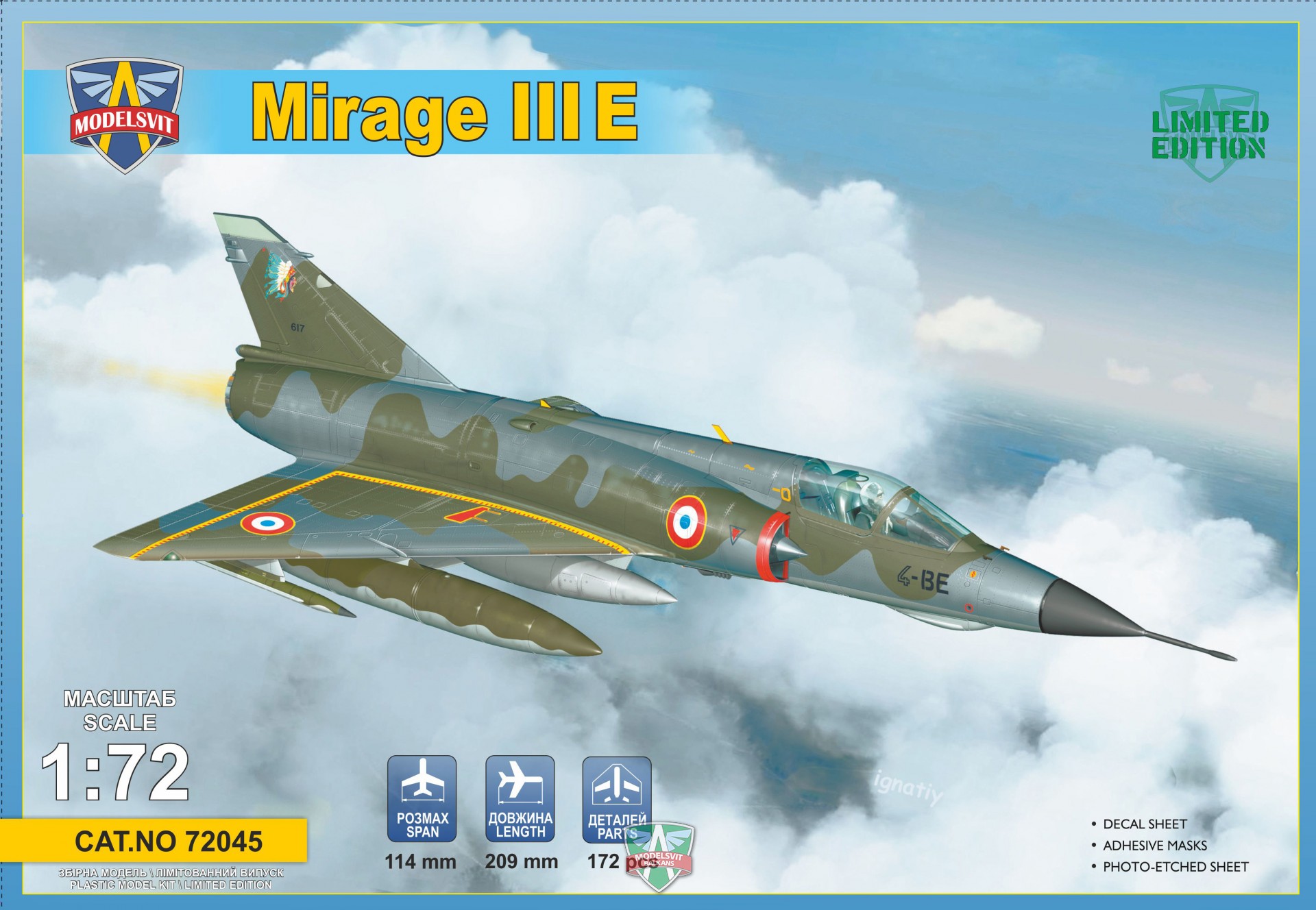 Modelsvit 1/72 Mirage IIIE
$54.50
- 3 camoflage schemes
- PE Sheet (incl. instrument panel details)
- 2 canopies (open/closed)
- + AN-52 Nuclear bomb
- 3 types of external fuel tanks
- Matra Magic II, AIM-9B missiles

Mirage-IIIE was the most massively produced modification of the entire Mirage-III family of aircrafts. It was designed as an all-weather strike/multi-role fighter
In addition to the air superiority functions, Mirage IIIE could also be used for ground attacks not only with conventional bomb weapons, but also using AN-52 tactical nuclear bomb. Mirage-IIIE represented further development of the earlier Mirage-IIIC interceptor. It's first flight took place in 1961, three years later – it entered in service with the French Air Force.
The plane had powerful Thomson-CSF "Cyrano" II radar system with extended air-to-ground modes and complex navigation equipment. Four under-wing pylons carried up to 4,000 kg of combat load, including Matra AS30, Matra AS37 , and Matra R.530E missiles. It was also capable of carrying bombs, unguided missiles pods, special tactical containers and external fuel tanks. The plane was powered by TREC SNECMA ATAR 9C turbojet engine with afterburner, having dry thrust of 42,50 kN, or 60 kN with afterburner.
The basic layout of Mirage-IIIE featured a tailless delta configuration. Mirage-IIIE was supplied to Libya, Pakistan, South Africa, Spain, Australia, Switzerland, etc.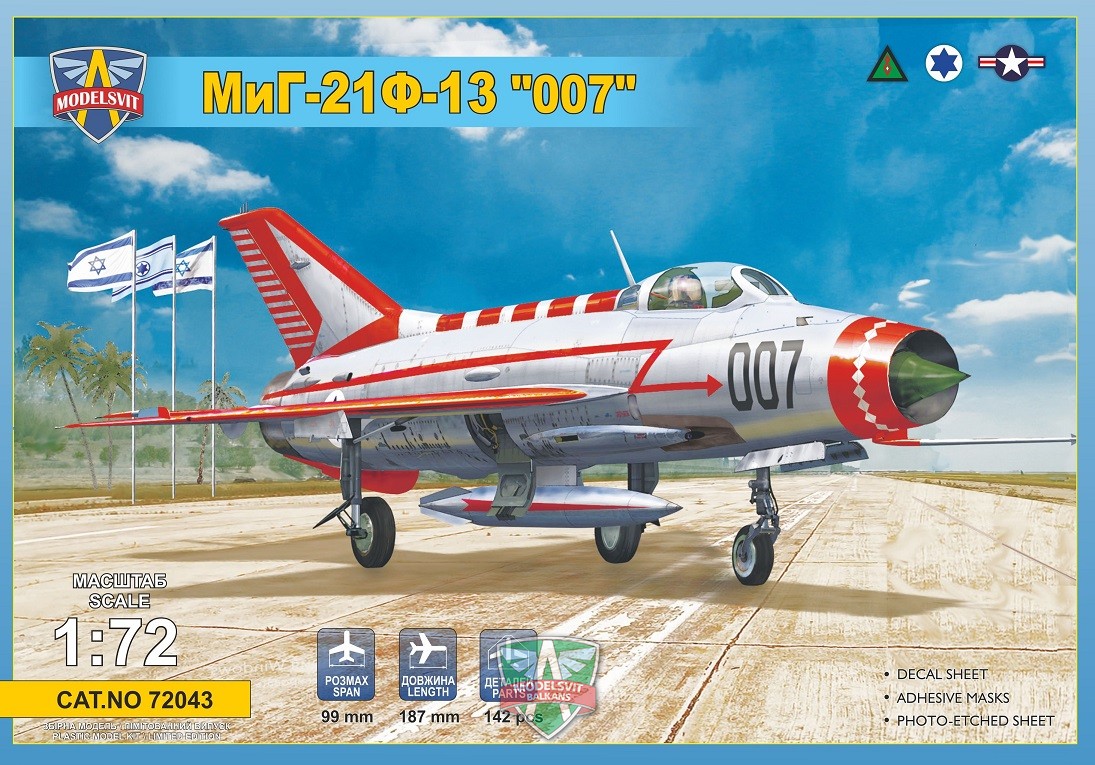 Modelsvit 1/72 Mig-21F-13 "007" Operation Diamond
$52.00
- 6 camo schemes (USA, 4 x Israel, Iraq
- PE Sheet
- 2 canopies
- adhesive masks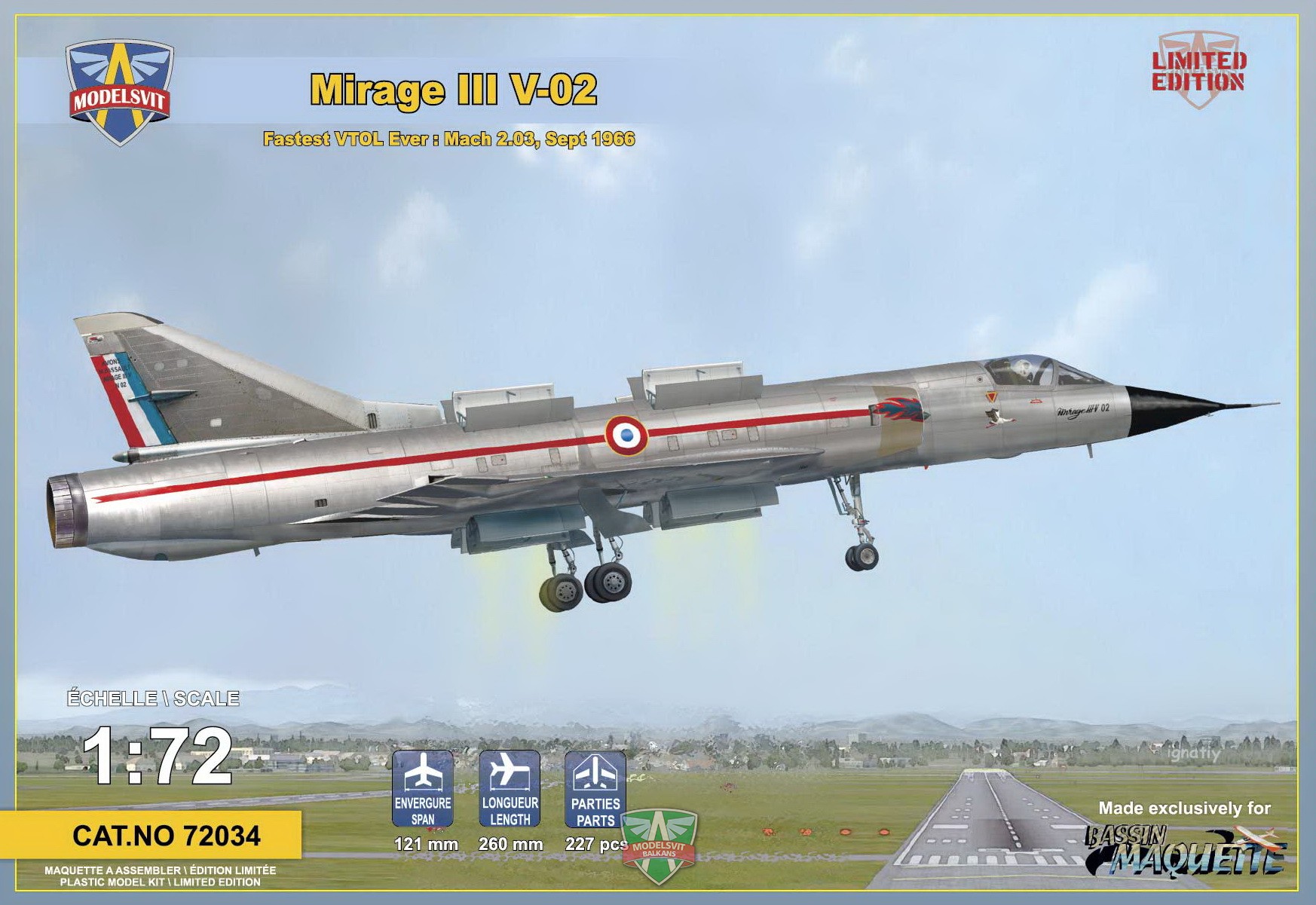 Modelsvit 1/72 Mirage III V-02
$57.00
- limited edition of 500 pcs
- photo-etched plate
- airstairs included
- opened canopy
- 1 camouflage variant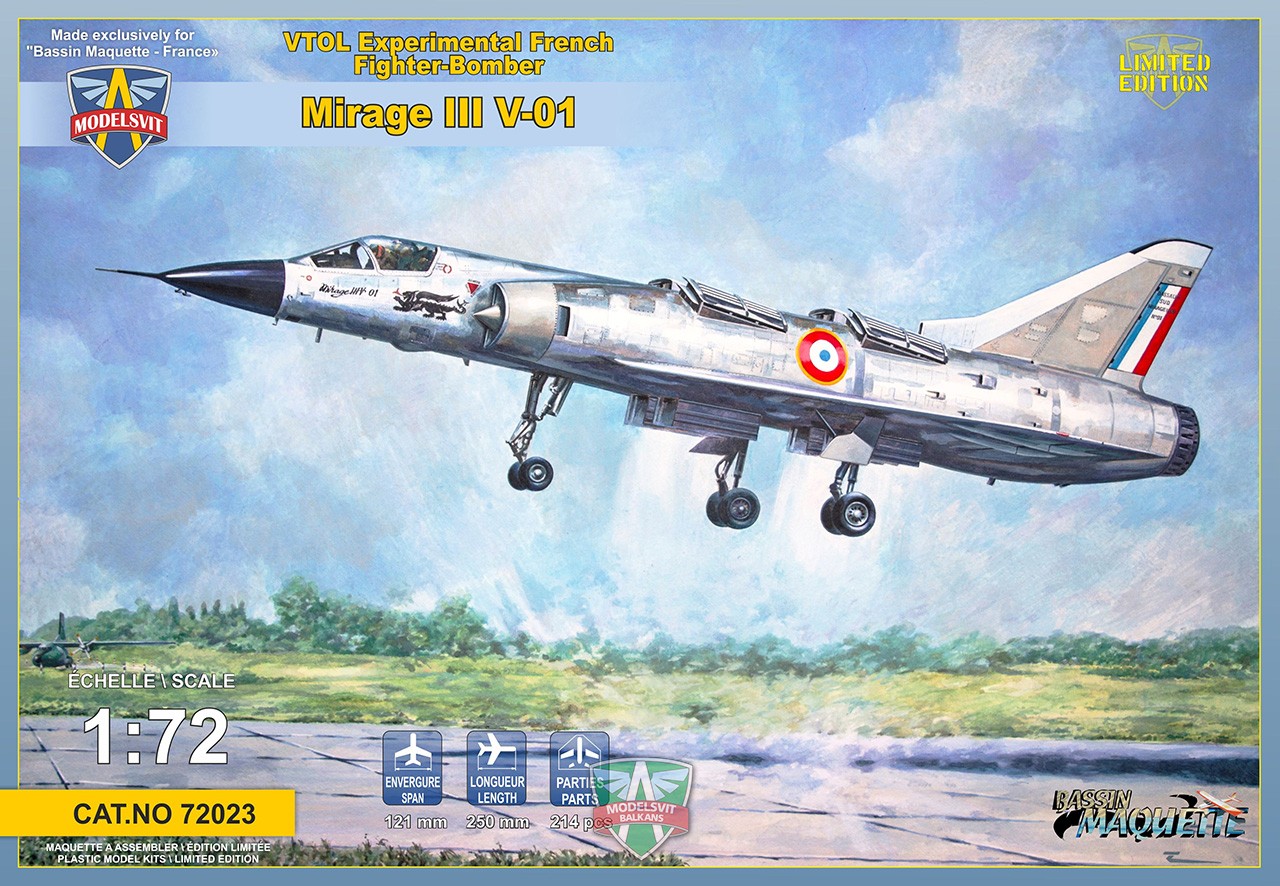 Modelsvit 1/72 Mirage III V-01
$54.50
- Photo-etched plate
- Airstairs included
- Open canopy

The Mirage III V-01 was a French vertical take-off and landing (VTOL) prototype fighter aircraft, developed in the mid-1960s. It was fitted with a TF104B engine and eight Rolls Royce RB162-1 lifting jets. The design was in response to a NATO specification for a VTOL strike fighter. Although its good prespectives, on 28 March 1966 the Defence Ministry halted the Mirage III V production programme for financial reasons.
Thursday, March 12, 2020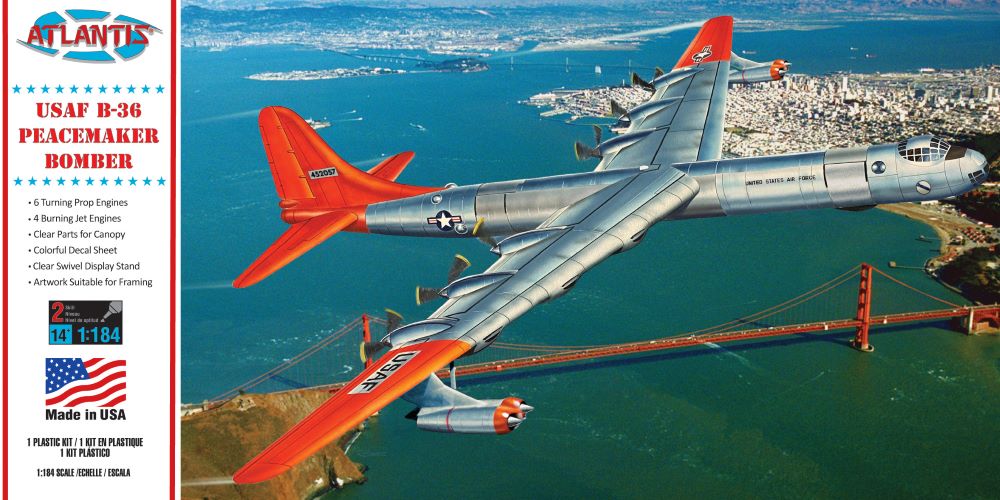 Atlantis Model 1/184 B36 Peacemaker USAF Bomber (formerly Revell)
$27.25
Derives from the original Revell Tooling. We have molded this kit in shiny silver and clear (10 parts), swivel stand molded in clear with spring ring and small globe stand molded in silver. Updated decals. Atlantis has tooled a new swivel ball as this kit originally had it molded into the fuselage. 55 parts. Skill level 2.


Atlantis Model 1/72 AH56A Cheyenne US Army Helicopter (formerly Aurora)
$27.25
Derives from the Original Aurora Tooling. Molded in color with clear canopy and upgraded decal sheet by Starfighter decals. Rotor blades turn, detailed landing gear, recessed panel lines and detailed cockpit with 2 figures. Pilot and Gunner. Skill level 2.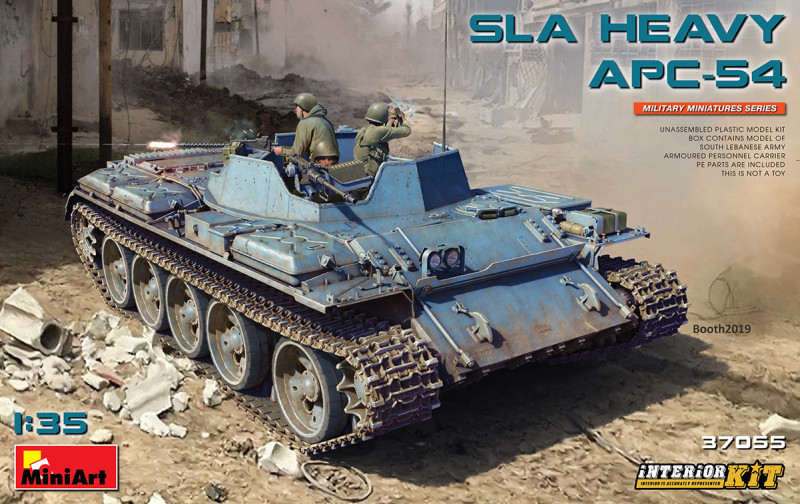 Miniart 1/35 SLA Heavy APC-54 [Interior Kit]
$85.25
HIGHLY DETAILED MODEL OF SOUTH LEBANON ARMY
ARMOURED PERSONNEL CARRIER
DRIVER COMPARTMENT INTERIOR ACCURATELY REPRESENTED
FULLY DETAILED FIGHTING COMPARTMENT INTERIOR
INDIVIDUAL TRACKS INCLUDED
ALL HATCHES CAN BE POSED OPEN & CLOSED
V-54 ENGINE INCLUDED
PE PARTS ARE INCLUDED
CLEAR PLASTIC PARTS INCLUDED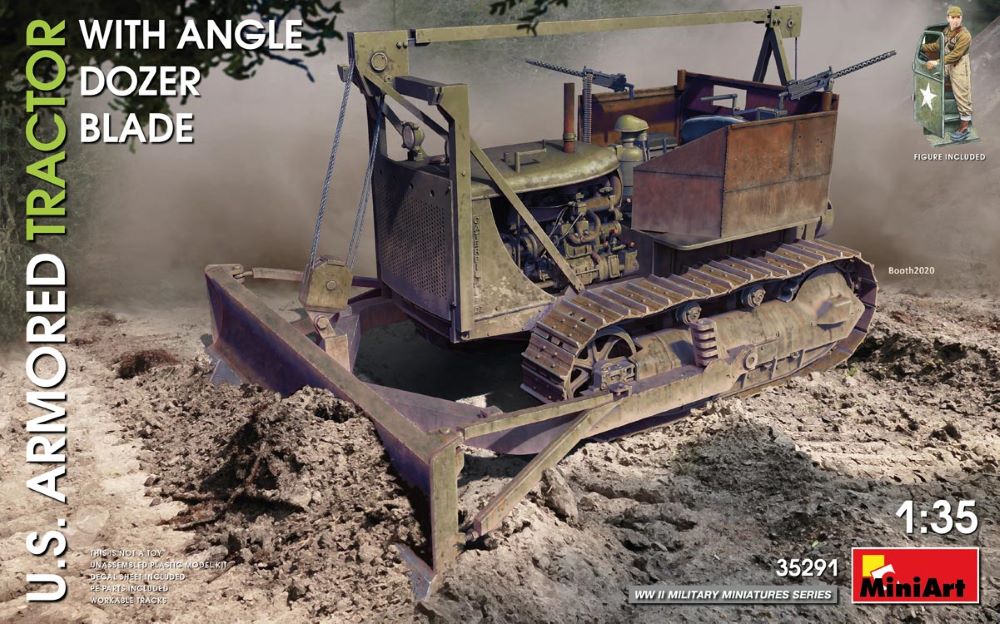 Miniart 1/35 US Armored Tractor with Angle Dozer Blade
$79.75
Kit contains a model of U.S. Armored Tractor with Crewmen.
HIGHLY DETAILED MODEL
FULLY-DETAILED ENGINE COMPARTMENT AND CHASSIS
WORKABLE TRACK LINK
1 FIGURE INCLUDED
DECAL SHEET INCLUDED
PHOTO-ETCHED PARTS INCLUDED
CLEAR PLASTIC PARTS INCLUDED

Italeri 1/72 Tomcat '50th First Flight Anniversary'
$49.50
ORIGINAL MOULDS FROM ESCI - SUPER DECAL SHEET FOR 4 VERSIONS - RECESSED PANEL LINES
The American supersonic twin-engine Grumman F-14 Tomcat was the icon of the U.S. Navy fighter squadrons during the '80s and '90s. it was characterized by the adoption of the variable-sweep wing, the twin-tail and the tandem two-seat cabin. The "Tomcat" provided an impressive operational performance. Thanks to its two General Electric Afterburning turbofans it was able to reach the max speed of Mach 2.34. It was armed with a 20 mm M61 Vulcan rotating gun and it could use, in addition to the more conventional AIM-9 Sidewinder and AIM-7 Sparrow, the AIM-54 Phoenix radar-guided long-range missiles. The F-14 entered in service during the '70s, replacing the F-4 Phantom II to perform air superiority duties. During its operational career it participated in a lot of military operations from the Gulf of Sirte crisis to the Iraq War.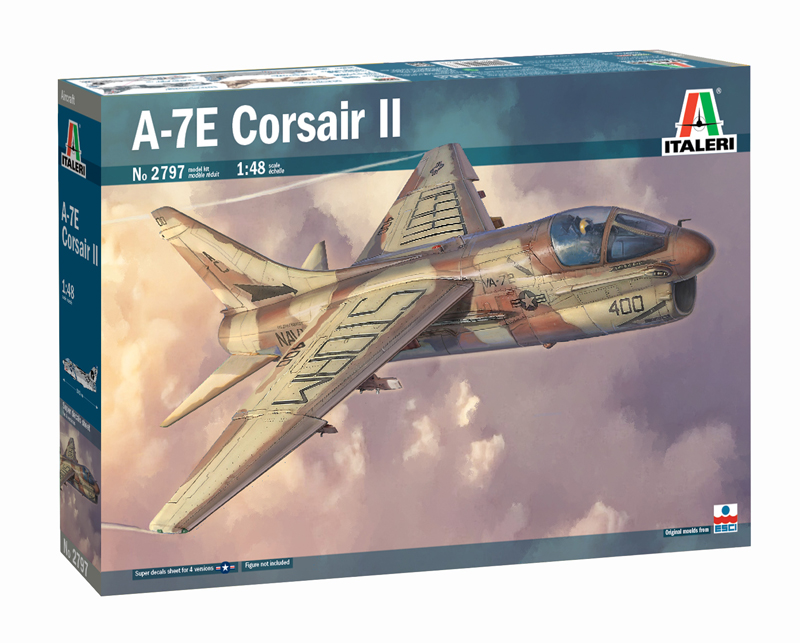 Italeri 1/48 A-7E Corsair II
$61.75
ORIGINALS MOULDS FROM ESCI - SUPER DECALS SHEET FOR 4 VERSIONS
The LTV A-7 Corsair II was designed and implemented in the first half of the 1960s to satisfy the specific United States Navy request to have a new carrier-capable light attack aircraft able to replace the Douglas A-4 Skyhawk and the piston-powered Douglas A-1 Skyraider. It was directly developed by the fighter Vought F-8 Crusade airframe. The A-7 was characterised by the large frontal air intake under tha cabin, by the 35° foldable swept wing to optimize the use and the storage on the aircraft carriers flight decks and by the adoption of a modern Head-up-Display to enhance the operational effectiveness. Thanks to its underwing hardpoints the A-7 was able to carry an impressive offensive load based on conventional bombs, guided bombs as the Paveway and air-to-surface missiles. The A-7E was the last version produced for the U.S Navy with an improved operational capabilities and the possibility to use the Harpoon anti-ship missiles and the AGM-88 HARM anti-radiation missiles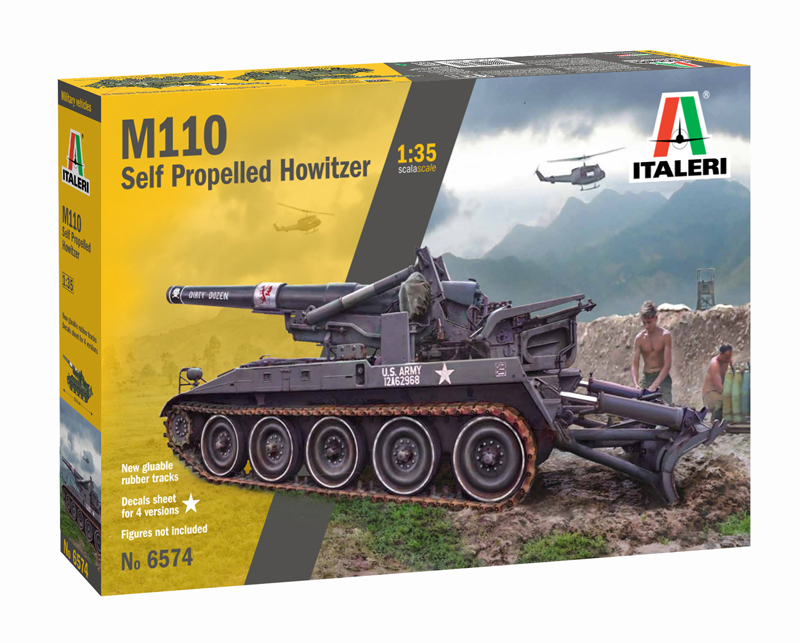 Italeri 1/35 M110 Self Propelled Howitzer
$64.25
NEW GLUABLE RUBBER TRACKS - DECAL FOR 4 VERSIONS - COLOR INSTRUCTIONS SHEET
The self-propelled guns of the M-110 series have represented, for many years, the backbone of the field artillery of the United States Army. They were also largely used by the American Allied Countries. It entered service in the '60s but thanks to the improvements made in 1977 on the M-110 A1 version, it acquired improved operational efficiency. The M-110 A1 was armed with the new 203 mm long range M201 gun able to use a wide range of ammunitions. The project was characterized by an excellent mix in terms of firepower and mobility thanks to its reliable chassis (the same of the M-107). The M-110 A1 was deployed in the division artillery to perform tasks as general support, counter-battery fire and suppression of enemy positions. It was widely used during the conflict in Lebanon and during the first Gulf war.
Friday, March 13, 2020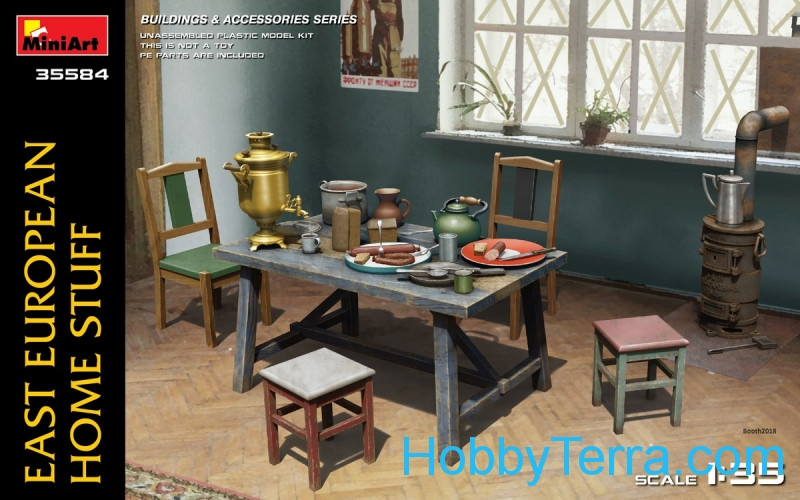 Miniart 1/35 East European Home Stuff
$26.00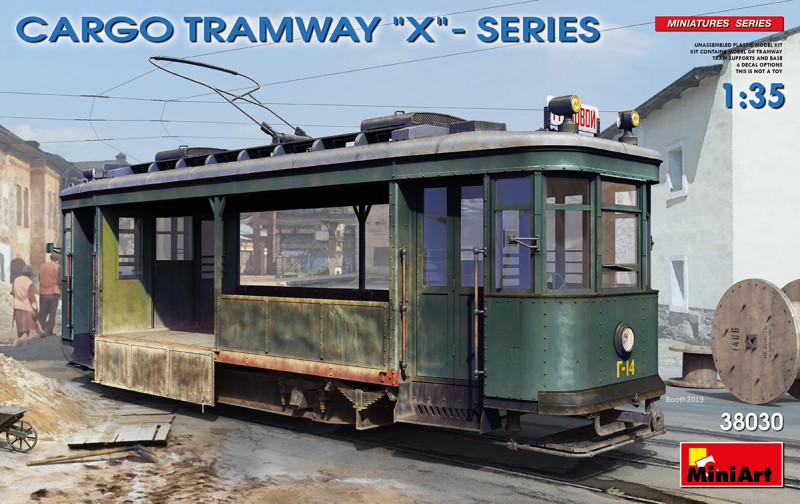 Miniart 1/35 Cargo Tramway 'X' - Series
$91.50
HIGHLY DETAILED MODEL
KIT CONTAINS MODEL OF TRAMWAY TRAM SUPPORTS AND BASE
6 DECAL OPTIONS
CLEAR PARTS INCLUDED
ALL DOORS CAN BE POSED OPEN & CLOSED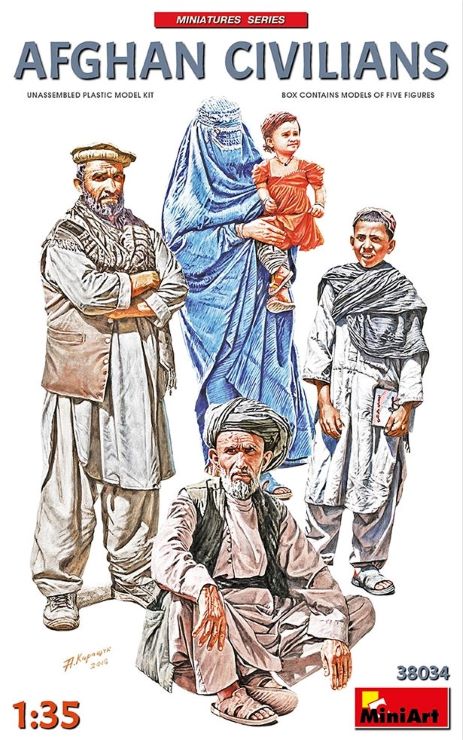 Miniart 1/35 Afghan Civilians (5 figures)
$20.50
Set includes 5 unassembled and unpainted figures.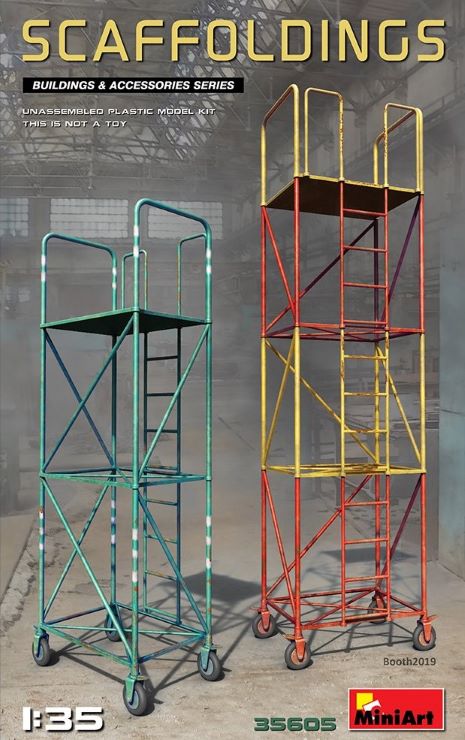 Miniart 1/35 Scaffoldings
$21.00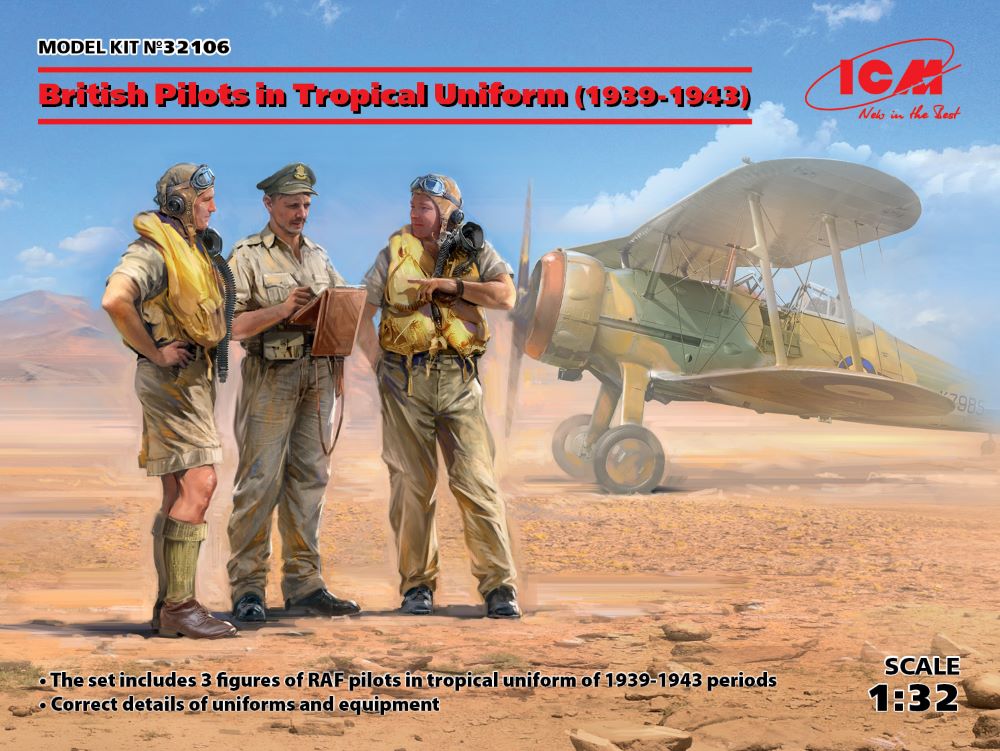 ICM 1/32 British Pilots in Tropical Uniform 1939-1943 (3)
$31.00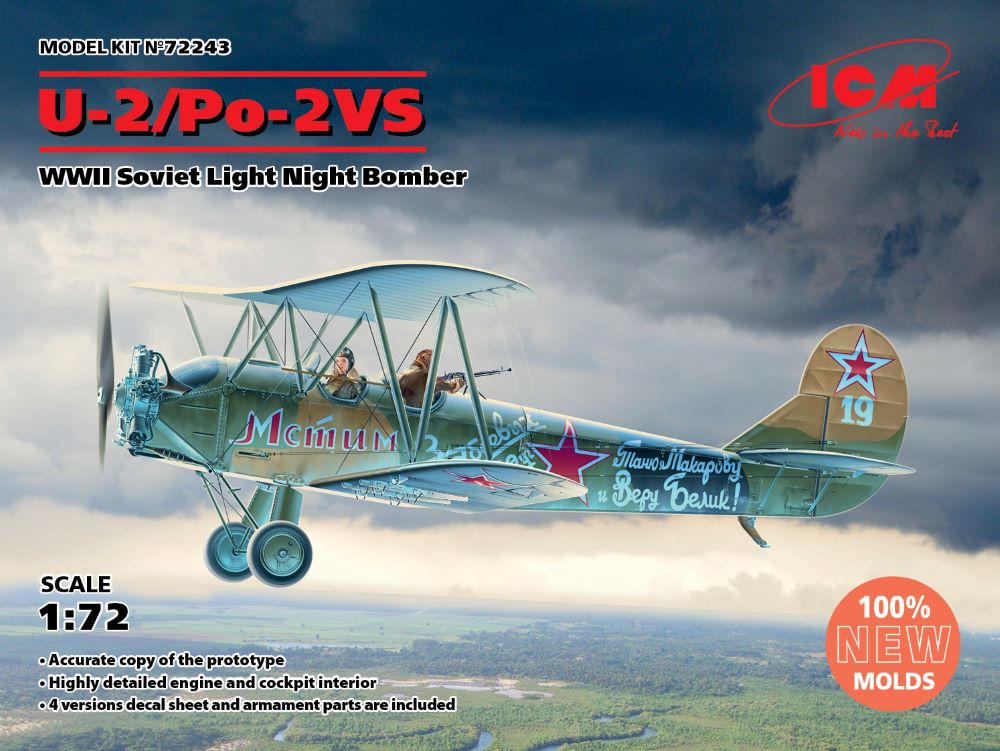 ICM 1/72 WWII Soviet U2/Po2VS Light Night Bomber
$27.25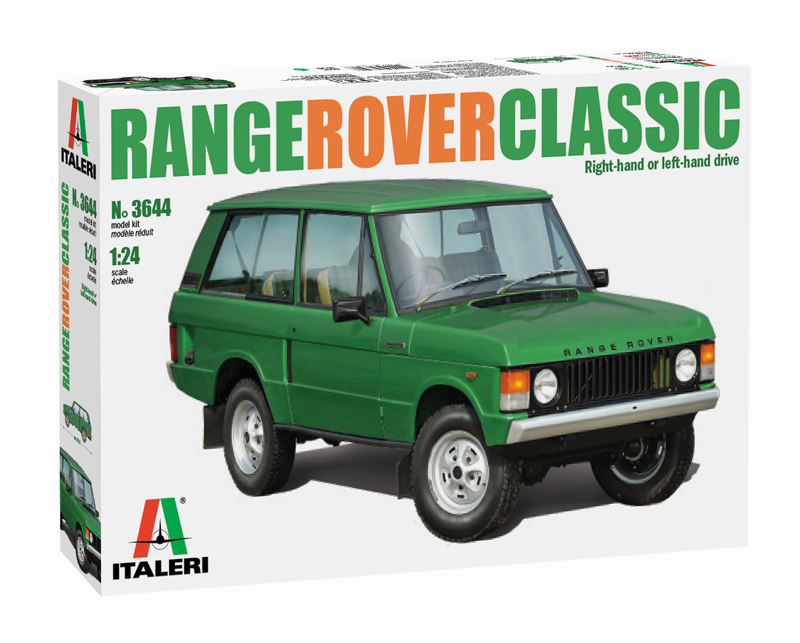 Italeri 1/24 Range Rover Classic SUV
$69.25
The Range Rover Classic can be considered a milestone in the history of off-road vehicles. It was produced in numerous variants and versions from 1970 to 1996. It was the first vehicle produced under the "Range Rover" brand and from 1981 it was available in the two- or four-door version. Thanks to its 4x4 traction and its sturdy structure, simple for construction but very reliable, the Range Rover was able to achieve very good off-road performances. The vehicle was able to obtain, very soon, good commercial success all over the World. The Range Rover, furthermore, was widely used by bodybuilders to create numerous special versions able to satisfy all types of needs. Continuously improved, during its career, in terms of engines, mechanical feature, interiors and details, it has always kept its role of "off-road" and "made in England" icon.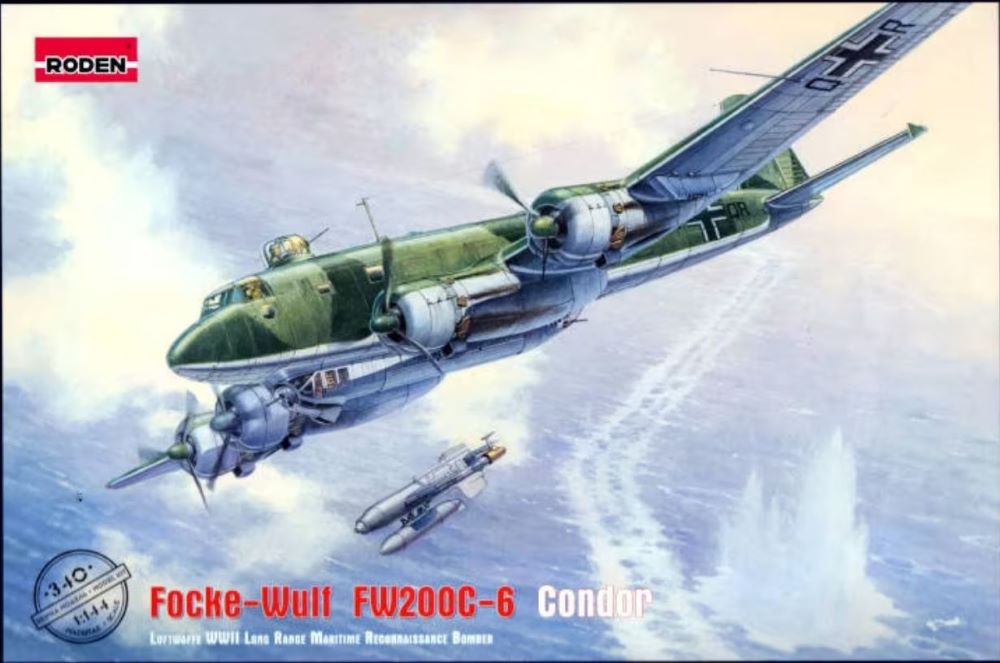 Roden 1/144 Focke Wulf Fw200C6 Condor Aircraft
$37.00

Revell USA 1/25 1929 Model A Roadster (2 in 1)
$33.50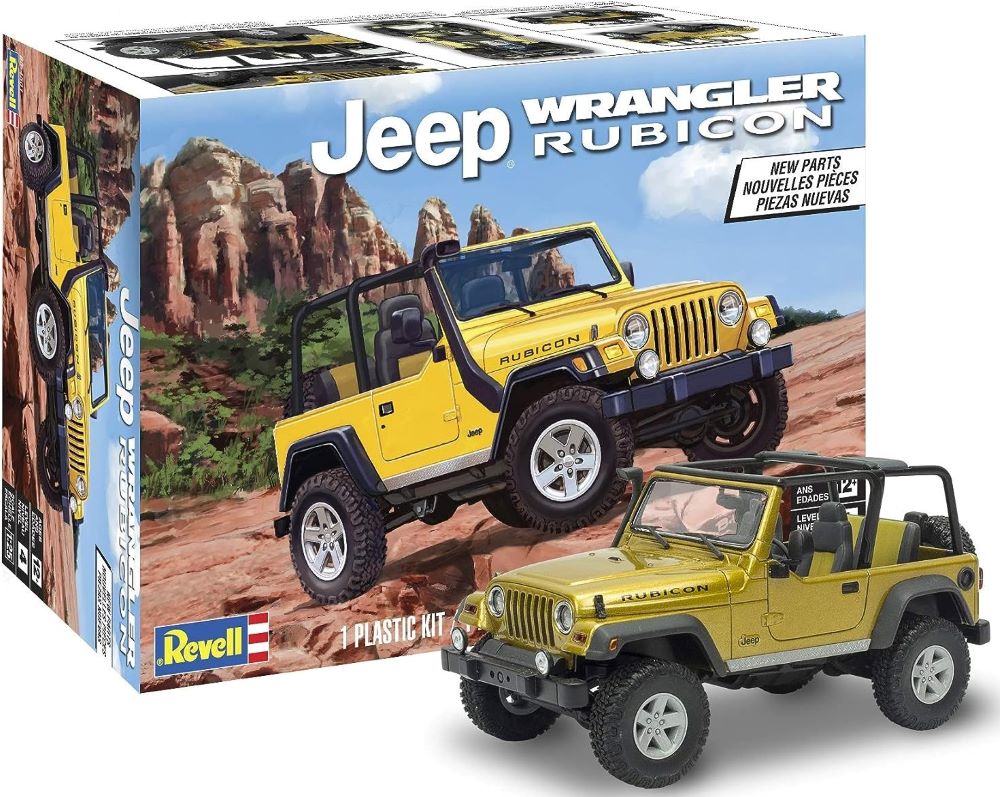 Revell USA 1/25 Jeep Wrangler Rubicon
$31.00

New Items Available to Order - Mar 2 - Mar 6
Monday, March 2, 2020

Squadron Signal Books - PBY Catalina in Action
$20.75
PBY Catalina In Action. Book by David Doyle. Squadron Signal Books. The iconic PBY Catalina was not only the work horse of the U.S. Navy's patrol bomber units during World War II, but also served admirably with the Royal Air Force, Royal Canadian Air Force, and others. Airmen aboard British PBYs were the first to spot the German battleship Bismarck when it broke out into the North Atlantic in May 1941, and U.S. Navy PBY crewmen were the first to observe the Japanese fleet as it stole towards Midway Islands in June 1942. In addition to keeping a watchful eye out for enemy activities, Catalina crews also rescued countless downed airmen as well as sailors from stricken ships. Through daring bomb and depth-charge attacks on enemy vessels, Catalina airmen also contributed directly to the defeat of the Axis powers in combat. This all-new 80-page volume from Squadron tells the story of the Catalina through over 200 vintage photos, over 30 of which are in color, as well as eight color profiles and numerous detailed line drawings. Illustrated with more than 210 photographs; 80 pages.

Dragon 1/350 USS Kidd DDG993 Destroyer
$66.75
The U.S.S. Kidd (DDG-993) was commissioned on March 27th 1981. The four destroyers of the Kidd class were originally built for the Shah of Iran, and were acquired by the US Navy following the Shah's overthrow in 1979. The US Navy acquired them in 1981 and 1982 after they were canceled by the succeeding Iranian government. For this reason they are often referred to as the "Ayatollah class".
Built for action in the Persian Gulf, these ships are oriented for general purpose operations rather than specialized anti-submarine war. The most formidable warship of her size ever to patrol the world's oceans, blending the best features of the SPRUANCE Class destroyers with the combat system of the VIRGINIA Class nuclear cruisers to produce a ship with unique characteristics:
A ship so quiet, and an ASW system so capable, that she operates offensively against submarines.
The most sophisticated medium-range AAW systems in the Fleet, quick-reacting and highly accurate, with the capability for today's air defense environment and the growth potential for tomorrow's.
An exceptionally reliable and responsive engineering plant.
A deadly surface-to-surface weapons capability.
These characteristics make KIDD a triple-threat, one of the few truly multi-mission ships, able to operate offensively, to deal with simultaneous air, surface, and sub-surface attacks. After over 16 years of service with the U.S. Navy, this ship was decommissioned on March 12th 1988.

Dragon 1/350 USS Independence CVL22 Aircraft Carrier
$199.75
Feature:
- Bonus: 6 SBD in transparent plastic
- 10 newly tooled 1/350 scale aviators
- 8 newly tooled 1/350 scale ground crewmen
- Intricate bridge is newly produced w/finest details
- Detailed crane is newly produced
- Finely detailed and newly designed quadruple 40mm Mk4 mount
- One-piece slide-molded upper hull w/undercut details realistically presented
- Slide-molded upper and lower hull accurately produced
- Delicated bilge keels w/sonar dome are represented on lower hull by slide-mold technology
- Waterline or full-hull version can be assembled
- 2 delicated 1/4 ton 4 x 4 trucks are included
- Open mount 5-inch gun realistically produced
- 4 delicated tractor tugs included
- 6 TBF and 6 F6F are conveniently constructed in transparent plastic
- Wings of TBF and F6F can be folded
- Canopy of SBD can be assembled open/closed
- Hangar bay walls w/great detail
- Hangar interior w/fine frames
- Flight deck elevators can be posed in either raised or lowered position
- Delicate funnel w/great details
- Photo-etched railings below island are authentically produced
- Rear of CVL-22 w/finest details
- Extra-thin shield wall reproduced for accurate 1/350 scale appearance
- True-to-scale ultra-thin propellers
- Rudder can be easily assembled
- Finest pattern on flight deck of CVL-22
- Finest tread patterns on CVL-22 flight deck elevators
- Accurately shaped flight deck side w/slide-mold technology
- Delicate tower structure is accurately produced
- Radars on tower structure w/delicate details are realistically produced
- Radars on flight deck side are truly reproduced
- Detailed island is finely produced via slide-mold technology
- Slide-molded crane boom w/details
- Slide-molded radar array reproduced
- Delicate paravane is realistically produced
- Rectangular liferafts look authentic
- Delicate whaleboat w/fine details
- Photo-etched safely net is produced
- Optional antenna on deck side can be folded
- Twin 40mm Mk4 guns reproduced w/delicate detail
- Finely represented Mk51 gun director
- Engineered for modeling enjoyment
- Plastic parts with enhanced detail
- Unprecedented value
- Ready for immediate assembly!

Dragon 1/48 Ju88P1 Tank Buster Aircraft w/75mm Pak 40 Gun
$79.00
Features:
- new and accurate 75mm PaK 40 cannon in its entirety
- two types of muzzel brakes are available
- new tooling for pod under the fuselage
- gun pod door can be assembled in open or closed position
- new armored nose for P-1 version
- photo-etched details for ultra level of details
- high quality Cartograf decals

Dragon 1/48 Messerschmitt Bf110D1/R1 Dackelbauch Fighter Bomber
$82.75
Features:
Bonus: First Production For USA & Japan ONLY
- Engine has intricate detail represented by multiple parts
- Engine cowling cover can be assemblied open/closed
- Brand new large fuel tank "Dackelbauch" for Bf110-D reproduced under fuselage
- Highly detailed twin-engine heavy fighter-bomber with accurate 1/48 scale
- Leading edges can be slid down for optional assembly
- Surface of ribbed fuel tank realistically reproduced
- Two types of wing root inserts included as options
- Aircraft rose can be assembled in two options
- Three different depths of panel lines exhibit astonishing level of minute detail
- Aileron can be assembled in different position
- Carefully reproduced fins and rubbers
- Realistic canvas pattern on tailfin w/authentic details
- Rudder represents the real one
- Detailed inspection covers with rivets
- Larger diameter tailwheel for Bf110D
- Detailed fuselage with sharp detail
- Fuselage possesses metal-skinned detail
- Wings represent lammar-flow airfoil shape
- Detailed pilot tube on underside of wing
- Propeller blades with curved cross-section and true-to-scale thickness
- Cockpit canopy with realistic detail
- Cockpit canopy antenna finely detailed
- Cockpit canopy can be positioned open/closed
- Detailed rear gunner position and MG15
- Detailed slide-molded engine cowling cover has maximum detail
- Realistically detailed gun barrels are slide molded with hollow ends
- Realistic radiator vents included
- Air filter has fine detail
- Two ETC500 bombs and pylons precisely reproduced under the fuselage
- Detailed underwing radiators
- Landing gear can be assembled in optional positions
- Stengthened landing gear realistically portrayed
- Wheels have realistic tread detail
- Instrument panel authentically detailed
- Pilot's seatbelt upgraded by photo-etched parts
- Landing gear compartment with interior detail-struts delicately rendered
- Full cockpit interior details: pilot's seat, instrument panel, radio and MG ammo included
- Intricate MG ammo included: double-drums for MG 15, round drums for MG FF
- Antenna devices located on underside of fuselage: loop antenna, antenna array and antenna mast
- Includes finely detailed boarding ladder
- Two drum-fed MG FF cannons under the fuselage
- Four MG 17 weapons for interior of upper nose

Dragon 1/35 PzKpfw III Ausf M Tank Kursk 1943
$118.50
The second subject in this scintillating Neo Smart Kit line is a Panzer III Ausf.M as used during the Battle of Kursk in 1943. A total of 250 tanks of this variant were produced from October 1942 till February 1943. Based on the preceding Pz.Kpfw.III L tank, key design features included a deep-wading exhaust and special seals (to aid river crossings) and the attachment of Schurzen side skirt armor on the hull and turret. The Panzer III Ausf.M was armed with a 5cm KwK.39 L/60 main gun. This tank was widely used in the gigantic Battle of Kursk in July-August 1943, when nearly 3,000 German tanks clashed with more than 5,000 Soviet tanks.

Dragon 1/700 USS Arleigh Burke Aegis Class Destroyer
$39.50

Dragon 1/72 Panzer Pz.Kpfw.III Ausf.M with Schurzen
$34.75
The Panzer III Ausf.M succeeded the Ausf.L. It shared the same 5cm KwK39 L/60 main gun and among its modifications was a deep-wading muffler with a series of associated hatch seals that allowed fording of water obstacles up to a depth of 1.3m. To meet popular demand, Dragon has released its newest Panzer III kit – an Ausf.M equipped with Schürzen, which were protective steel plates designed to stymy enemy anti-tank weapons. Furthermore, Dragon's kit depicts a tank participating in the largest-ever tank conflagration, the Battle of Kursk in July 1943, that involved a staggering 8,000 tanks!
The stunning box-top illustration portrays a Panzer III M fighting in Kursk. Meanwhile, inside the box lie all the necessary and desirable ingredients to create an accurate 1/72 Panzer III M. The Schürzen plates and related brackets are also produced. The kit is extremely well engineered and the parts separation is cleverly handled by the design team. Markings for vehicles in the Battle of Kursk are obviously available in the form of Cartograf decals, including unit in Kursk!

Dragon 1/48 Apollo 11 Lunar Approach: CSM Columbia + LM Eagle
$133.50
Apollo 11 will forever remain hallowed in history books since it was the mission that first put man on the Moon. Watched by millions of TV viewers, the historic Moon landing occurred on 20 July 1969 when the lander touched down on the southern Sea of Tranquility. The Lunar Module (LM), christened Eagle, spent 21.5 hours on the Moon's surface, while the Command & Service Module (CSM), named Columbia orbited above.
As for Dragon's 1/48 scale model, it features the Eagle LM still coupled to the Columbia CSM on its approach to the Moon. The spacecraft modules possess accurate detail, and this kit conveniently provides them both in a single box. Having the two modules connected like this makes for an impressive sight when they're exhibited on their integral display stand. The set also features a newly tooled adapter to combine the two modules together. Furthermore, the kit makes for an interesting education lesson, allowing modelers to understand more about this milestone event. Dragon is here providing a 1/48 scale kit that will serve as a magnificent desktop display piece thanks to its outstanding size and uncompromising detail.

Dragon 1/72 Panzer Pz.Kpfw.III Ausf.N with Side-skirt Armor
$37.25
Features:
- Newly tooled Pz.Kpfw.III Ausf.N rendered w/full detail
- Slide-molded stowage bin
- Turret skirt reproduced w/realistic detail
- Add-on armor tailored to 7.5cm Kw.K. L/24 gun mantlet
- Commander's hatches can be assembled open/closed
- Detailed 7.5cm Kw.K. L/24 cannon
- Coaxial MG w/hollow muzzle
- Delicate on-vehicle tools
- Antenna accurately designed
- Side-skirt armor plates can be installed separately
- Tow cables on engine deck included
- Detailed exhaust pipes and muffler
- One-piece DS tracks for easy assembly
- Intricate sprocket wheels, idlers and road wheels

Dragon 1/72 Panzer Pz.Kpfw.III Ausf.N DAK ~ Armor Pro Series
$34.75
Features:
- Newly tooled Pz.Kpfw.III Ausf.N rendered w/details
- Side fenders w/pattern detailed on both surfaces
- Delicate on-vehicle tools
- Coaxial MG w/hollow muzzle
- Detailed 5cm KwK 39 L/60 cannon
- Tow cable on engine deck included
- Commander's batch can be assembled open/closed
- Slide-molded stowage bin
- Photo-etched ventilation grill installed
- Photo-ethced parts installed on the bottom of the engine deck
- Intricate sprocket wheels, idlers and road wheels
- One-piece DS tracks for easy assembly

Dragon 1/48 Ju88G-6 Nachtjager
$79.25
-Reproduce the Junkers Ju88G-6 type, a night fighter deployed by the German army in WWII, on a 1/48 scale.
-The shape of the smart aircraft pursuing speed accurately reproduces the figure with the gondola on the underside of the nose removed, and firmly suppresses the characteristics of the G-6 type, such as the nose shape equipped with a radar antenna. Modeling.
-The finished length is about 30cm. The nose part has four antenna parts reproduced to create a unique look.
-The body is divided into left and right parts, and the wings are divided into left and right parts.
-Panel lines are also delicately expressed.
-The two engine nacelles on the left and right sides have ample atmosphere, such as radiators and side exhaust pipes, as well as shapes.
-In addition, the cockpit also has a detailed detail and you can see the finish from the canopy.
-In addition, the main landing gear and tail wheel can be mechanically finished to the pillars and inside the leg storage.
-It would be fun to swing your arms for more detail.
-A model that cannot be overlooked only in the field.

Dragon 1/72 Sd.Kfz.251/22 Ausf.D w/7.5cm PaK 40
$37.25
Dragon has released a fair number of Sd.Kfz. 251 halftracks in its 1/72 scale range. However, among the ranks there has never been an Sd.Kfz.251/22 variant up till now. This particular halftrack version mounted a 7.5cm PaK 40 L/46 antitank gun, and it was the last major variant to be built in this famous halftrack family. As Germany desperately sought weapons to counter the onslaught of Russian and Allied tanks, one expedient was to mount this potent antitank cannon on Ausf.D halftracks, with conversions beginning in December 1944.
Dragon's new 1/72 kit is based on the existing high-quality Sd.Kfz.251 chassis, with all the necessary alterations enabling it to mount the 7.5cm cannon. The vehicle features a completely new gun mount, and details on the PaK 40 are delicately and accurately rendered. Additional details such as ammo cases are also supplied to populate the interior of this open-topped fighting vehicle. The Sd.Kfz. 251 has always been a popular subject amongst modelers, and this most powerful and lethal variant of all will ensure it packs a punch and is an instant hit with modelers!

Dragon 1/35 German s.10cm Kanone 18 ~Smart Kit
$74.25
Feature:
- Brand new s.10cm K18 Kanone
- Gun breech is newly designed
- New breechblock intricately represented
- Newly tooled recoil track cover with crisp detail
- Either combat aor travel modes can be selected for assembly
- Gun can elevate to different angles
- Gun recoils like the real one
- Slide-molded recoil system
- Beautifully detailed slide-molded gun trails
- Crisp nut and bolt detail incorporated
- Two options for assembly of trail spades - combat or travel mode
- Photo-etched components for gun that allow it to elevate
- Traversing gear realistically represented
- Fully detailed trail spades
- Rifling inside gun barrel realistically rendered
- Aluminium gun barrel w/hollow end
- Lathed brass parts to upgrade details
- Highly detailed gun cradle mount is slide molded
- Slide-molded wheels with weld detail
- Nuts sharply represented on road wheels
- Two types of ammunition with separated parts included as bonus
- Suspension for K18 with steering mechanism
- Includes toolboxes on gun trails
- Detailed hand wheels replicated
- Periscope gun sight in clear plastic
- OVM on K18 fully reproduced
- Firing lanyard
- Cleaning rods for K18 are supplied
- Ranging poles included
Tuesday, March 3, 2020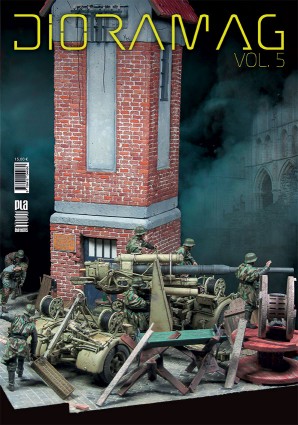 PLA Editions - Dioramag: Dioramas & Scenes Magazine #5
$28.50
Contents:
3 Starvation Cove by Per Olav Lund
8 NEWS
11 Showcase Dioramag: Imre Kovacs
14 DER LETZTE AKT by László Gaál
20 Showcase Dioramag: Robert Doepp
26 "IN QUEST OF THE QUANTUM" by Bob Letterman
42 DIORAMA CLASSICS: Phil Stutcinskas
44 JAPANESE MASTERS by Tetsuo Horikawa
50 Showcase Dioramag: Roger Hurkmans
56 REBEL'S STORM by Imad Bouantoun
70 FLAMINGOS by Tetsuya Kaneko
74 THE FIRST PHOTO IN PEACETIME by Štěpán Los
88 THE HORNET'S NEST by Konstantinos Tsiompris
96 pages – Soft Bound – All texts in English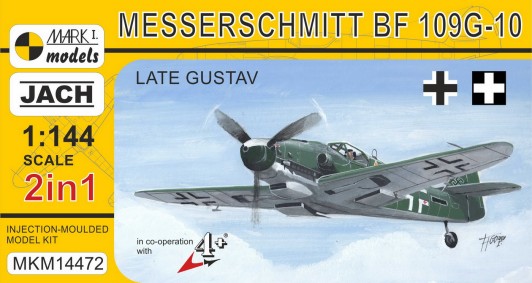 Mark I Models 1/144 Messerschmitt Bf109G10 Late Gustav Fighter (2 in 1)
$37.00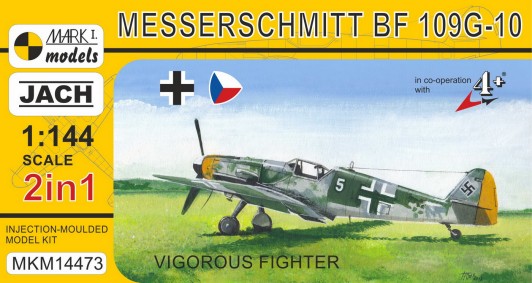 Mark I Models 1/144 Messerschmitt Bf109G10/Avia C10 Vigorous Fighter (2 in 1)
$37.00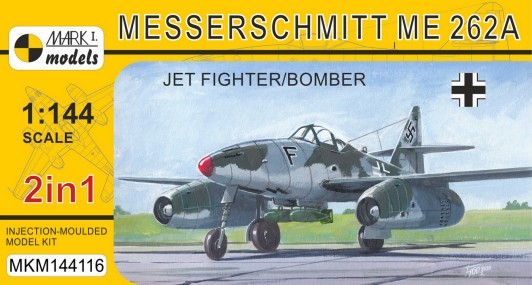 Mark I Models 1/144 Messerschmitt Me262A Jet Fighter/Bomber (2 in 1)
$43.25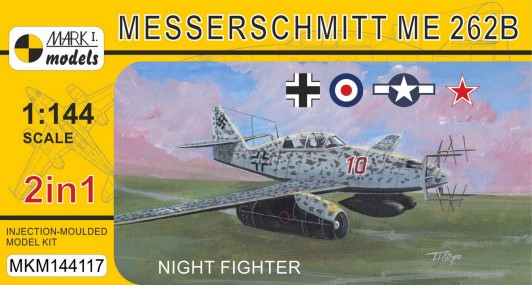 Mark I Models 1/144 Messerschmitt Me262B Night Fighter (2 in 1)
$43.25
Thursday, March 5, 2020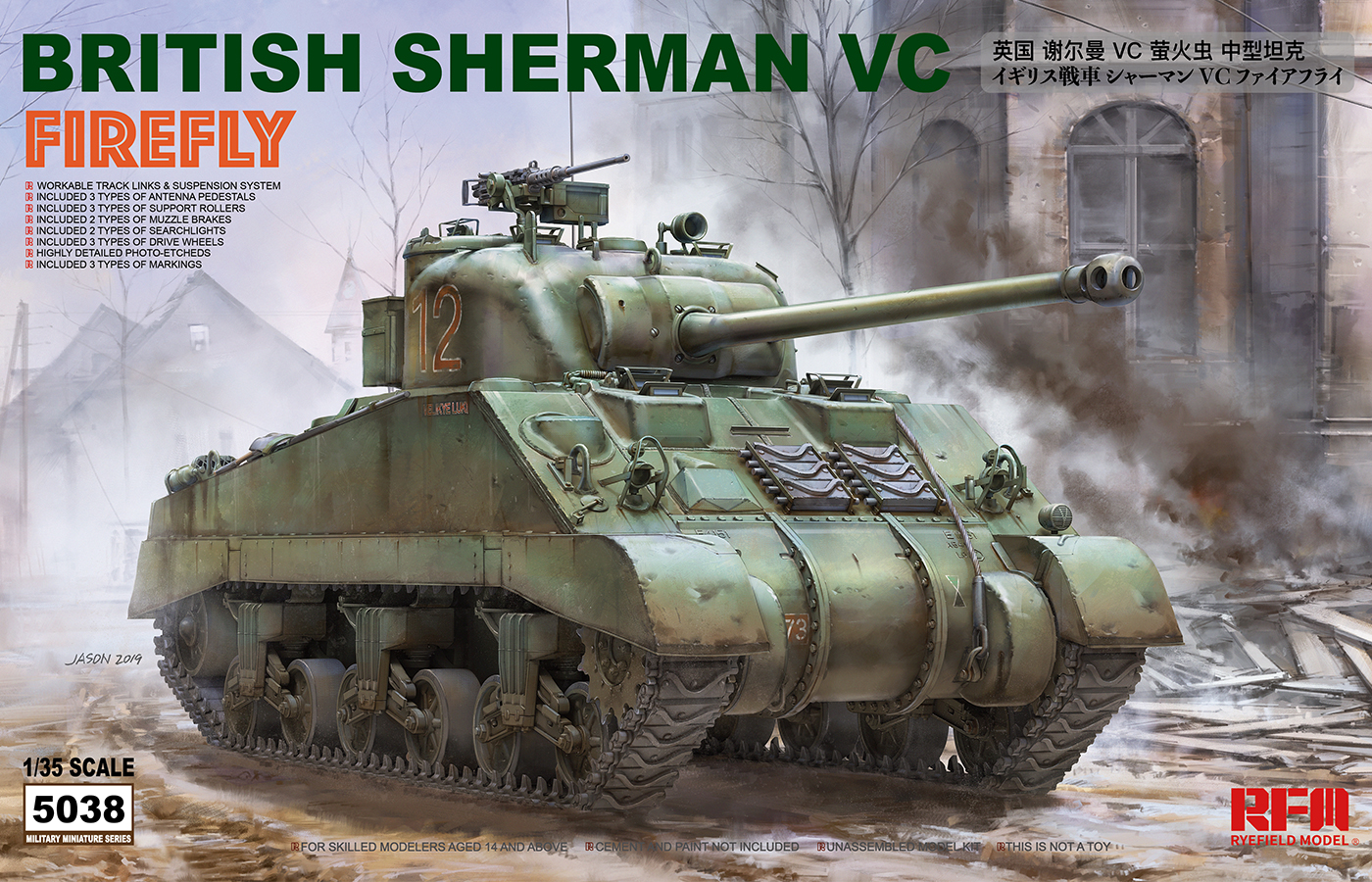 Ryefield Models 1/35 British Sherman Vc Firefly
$92.75

Airfix 1/72 Heinkel He 111H-6 'Motorhead Bomber' Special Edition
$57.75
Motörhead, the iconic heavy-metal band's striking album artwork for their 1979 'Bomber' was carefully created by an illustrator. Lemmy, "Fast" Eddie Clark and Phil "Philthy Animal" Taylor are shown inside the cockpit of a Heinkel in the Blitz. Lemmy, himself a collector of WWII memorabilia, insisted the plane be German.
The illustrator explains: "I suggested the Heinkel plane. They wanted this photo-realistic effect, so I designed the thing with the detached bomb coming towards you."
"I worked in airbrush in black and white, which I would then tint," he adds. "That's why my work always looked very doomy. To get the lighting right, I got a little Airfix kit of a Heinkel 111, made it up and sprayed it black." He then photographed the model to get the reflections underneath. "When you work realistically, you've got to have a realistic reference."
The album sleeve made such an impression the band insisted on a remarkable 40ft Heinkel replica to accompany them on stage for their now notorious 'Bomber' tour.
"It's the most famous cover I've ever done,"
The album was released on October 27th 1979, reaching number 12 on the UK charts.
To mark the 40th Anniversary, Airfix is pleased to offer a version of its latest Heinkel with the "Bomber" markings included, and with the special Anniversary box lid.
Friday, March 6, 2020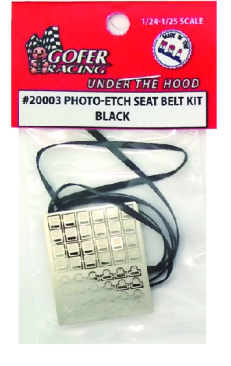 Gofer Racing 1/24-1/25 Photo-Etch Black Seatbelt
$9.50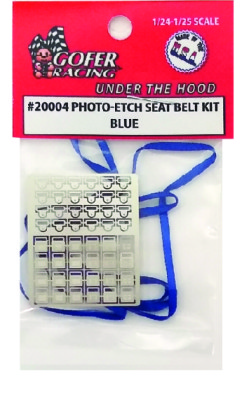 Gofer Racing 1/24-1/25 Photo-Etch Blue Seatbelt
$9.50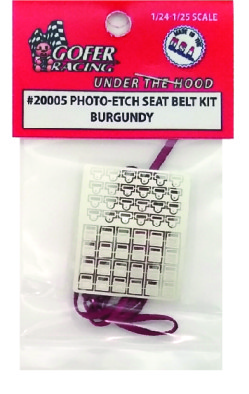 Gofer Racing 1/24-1/25 Photo-Etch Burgundy Seatbelt
$9.50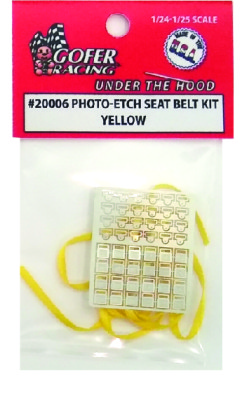 Gofer Racing 1/24-1/25 Photo-Etch Yellow Seatbelt
$9.50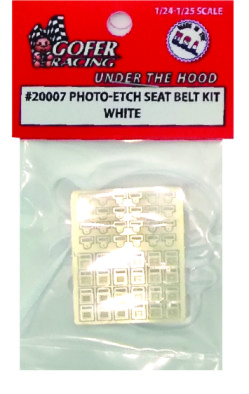 Gofer Racing 1/24-1/25 Photo-Etch White Seatbelt
$9.50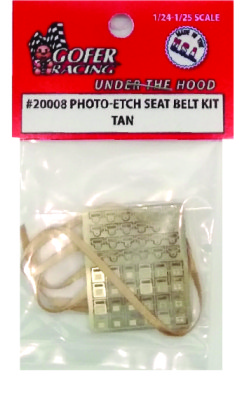 Gofer Racing 1/24-1/25 Photo-Etch Tan Seatbelt
$9.50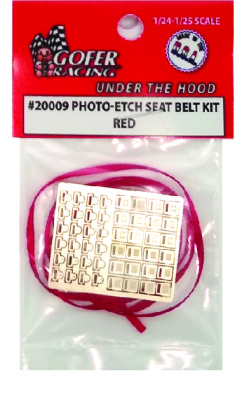 Gofer Racing 1/24-1/25 Photo-Etch Red Seatbelt
$9.50

New Items Available to Order - Feb 24 - Feb 28
Monday, February 24, 2020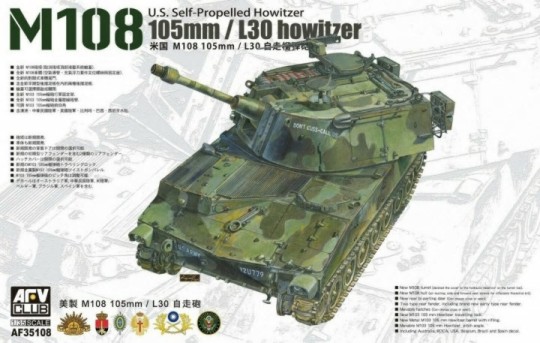 AFV Club 1/35 US M108 105mm/L30 Self-Propelled Howitzer
$92.75
-Newly developed turret.
-Newly developed body.
-Newly developed rear door can be opened or closed.
-Two types of rear fenders including a new early type rear fender.
-The hatch cover can be opened or closed.
-New M103 105mm howitzer traveling lock.
-New metal M103 105mm howitzer twist gun barrel.
-Adjustable pitch angle of M103105mm howitzer.
-Decals include Australian Army, Republic of China Army, US Army, Belgium Army, Brazil Army, Spanish Army.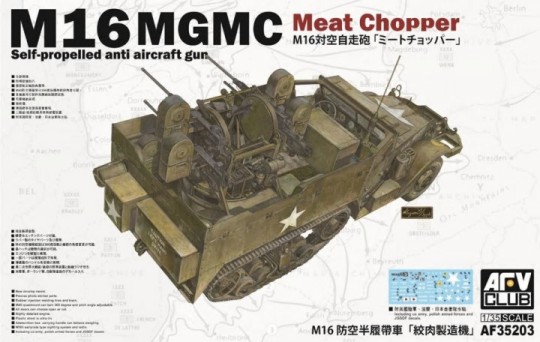 AFV Club 1/35 M16 MGMC Meat Chopper Self-Propelled Anti-Aircraft Gun Halftrack
$106.25
-Completely new mold.
-Succeeded in developing armor plates to ultra-thin parts! (Wonder thickness 0.56mm)
-Precise etched parts included.
-Rubber tire parts and tracks.
-The M45 anti-aircraft gun mount can be rotated 360 degrees and the angle of the machine gun can be changed.
-Each hatch can be opened or closed.
-Reproduce the engine precisely.
-Some parts are reproduced with ultra-thin molding.
-Faithfully reproduce the ammo box handle.
-Comes with sighting device and wireless radio before / after World War II.
-Includes US Army, Polish, and Self-Defense Force painted decals.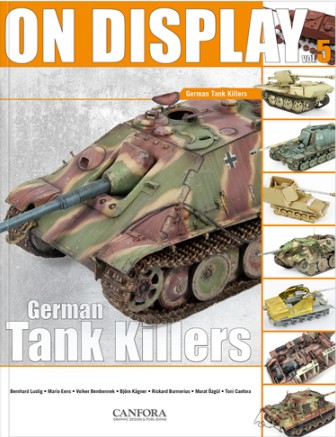 Canfora Publishing - On Display Vol.5: German Tank Killers
$37.00
The 5th volume in our On Display modelling series returns to a German WWII theme. This time we present 8 builds of various "tank killers", all documented in a step-by-step style to serve as guide and inspiration. 96 pages.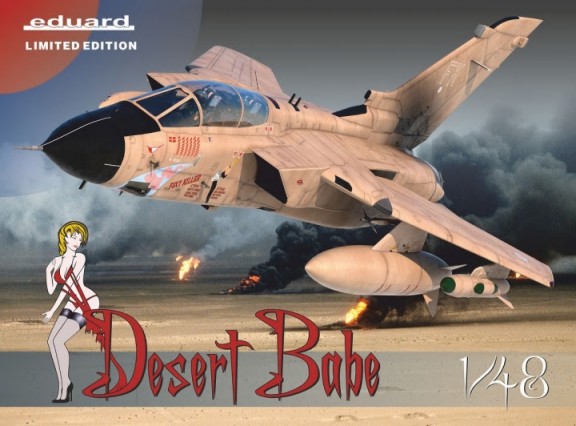 Eduard 1/48 Tornado GR1 Desert Babe Combat Jet Aircraft (Ltd Edition Plastic Kit)
$92.75
Tornado GR1 in the Granby/Desert Storm Operation
Revell Plastic Parts
8 Marking Options
Eduard Brassin Seats & Wheels
Eduard PE Accessories & Painting Mask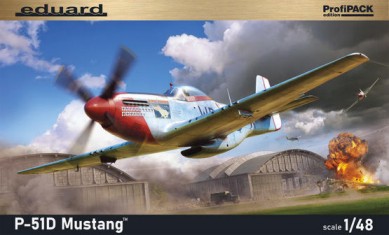 Eduard 1/48 P51D Mustang Fighter (Profi-Pack Plastic Kit)
$68.00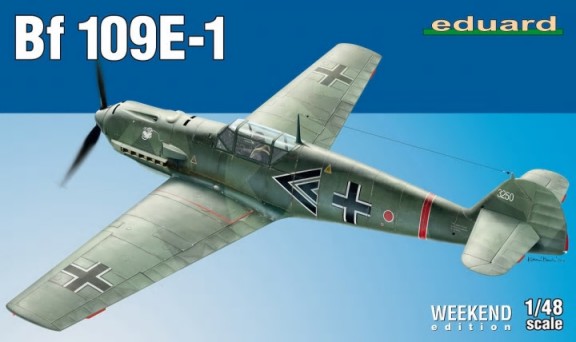 Eduard 1/48 Bf109E1 Aircraft (Wkd Edition Plastic Kit)
$37.00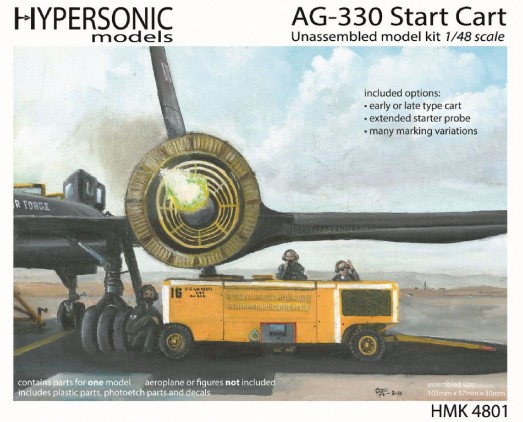 Hypersonic Models 1/48 AG330 Early/Late Start Cart Used by the USAF to start SR71 engines
$54.50
Full injection moulded plastic kit of one AG-330 start cart for the famous Blackbird family of planes (A-12, YF-12, M-21 and SR-71). Optional parts for both an early "Buick" powered, or the later "Chevy" powered cart are included. The starter probe can be built retracted or extended. Photo etched detail parts such as grille mesh, control panel, handles etc. are included as well as a comprehensive decal sheet. This comprises full instrument gauges for the control panel, maintenance stencils and lots of numbers and letters for individual cart serials and markings.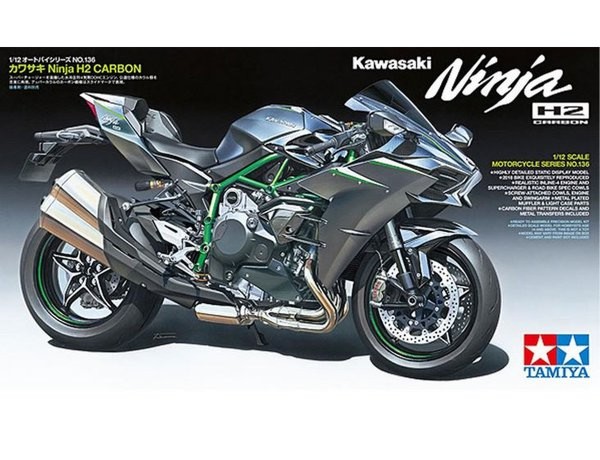 Tamiya 1/12 Kawasaki Ninja H2 Carbon Motorcycle
$68.00
This Tamiya model assembly kit depicts the Ninja H2 Carbon. The bike is a top spec model in the Ninja H2 range (road-going cousins of the H2R circuit bike depicted in our Item 14131) available from 2017, with exclusive carbon fiber upper cowl, enhanced 205hp engine, Öhlins rear shock unit, and other upgrades to the extensive electronic driver aids.
• 1/12 scale plastic model assembly kit. Length: 174mm, width: 76mm, height: 96mm.
• Features new black, clear and metal-plated parts sprues.
• The model depicts a 2018 spec version of the roadgoing Ninja H2 Carbon. Turn signals, larger silencer, rear license plate, side mirrors, and altered designs for the upper cowl, headlights, windscreen, and more are all faithfully rendered and updated.
• Includes carbon fiber pattern pieces to adorn the upper cowl.
• Liquid-cooled inline-4 engine and supercharger are depicted in detail.
• Cowls, engine and swing arm are attached using minute screws.
• Metal-plated parts recreate exhaust, muffler and catalytic converter.
• Metal transfers are included for the Kawasaki river mark emblem.
• Masking stickers are included to help with the painting process on the two-tone fuel tank.

Eureka XXL 1/35 Tow Cable - British Centurion Tank
$7.50
Set contains elements for improving one tank in 1/35 scale:
2 lengths of copper cable
4 resin eyelets
10 additional resin parts

Eureka XXL 1/35 Tow Cable Israeli Merkava I & II Tank
$7.50
Set contains elements for improving one tank in 1/35 scale:
2 lengths of copper cable
4 resin eyelets
10 additional resin parts

Eureka XXL 1/35 Tow Cable Israeli IDF Magach 6B Gal Batash Tank
$15.00
Set contains elements for improving one tank in 1/35 scale:
4 lengths of copper cable
4 resin eyelets
10 additional resin parts

Eureka XXL 1/35 Tow Cable Cables for Soviet KMT-5M/-7/-9 Mine Rollers
$7.50
Set contains elements for improving one vehicle in 1/35 scale:
2 lengths of copper cable
4 resin eyelets

Eureka XXL 1/35 Plastic Containers for Chemicals
$11.25
Set contains 6 resin containers in 1/35 scale.

Eureka XXL 1/35 Plastic Containers for Paint
$11.25
Set contains 8 resin parts to make 5 plastic containers in 1/35 scale.
Tuesday, February 25, 2020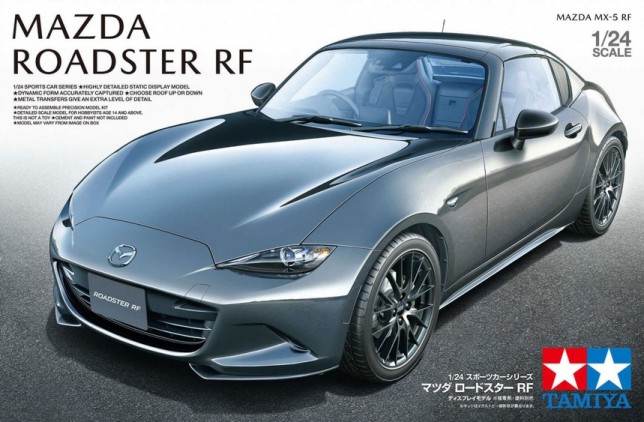 Tamiya 1/24 Mazda MX5 RF Roadster Sports Car
$55.75
This model assembly kit recreates the fun to drive MX-5 (also known as the Miata MX-5 in the US and Roadster in Japan). Specifically, the kit recreates the RF model that was originally announced by Mazda in 2016: the initials stand for Retractable Fastback, as the car features a sleek fastback hard- top design with innovative retractable roof. In fact, the actual car's three-piece roof opens and closes in just thirteen seconds, and all at the push of a single button. It also features tweaks to its chassis and suspension to accommodate the heavier top section, while retaining all of Mazda's vaunted safety features.
• 1/24 scale plastic model assembly kit. Length: 164mm, width: 80mm.
• The kit depicts the 2017 model MX-5 RF, complete with options available on top grade models in the Japan market such as Recaro seats, and BBS wheels.
• Parts to build: Japanese, US, UK or European market spec cars.
• NEW side window parts in this kit allow for the hard top to be depicted up or down.
• Detailed renditions of the suspension and interior.
• Metal-plated parts are used to depict light reflectors and other components.
• Decals are included for instrumentation and other details, as are metal transfers for emblems and side mirror surfaces.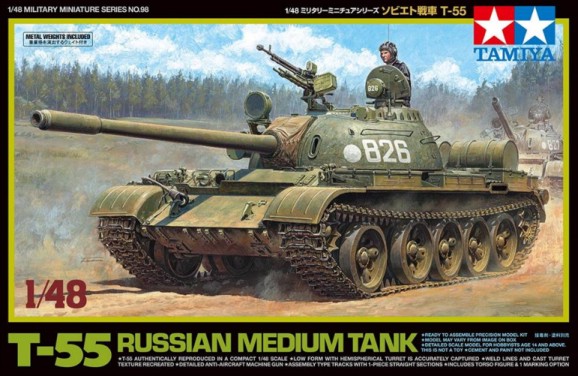 Tamiya 1/48 Russian T55 Medium Tank
$36.00
Tamiya's 1/35 T-55 model kit is regarded as a staple model kit among model contest aficionados. Tamiya brings this fan favorite subject to a smaller scale with this 1/48 rendition. The T-55 medium tank not only provided a base for later T-62, T-72 and T-80 designs still in use today, it spurred Western rivals on and contributed to the great East-West arms race of the Cold War. Its 100mm gun compared favorably with the West's 90mm counterpart, and with HEAT rounds could defeat up to 390mm of armor. The T-55 was produced in the USSR, and under license in Czechoslovakia and Poland, and supplied to Soviet countries and clients worldwide – it even faced off against U.S.-designed M48s and M60A1s in the Middle East.
• 1/48 scale plastic model assembly kit. Length: 190mm, width: 69mm.
• Features authentic recreations of weld lines and cast turret surfaces.
• 100mm main gun and anti-aircraft machine gun provide added realism.
• Assembly type tracks have single piece straight sections.
• Comes with a commander torso figure surveying the battle in front, and decals to create a single marking option.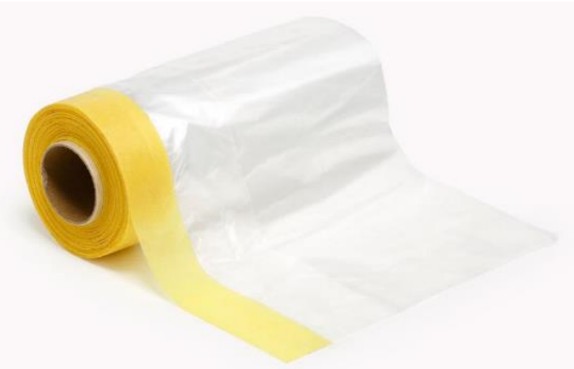 Tamiya - Masking Tape w/Plastic Sheeting 150mm
$11.00
• Masking Tape w/Plastic Sheeting 150mm Roll x1
• Polyethylene sheeting is resistant to paint, minimizing the risk of any seeping through.
• The width of tape and sheeting combined is 150mm. Length: 10 meters.
• Sheeting is a double layer, and can be cut apart if a wider piece is required.

Meng - Cargo Truck - Iron Ore Truck (from The Wandering Earth movie)
$58.25
-Snap-fit kit requires no adhesive, so even beginners of plastic models can easily assemble.
-This kit is a vehicle that appeared in a science fiction movie [Wandering Earth] that was broadcast in China. It is a science fiction that faces the danger that the sun will disappear in the near future and humanity will not be able to survive in the solar system.
-This product is a product of the vehicle used in the work, and the vehicle is also a detail with a near future feeling.
-It is being broadcast as a Japanese title [Evolution of Earth] on the Internet distribution service.

Meng 1/100 Transport Truck (from The Wandering Earth movie)
$198.75
-This kit is a vehicle that appeared in a science fiction movie [Wandering Earth] that was broadcast in China. It is a science fiction that faces the danger that the sun will disappear in the near future and humanity will not be able to survive in the solar system.
-This product is a product of the vehicle used in the work, and the vehicle is also a detail with a near future feeling.
-It is being broadcast as a Japanese title [Evolution of Earth] on the Internet distribution service.

Meng 1/3000 The Navigational Platform - International Space Station (from The Wandering Earth movie)
$132.25
-This product is a kit of the International Space Station that appears in the science fiction movie [Ragitation Earth] aired in China.
-The science fiction movie [The Wandering Earth] is being broadcast on the Internet as a Japanese title [Emerging Earth].

Meng - Warship Builder - HMS Hood
$32.25
-The British cruiser battleship Hood, which has been described as the "best of warship beauty" in the popular Deformed Kit [Shipbuilding] series, is now available.
-Easy-to-assemble snap-fit kit without adhesive.

Meng - Kids C-17 Globemaster III Transporter
$22.25
-It is a deformed model that does not require an adhesive, but it incorporates the technology cultivated in the scale model, and is also a recommended kit for scale modelers.

Meng 1/35 M4A3E2 Jumbo Sherman
$98.75
-This vehicle is a derivative body of the M4 Sherman and is an armored version of the M4A3, with a production number of about 254 vehicles, heavy armor with a maximum armor thickness of 152 mm, assuming a breakthrough of the German anti-tank gun base. It is a developed body.
-The body structure is a welded body and the mounted engine has been changed from the M4A3 to a Ford GAAV 8-cylinder gasoline engine, and the M4A3E2 is common to both the body and engine.
-The armament is equipped with a 75mm gun, but it seems that over 100 vehicles have been replaced with 76.2mm guns in the field renovation.
-This product is a body equipped with a 75mm gun.
-Attachments called "Duck Bill" are also reproduced on the side of the crawler track to reduce the ground contact pressure increased by increasing the weight of the body due to armor reinforcement.
-Turret and mantlet are newly developed.
Wednesday, February 26, 2020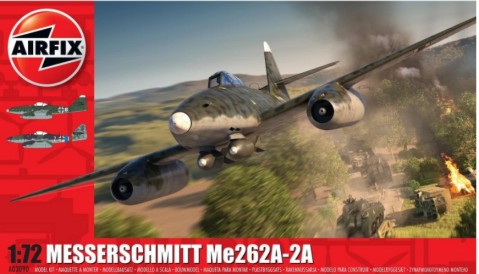 Airfix 1/72 Messerschmitt Me262A2A Fighter
$22.25
Despite being the most advanced aircraft of WWII, Adolf Hitler insisted that the Me262 be developed into a fast attack bomber, diverting valuable resources from much needed fighter production. Known as the 'Stormbird' the attack version included hard points for two 500kg bombs under the nose of the aircraft, with its speed making it almost invulnerable from Allied air interception.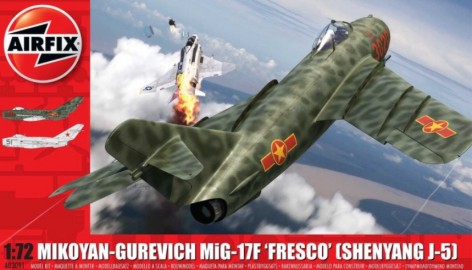 Airfix 1/72 MiG17 Fresco (Shenyang J5) Fighter
$22.25
The end of the Second World War saw the victorious Allied nations desperately attempting to secure details of German jet technology and high speed research data, information which could be applied to their own jet projects. Using this information and engine technology obtained from Britain, the Soviet Union introduced the diminutive Mikoyan-Gurevich MiG-15 in 1949 one of the most capable of the early jet fighters and even as this aircraft was proving effective during the Korean War, the Soviets were already working on its successor. The larger and faster Mig-17 Fresco may have given the appearance of being nothing more than a larger incarnation of its predecessor, however, this was in fact a completely redesigned aircraft, incorporating many improvements over the MiG-15 and a significant upgrade in Soviet jet capability.
The MiG-17 was designed to perform the role of bomber killer and was never intended as a dogfighter, however its exceptional agility would allow this aircraft to score combat victories over much heavier and more modern American designs. Dismissing the aircraft as nothing more than an upgraded MiG-15, the Vietnam War proved to be something of a sobering experience for the US Air Force, as some of their most modern aircraft would fall victim to the guns of the MiG-17, even though this had itself been superseded by more modern designs. Lighter and much more manoeuvrable than the US aircraft, the subsonic MiG-17 would claim victories over such aircraft as the F-105 Thunderchief and McDonnell Douglas Phantom, which would result in the US developing new agile air superiority fighters, in the years immediately following the end of the conflict.
Possessing both excellent performance and being easy to maintain, the rugged MiG-17 was produced in large numbers and became the standard Warsaw Pact fighter from the mid 1950s and for the next decade, with aircraft produced under licence in both China and Poland. An extremely cost effective aircraft, it was an attractive fighter option for many of the world's smaller air forces and more than thirty overseas nations would eventually operate the type. Perversely, for a nation against which the MiG-17 was designed to combat, America would become home to significant numbers of these aircraft, most coming into the hands of private collectors, but a small number used in dissimilar aircraft trials and to perfect combat techniques against smaller, more agile jet fighters. Two beautifully restored examples have also been popular display performers on the US Airshow circuit over the years.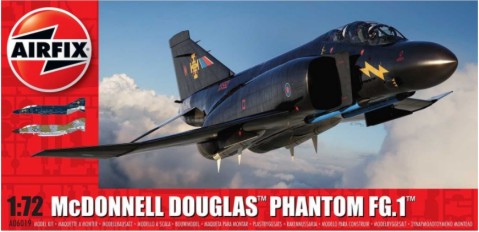 Airfix 1/72 FG1 Phantom RAF Aircraft
$43.25
With the RAF already operating Phantoms initially intended for the Royal Navy at Leuchars air base in Fife, the withdrawal of HMS Ark Royal in 1978 meant that they also inherited the rest of the Fleet Air Arm Phantom fleet. Nos 43 and 111 Squadrons would use the Phantom FG.1 to defend Britain's airspace until 1989, when they both converted to the BAe Tornado F.3.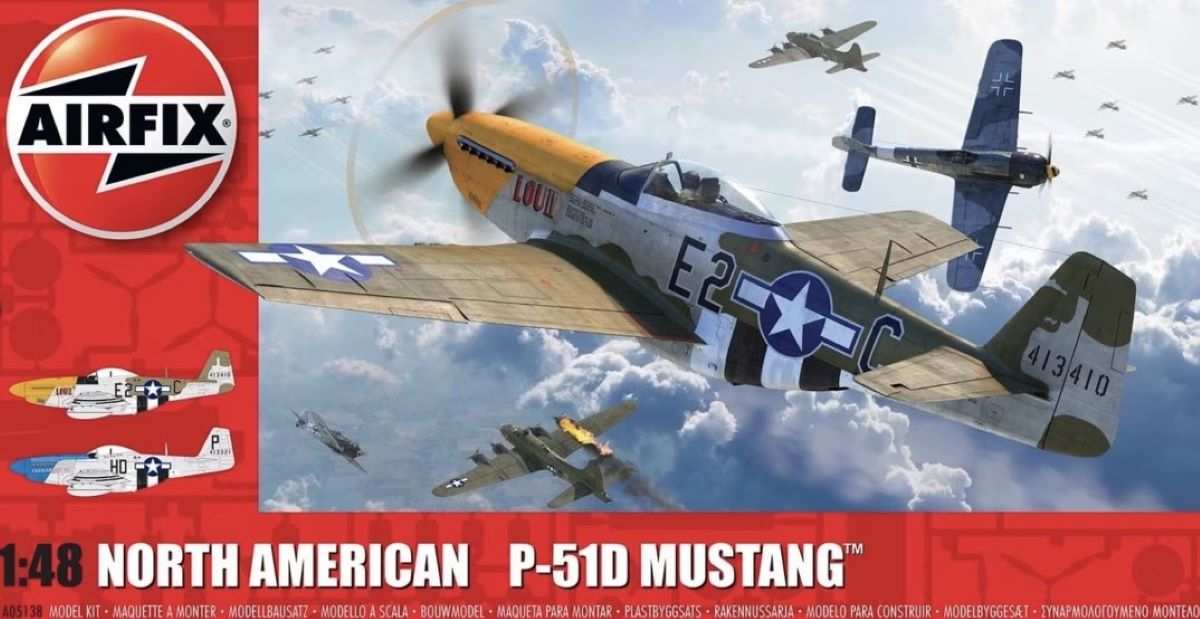 Airfix 1/48 P51D Mustang (Filletless Tails) USAAF Fighter
$39.50
A thoroughbred fighting aeroplane, the P-51D Mustang was produced in greater numbers than any other variant and introduced a number of improvements over earlier models. With a new wing design, teardrop canopy and lower rear fuselage, the P-51D was the mount of many USAAF aces and became the primary US fighter in the European Theatre, following its introduction in mid 1944.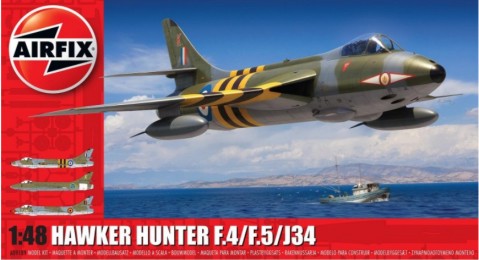 Airfix 1/48 Hawker Hunter F4/F5/J34 Aircraft
$64.25
The service introduction of the Hawker Hunter F.4 in March 1955 presented the RAF with a more capable version of their sleek jet fighter, including a much needed increase in its internal fuel capacity. The F.4 also introduced the two distinctive streamlined chin blisters, which were designed to collect spent ammunition links from the guns, thus preventing potential damage to the aircraft.
Thursday, February 27, 2020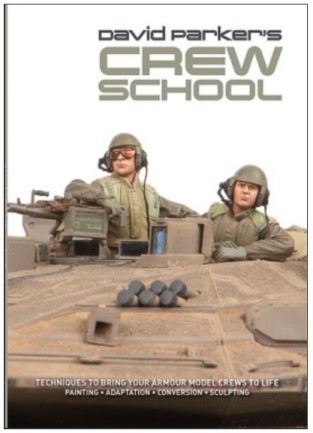 AFV Publications - David Parker's Crew School: Techniques to Bring Your Armour Model Crews to Life
$43.25
David Parker's Crew School
Techniques to bring your armour model crews to life
Modellers of all abilities will learn from David's techniques for figure sculpting, painting with detailed step-by-step guides to apply the tips, tricks and methods to your own projects.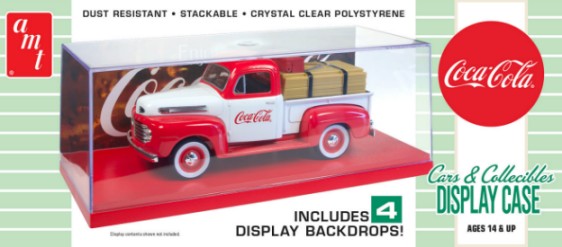 AMT 1/25 Cars & Collectibles Coca-Cola Showcase
$19.75
KIT FEATURES:
A special Coca-Cola version of our best-selling AMT600 1/25 car display case
Special "Coke-Red" display base
Crystal Clear Lid
Suitable for displaying most 1/25 scale model cars and trucks
Also useful for displaying other Coke memorabilia or multiple vehicles in smaller scales
Optional Coca-Cola graphical backdrop - 4 included to choose from!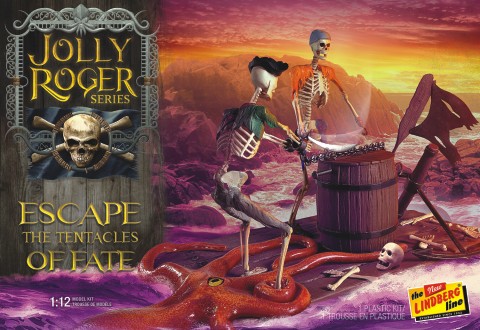 Lindberg 1/12 Jolly Roger Escape the Tentacles of Fate Diorama
$37.00
FEATURES:
1/12 scale, skill 2, paint and cement required
molded in Glow-In-The-Dark plastic
Two 6" tall pirate-themed skeleton figures on a detailed diorama base
Uses "long lost" tooling -1st reissue in 40 years
6th in a series
Model comes to life with rubber band action
Friday, February 28, 2020

Minicraft 1/144 KC-97L Stratofreighter
$43.25
The KC-97 evolved from the WWII Boeing B-29 bombers. An extensive re-design of the B-29 as a transport became first the XC-97, then YC-97 and finally the C/KC-97 in the late 1940's. The KC-97 was adapted to carry fuel for airborne refueling starting in the late 1940's. The KC-97L served well into the 1960's with Air National Guard units. Kit has J-47 jet engines, Cartograf decals representing 2 aircraft that served the United States Air Force, and the Air National Guard, clear stand representing model 'in flight'.

Minicraft 1/144 Avro Lancaster MK.1
$29.00
The Avro Lancaster was the primary heavy bomber for the Royal Air Force and Commonwealth Air Force units in World War II. Built by the thousands, the 'Lanc' as it was called was operated by many British Allies and British Commonwealth Air Force Units. The Lancaster was the primary aircraft used during strategic night-time bombings of the German Reich which contributed significantly to the defeat of Nazi Germany in May 1945. Kit has pre-decorated clear parts, high-quality decals printed by Cartograf and and clear stand for display 'in flight'.

Minicraft 1/144 C-118 Liftmaster
$43.25
The C-118 provided the United States Air Force with quality high-speed transportation during the Cold War years. Often used for general transportation of troops and supplies, the C-118 served the United States Air Force Military Airlift Command for over 10 years.
C-118 has USAF MATS markings with high-quality decals printed by Cartograf.

Minicraft 1/144 B-24J Liberator
$29.00
The B-24 Liberator was designed for use as a heavy bomber and employed in Europe and the Pacific by the United States Army Air Force and allied Air Force units all over the world. During World War II more B-24's were produced than any other aircraft. Kit has high-quality decals printed by Cartograf, representing 3 aircraft operated by the United States Army Air Force 8'th Air force during the daylight strategic bombing campaign against the German Reich, and clear stand for display 'in flight'.

Minicraft 1/144 C-47 Dakota
$39.00
The twin engine C-47A Dakota first entered service in the late 1930's as the DC-3 civilian airliner. The military version, the C-47A was used throughout World War 2 and continued to be used by United States armed forces long after the Second World War. This model represents an early war C-47A operated in the European theatre of operation. Kit has recessed panel lines, position-able landing gear and stand for displaying the airplane in the air or on the ground, high-quality decals printed by Cartograf, clear stand for display 'in flight'.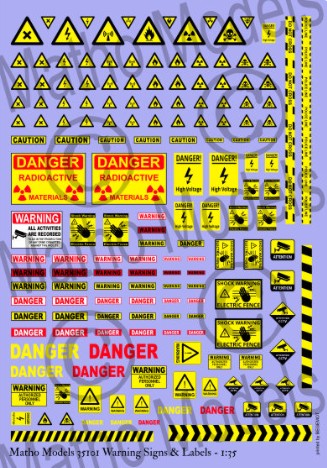 Matho Models 1/35 Warning Signs & Labels Decals
$16.25
Contains 1 sheet with various water slide decals.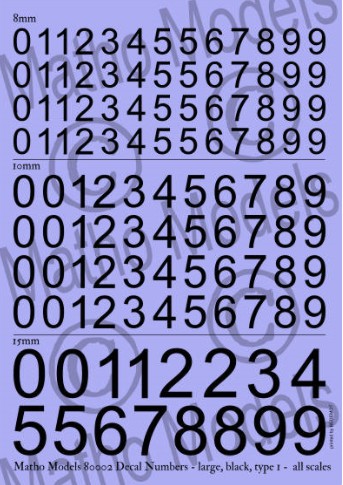 Matho Models - Multi-Scale Black Large Type 1 Numbers Decal
$8.75
Contains 1 sheet with various water slide decals. This sheet contains large black digits, varying in height between 8mm (0,31") and 15mm (0,59"). The height is listed on the sheet, so it is easy to choose the right height for your needs.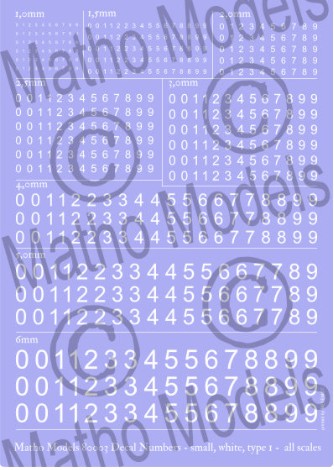 Matho Models - Multi-Scale White Small Type 1 Numbers Decal
$8.75
Contains 1 sheet with various water slide decals. This sheet contains small white digits, varying in height between 1mm (0,04") and 6mm (0,24"). The height is listed on the sheet, so it is easy to choose the right height for your needs.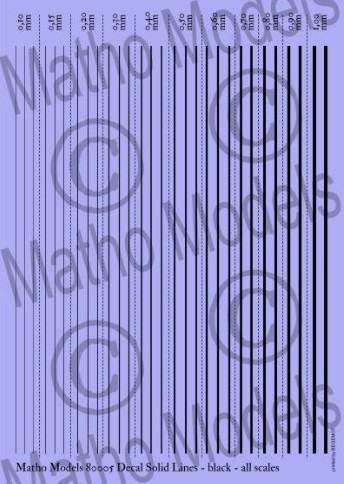 Matho Models - Multi-Scale Black Solid Lines Decal
$8.75
Contains 1 sheet with water slide decals. This sheet contains solid black lines, varying in thickness between 0,10mm (0,0039") and 1mm (0,039"). The thickness is listed on the sheet, so it is easy to choose the right thickness for your needs.
There is 37cm (14,57") of line available in each thickness (0,10 - 0,6mm).
There is 24,7cm (9,72") of line available in each thickness (0,7 - 1mm).