Items Available to Order
All Prices in CDN Funds, and do not include taxes and shipping (if applicable)
This list does not represent what I have in stock at ECH, only what has been released this week, and that I can order in. Some items I order as normal, other items are for "special order" only. If you are looking for something, and wonder if it is in stock or not, simply shoot me an e-mail and ask. If not in stock, I would happily order it in for you.
New Items Available to Order - May 13 - May 17
Monday, May 13, 2019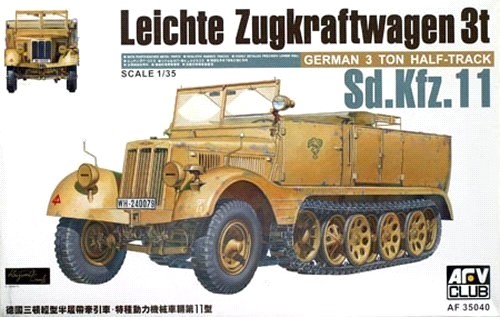 AFV Club 1/35 German SdKfz 11 3-Ton Halftrack
$56.75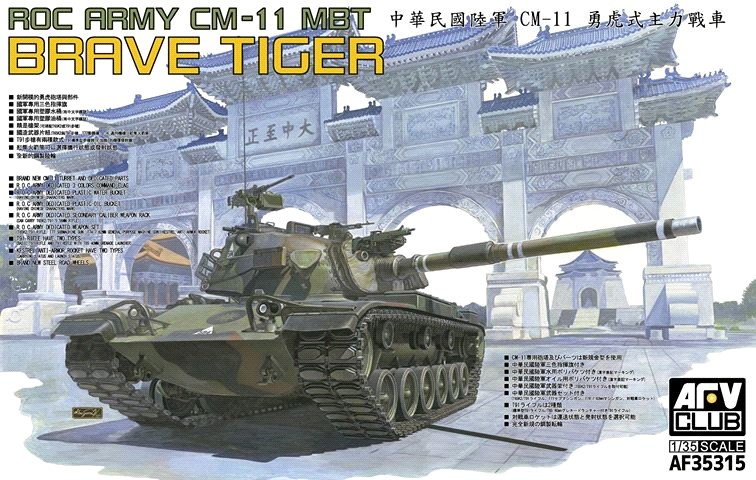 AFV Club 1/35 ROC Army CM11 Brave Tiger Main Battle Tank
$98.75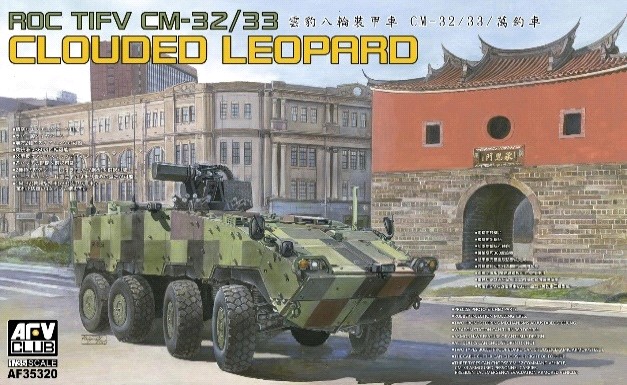 AFV Club 1/35 ROC TIFV CM32/33 Clouded Lepoard Infantry Fighting Vehicle
$99.75

Takom 1/35 M46 Patton US Medium Tank
$68.00

Takom 1/35 Stratenwerth 16T Strabokran 1944-45 Production & Vidalwagen Rocket V2
$95.75

Takom 1/35 Stratenwerth 16T Strabokran 1944-45 Production & Hanomag SS100
$89.75

Takom 1/72 M1070 Truck Tractor M1000 US Tank Transporter with M1A2 SEP Abrams SEP II
$86.50

Takom 1/72 MAZ-537G Tractor with CHMZAP-5247G Semi-Trailer Russian Army Tank Transporter
$52.50
Tuesday, May 14, 2019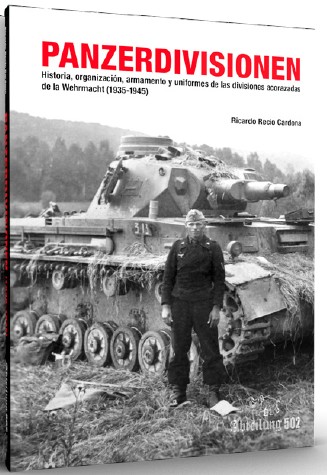 AK Interactive - Panzerdivisionen 1935-1945 History, Organization, Equipment, Weaponry & Uniforms of the Wehrmacht Armoured Division Book
$137.00
English & Spanish. 348 pages. Hard cover.
This book is a result of an extended research on the history and organization of the armoured divisions of the Wehrmacht from its creation in 1935, until the end of World War II. It also covers the different models of AFVs that were a part of the material delivered to these divisions. Included are several organization charts, colour profiles and more than 280 archive photos, many of these previously unpublished. To complete the study, a chapter devoted to uniforms is also incorporated. Launched under Abteilung502 brand is a perfect tool for modelers, and a precious book for history enthusiast.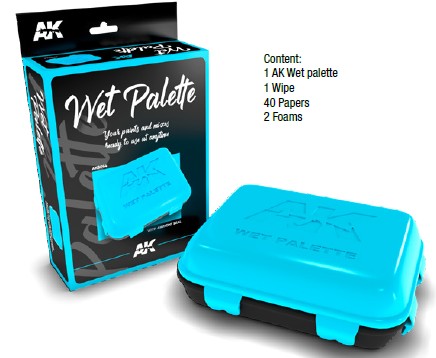 AK Interactive - Wet Palette Container to extend use of Acrylic Paint w/wipe, papers, foams
$24.75
The Wet Palette is a tool mainly used by figure painters, but more and more it is being used by people that paint with acrylics. It will extend the useful life of any acrylic so that it can be used for hours and once shut it will preserve the colors and color mixtures. It can be kept in the fridge.
It has three components:
1.Sponge, to hold large quantities of water, since it is quite thick.
2.Cloth made of fiber, placed on top of the sponge as a leveler, humidity filter, and as an interchangeable element in case of stains or if not used for a long time.
3.High quality special Paper, made of a fine silicone film, allows the transfer of humidity but prevents water forming and paints from dissolving, and does not give off any fibers not hairs when worked with the brushes.
The Wet Palette is watertight and airtight, made of the same material of marine containers for flares, charts, and medicines. Its locks guarantee the seal. This extends the life of paints, especially in Summer, hot climates, and under extreme conditions.
It contains: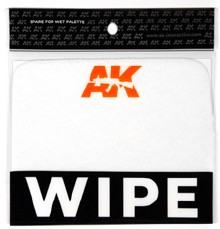 AK Interactive - Wipe Refill for Wet Palette Container
$5.00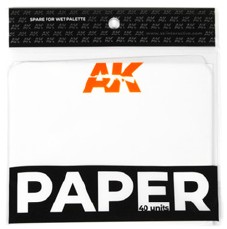 AK Interactive - Paper Refill (40) for Wet Palette Container
$7.50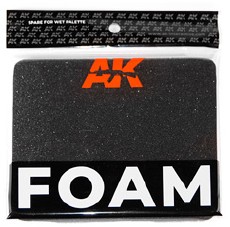 AK Interactive - Foam Refill for Wet Palette Container
$5.00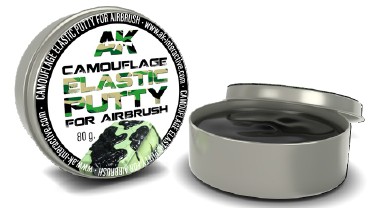 AK Interactive - Reusable Elastic Putty for Camouflage Masking 80gr
$17.50
Reusable putty for masking areas when airbrushing. Specially designed to leave no residue on any surface. Can be easily removed without damaging other painted areas. Doesn't stain and is grease free. The best quality with the best price in a perfect product for modelers that can be adapted to any surface and allows both to make camouflages and to mask areas (such as wheels or or clear parts) that don't want to be painted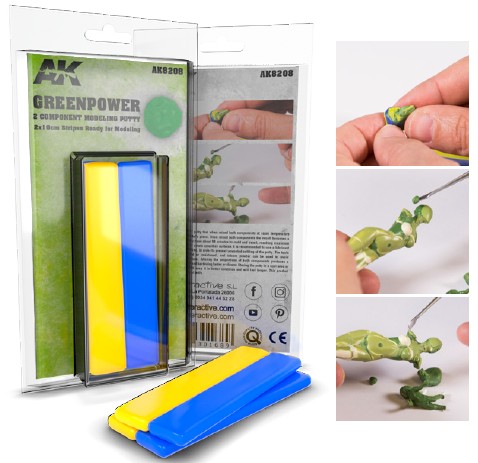 AK Interactive - Greenpower 2-Components Modeling Putty Epoxy (2 10cm strips)
$16.25
GREENPOWER is an epoxy putty that when mixed both components at room temperature allows to recreate any model's piece. Once mixed both components the result becomes a sticky green putty. Then you have about 90 minutes to mold and detail, reaching maximum hardness after 24 hours. To obtain smoother surfaces it is recommended to use a lubricant such as water, oil, or vaseline, in order to prevent unwanted settling of the putty. The tools must be always lubricated or moistened, and talcum powder can be used to avoid fingerprints, or to add texture. Altering the proportions of both components produces a greater or lesser hardness and hardening faster or slower. Storing the putty in a cool area or even in the refrigerator will keep it in better condition and will last longer.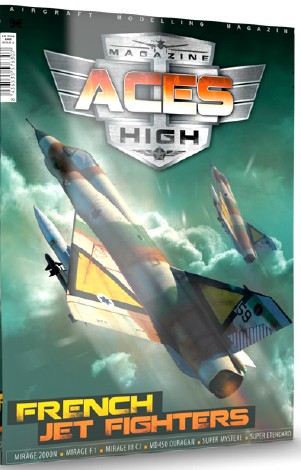 AK Interactive - Aces High Magazine Issue 15: French Jet Fighters
$21.00
English & Spanish. 76 pages. Soft cover.
This new AHM issue is dedicated to a series of jet aircraft which built their combat legend during the past seven decades. After the end of World War II, France developed a number of interesting aircraft designs, from the MD450 Ouragan, through the Mystère/Super Mystère family, the Étendard/Super Étendard and the most famous Mirage family, which did not only successfully serve in the domestic front, but also made their way to the arsenals of several air forces all around the world, and proved their combat capabilities in different conditions. Another significant design, the Jaguar attack aircraft, was developed as a joint project with United Kingdom. In this issue we take you for a tour of these famous aircraft, with a variety of models and camouflage schemes which will delight every modeller.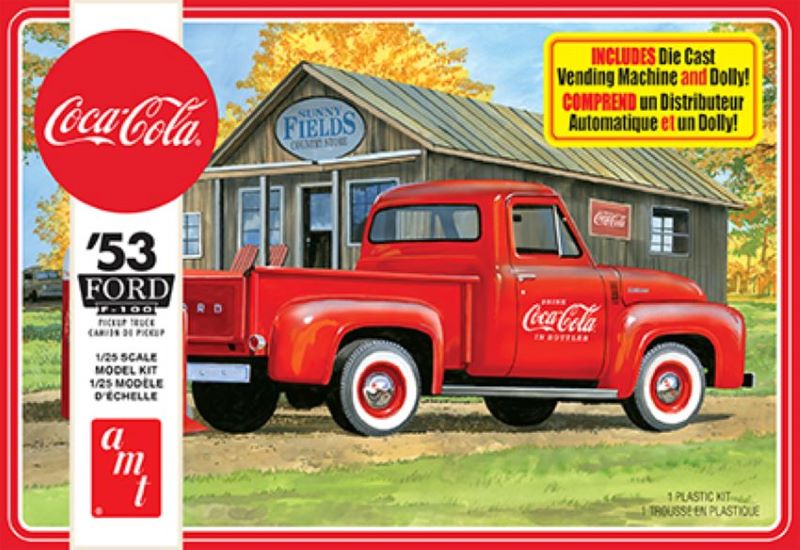 AMT 1/25 Cola-Cola 1953 Ford Pickup Truck
$44.50
KIT FEATURES:
1:25 Scale, Skill 3, Paint and Cement Required
Loaded 3 n 1 Kit with Stock, Custom and Service Truck building options!Includes BONUS
diecast Coke Machine & Dolly - Prepainted just add decals!
Pad Printed White Wall Tires
Many Service Truck Accessory Parts - Tools, Torches & Tanks
Loads of Chrome Parts including 2 Sets of Custom Wheels
Authentic Coca-Cola Decals with Multiple Graphic Options
Vintage Style Coke Packaging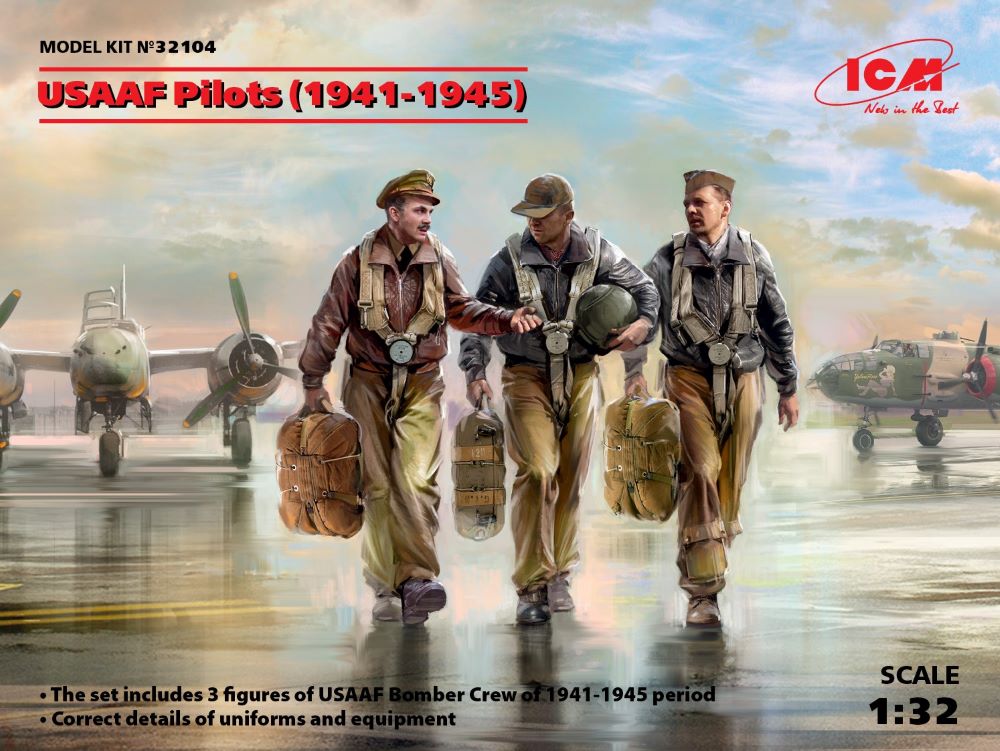 ICM 1/32 USAAF Pilots 1941-1945 (3)
$27.25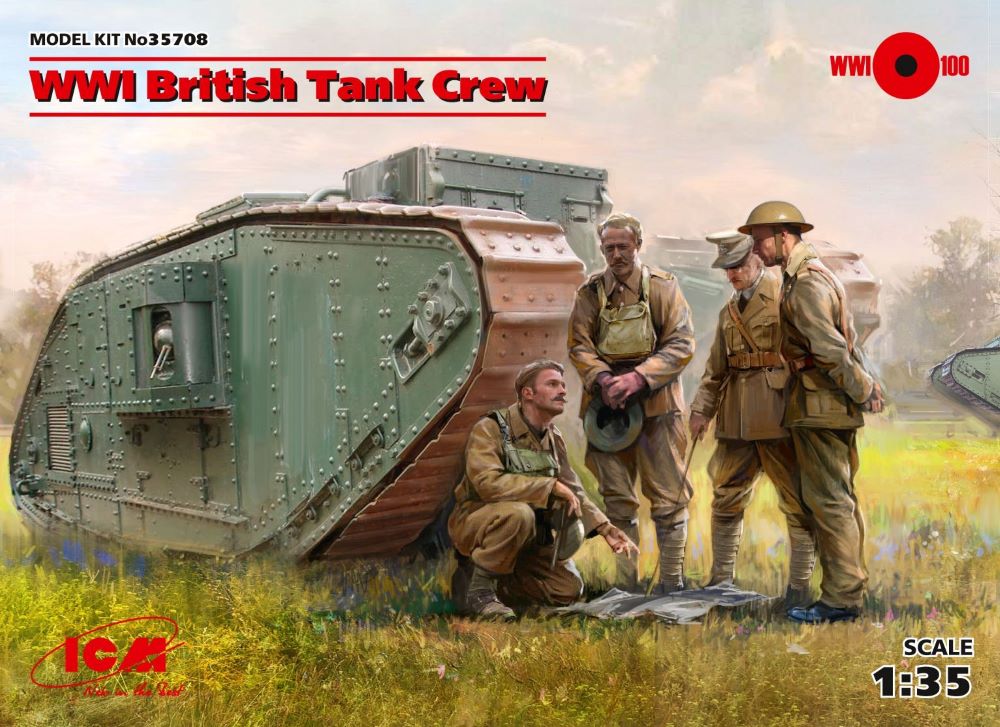 ICM 1/35 WWI British Tank Crew (4)
$21.00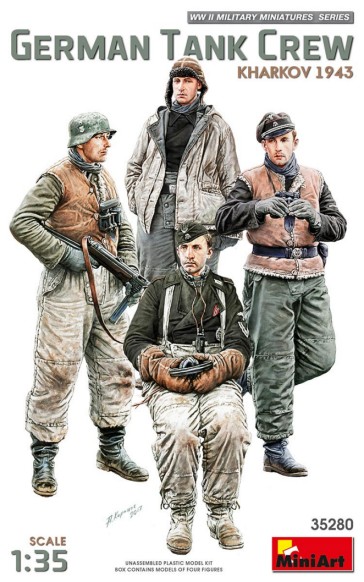 Miniart 1/35 German Tank Crew Kharkov 1943 (4)
$19.75
Set includes 5 unassembled and unpainted figures of German Tank Crew (Kharkov 1943) with Weapons & Equipment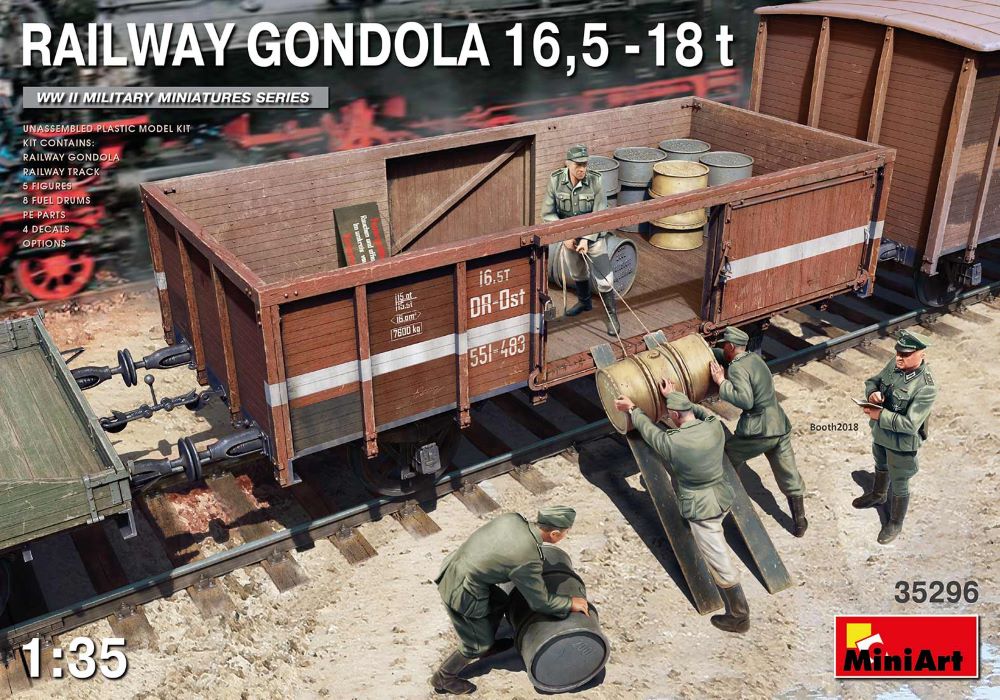 Miniart 1/35 WWII 16.5 18-Ton Railway Gondola w/Figures (5) & Fuel Drums (8)
$73.75
HIGHLY DETAILED MODEL
DOORS, CAN BE POSED OPEN OR CLOSED
CAN BE INSTALED ON EUROPEAN OR RUSSIAN RAILWAY GAUGE
WORKABLE WHEELS
PHOTO-ETCHED PARTS INCLUDED
DECAL SHEET FOR 4 VARIANTS
RAILWAY TRACK (EUROPEAN GAUGE) INCLUDED
8 FUEL 200L BARRELS INCLUDED
5 FIGURES INCLUDED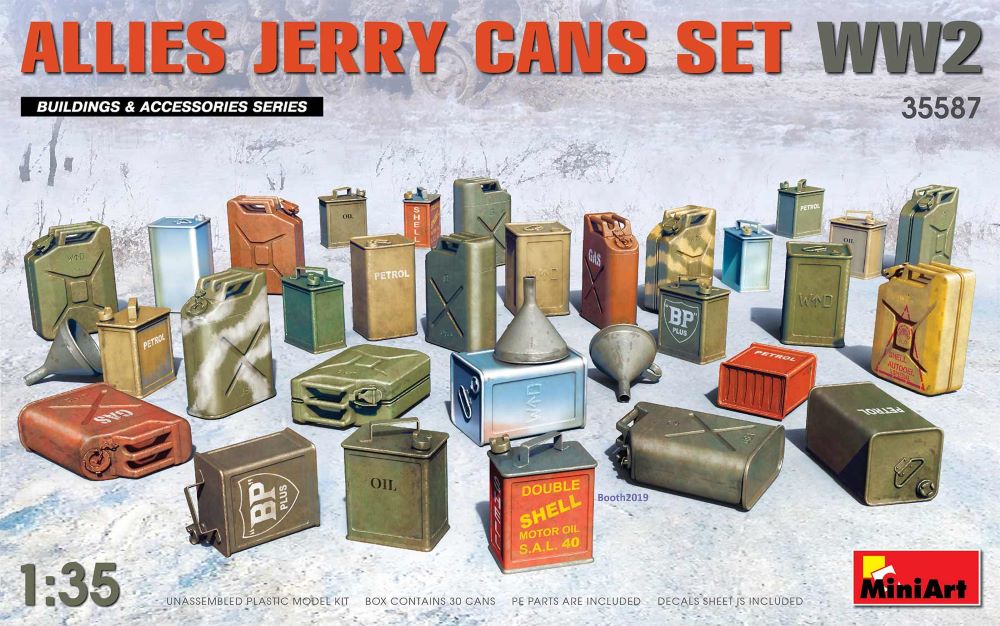 Miniart 1/35 WWII Allies Jerry Cans Set (30)
$27.25
UNASSEMBLED PLASTIC MODEL KIT
BOX CONTAINS 30 CANS
PE PARTS ARE INCLUDED
DECALS SHEET IS INCLUDED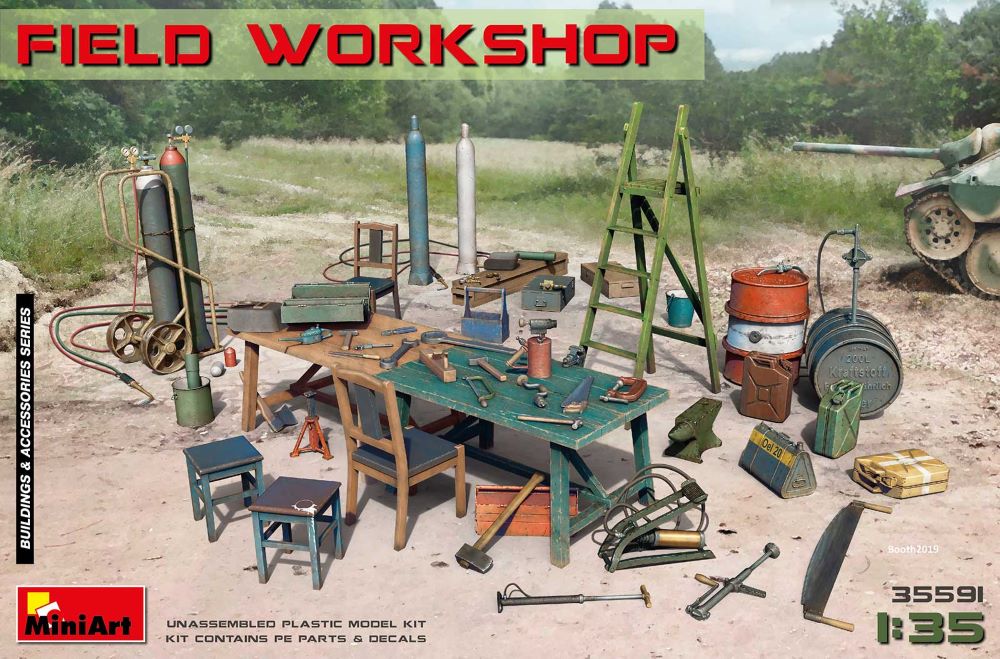 Miniart 1/35 Field Workshop: Equipment & Tools
$33.50
Kit contains models of: gas cylinders, ladders, table, buckets, cart, anvil, beams, jack stand and tools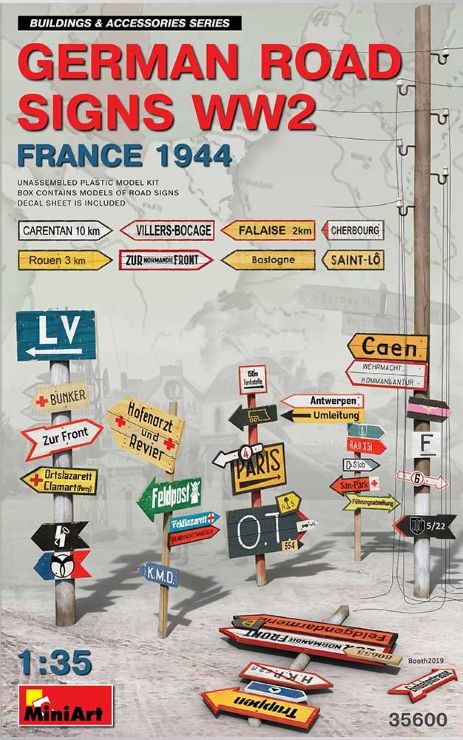 Miniart 1/35 WWII German Road Signs France 1944
$19.75
KIT CONTAINS MODELS OF ROAD SIGNS
DECAL SHEET IS INCLUDED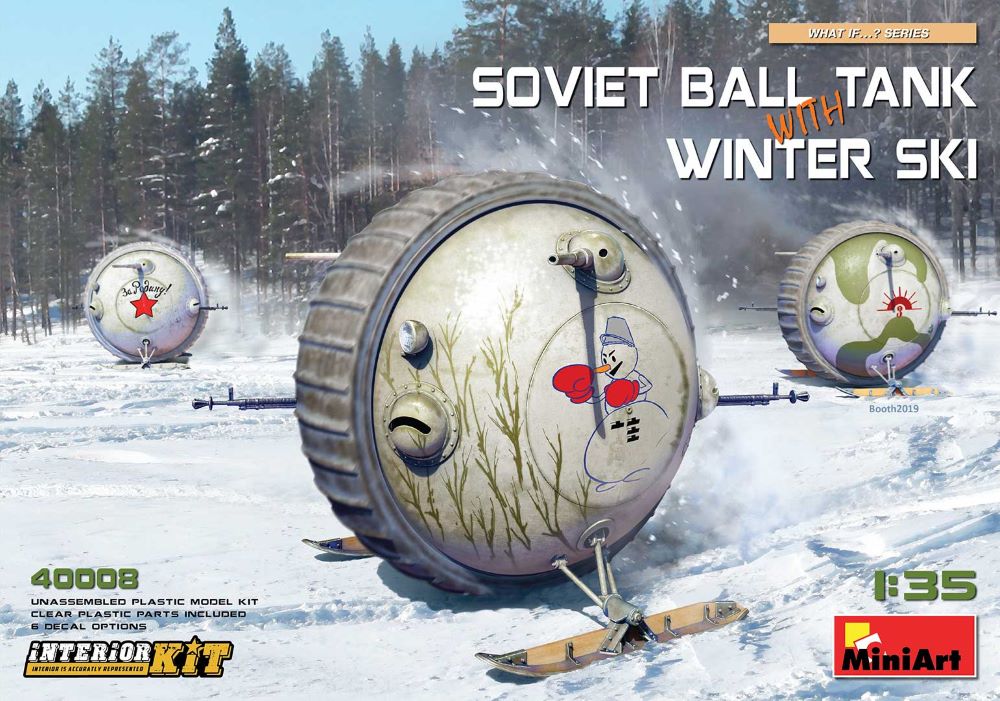 Miniart 1/35 Soviet Ball Tank w/Winter Ski & Interior
$67.75
HIGHLY DETAILED MODEL
FULL INTERIOR
CLEAR PARTS INCLUDED
ALL HATCHES CAN BE POSED OPEN OR CLOSED
DECAL SHEET FOR 6 VARIANTS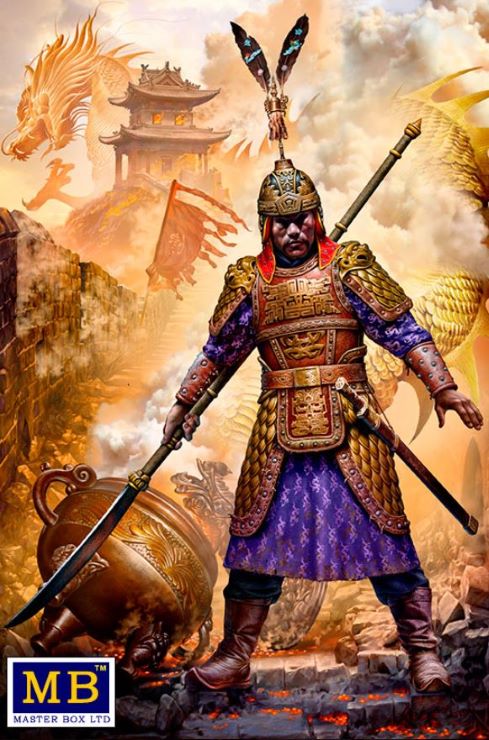 Masterbox 1/24 Zhu Yuanzhabg Emperor China's Ming Dynasty
$21.00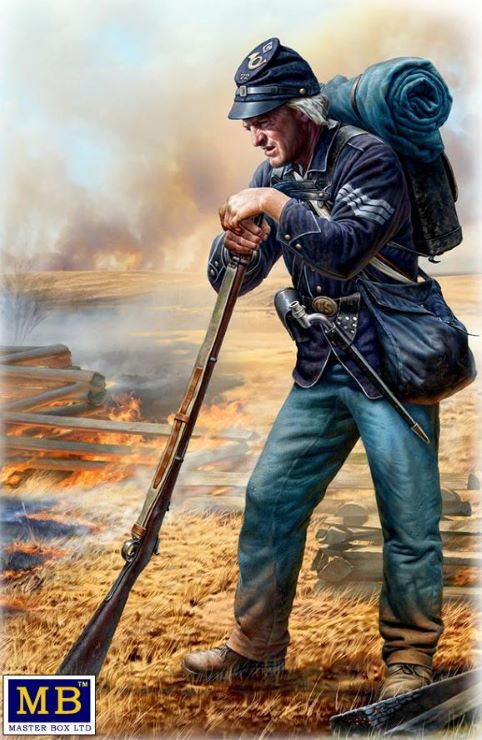 Masterbox 1/35 Quick Rest After the Battle American Civil War Union Army Infantry Sergeant
$17.25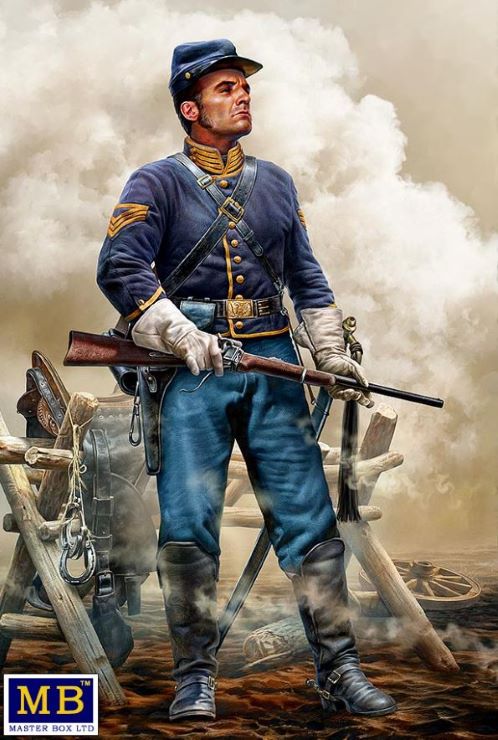 Masterbox 1/35 At the Ready American Civil War Brigadier General Union Cavalry
$17.25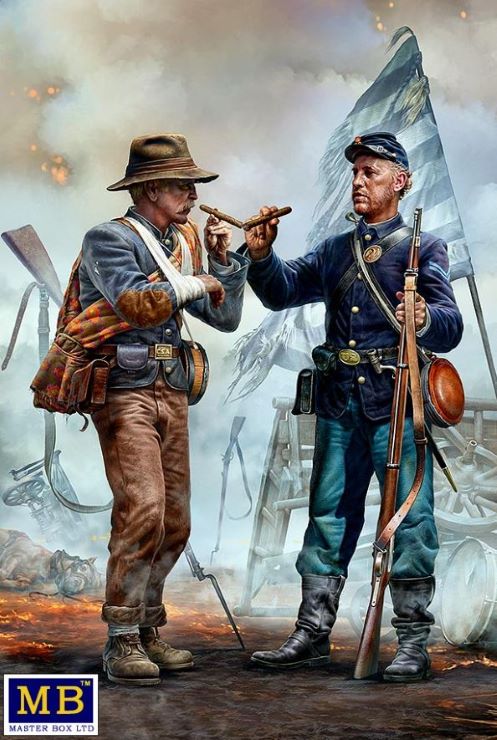 Masterbox 1/35 Family Reunited American Civil War End of the War Confederate & Union Soldiers (2)
$21.00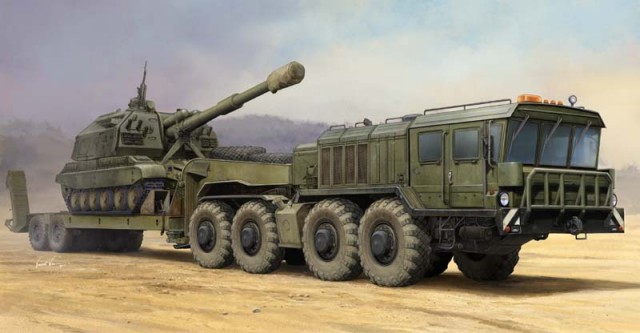 Trumpeter 1/35 Russian KZKT7428 Transporter w/KZKT9101 Semi-Trailer
$188.00
The KZKT-7428 Rusich prime mover is designed to haul semi-trailers with heavy loads up to a maximum weight of 70 t, both on road and rugged terrain. It entered service with the Soviet Army in 1981 and replaced in production the previous MAZ-537. Currently the Rusich JSC (formerly Kurgan Plant of Wheeled Trucks) is the only Russian producer of heavy wheeled vehicles. The KZKT-7428 series vehicles are also commercially available and are used in oil and gas industry. Cab of this tank transporter provides accommodation for 5 passengers. The rear seats can be transformed to sleeping benches for two men. The Rusich prime mover is powered by the YaMZ-8401.10-14 turbocharged diesel engine, developing 650 hp. Engine is located behind the cab. The KZKT-7428 has considerable cross-country capability. Vehicle can operate in any climatic conditions in temperature ranges from -50 to +50°C.
> Full drive train assembly complete with engine transmission, differential housing and suspension units.
> The main tires are hollow rubber with very good tread pattern
> The windshield and side windows are made of clear parts.
> Photo-etched parts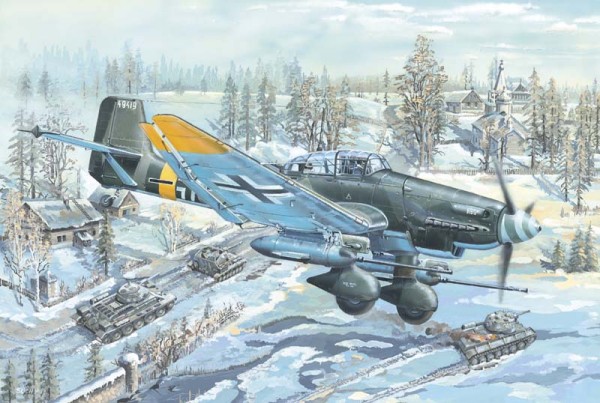 Trumpeter 1/24 Junkers Ju87G2 Stuka German Dive Bomber
$177.75
Kit consists of over 390 parts including photo-etched details, detailed cockpit
and engine and rubber tires. Completed kit has a wingspan of over 27".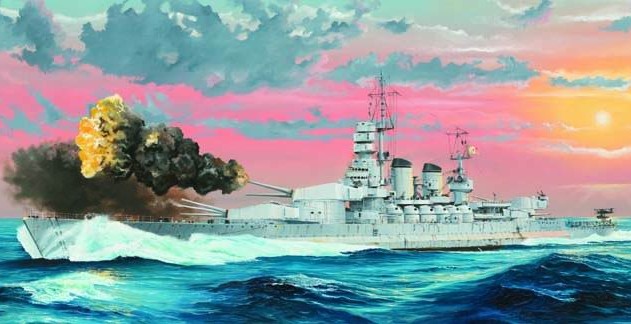 Trumpeter 1/350 RN Littorio Italian Navy Battleship 1941
$157.25
The largest and most powerful warships ever built in Italy, the battleships of the Littorio class, were the first "35,000 tonners" to come under the provisions of the Washington Treaty. Although the Washington Navel Conference of 1922 gave Italy the authority to build up to 182,800 tons of new capital ships (including 70,000 tons prior to 1932), the Italians waited more than a decade before beginning construction. Commissioned on 24 June 1940, she joined the 1st Navel Squadron at Taranto under Admiral Bergamini's flag. She was severely damaged 10-11 November 1940 while anchored at Taranto by British Aircraft launched from the carrier Illustrious. In March of 1941 she was back in service. 17 December 1941 the RN Littorio participated in the First battle of Sirte Gulf. 21 March 1942 during the Second battle of Sirte, a muzzle blast from the aft 381-mm turret set fire to a Ro.43 floatplane on the fantail which led the British to believe they had scored a torpedo hit on the battleship. Battle of mid-June 12-16 June 1942 the RN Littorio was damaged 15 June 1942 by American B-24 bombers on the return to her base she was hit by a torpedo launched by the Wellington. Repairs were completed by 27 August 1942 but the ship was to carry out no more combat missions. From December 1942 to June 1943 the RN Littorio was used to defend the cities of Taranto, La Spezia and Genoa from Allied air attacks. 25 July 1943 the RN Littorio was renamed the Italia. She was decommissioned 1 June 1948 after a total of 46 missions during her wartime career of which nine were combat missions.
Hull
-Upper hull made from two-directional slide molds
-Deck wood pattern finely rendered
-Either waterline or full-hull version can be assembled
Weapons
- Realistically detailed gun barrels w/hollow ends made from slide mould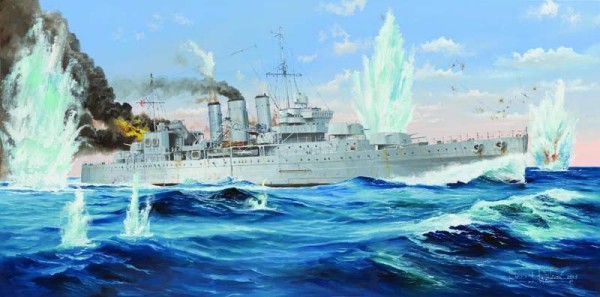 Trumpeter 1/350 HMS Cornwall British Heavy Cruiser
$115.50
Built for the Royal Navy in the 1920's, the Cornwall was stationed in China
for most of its life. Kit consists of over 380 parts including metal anchor chain, photo-etched
details and display stand.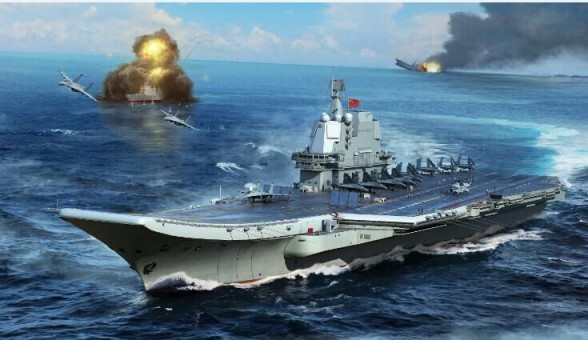 Trumpeter 1/700 PLA Chinese Navy Type 002 Aircraft Carrier
$84.50
The Type 002 aircraft carrier is a second generation Chinese aircraft carrier
design, and will be the first Chinese carrier to feature an integrated electric propulsion
system. Kit consists of over 350 parts including photo-etched details, stand and J15 (20 pc)
& Z8 (2 pc) aircraft.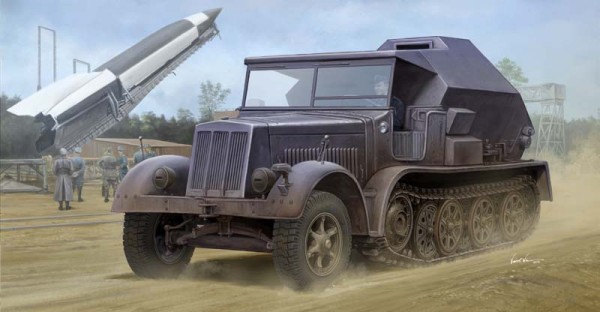 Trumpeter 1/35 SdKfz 7/3 Halftrack Artillery Tractor
$74.00
Kit consists of over 900 parts including brass wire and photo-etched details,
individual track links and rubber tires.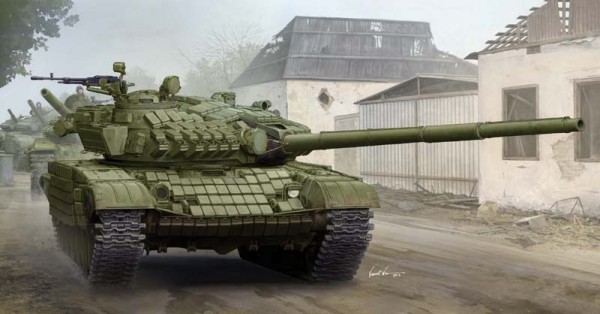 Trumpeter 1/35 Russian T72A Mod 1985 Main Battle Tank
$88.50
Kit consists of over 1900 parts including brass and copper cables, 4 sheets
of photo-etched parts, and individual track links.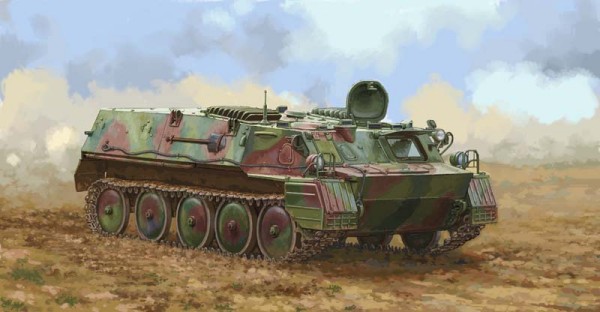 Trumpeter 1/35 Light Armored Multi-Purpose Transport Vehicle GT-MU
$74.00
The GT-MU was designed to carry troops, weapons, ammunition and other
military cargo over difficult terrain. Kit consists of over 370 parts including brass wire,
photo-etched details and individual track links.
Friday, May 17, 2019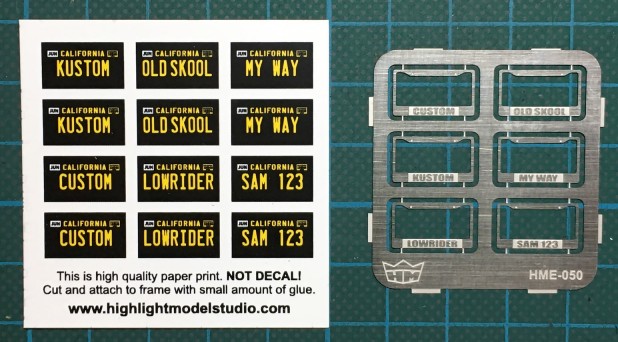 Highlight Model Studio 1/24-1/25 License Plate Frames (6) & Printed Plates (12)
$15.00
Kit includes 6 license plate frames and high quality printed license plates. Note! These are NOT water slide decals. Material: 0,2mm nickled brass and high quality gloss paper.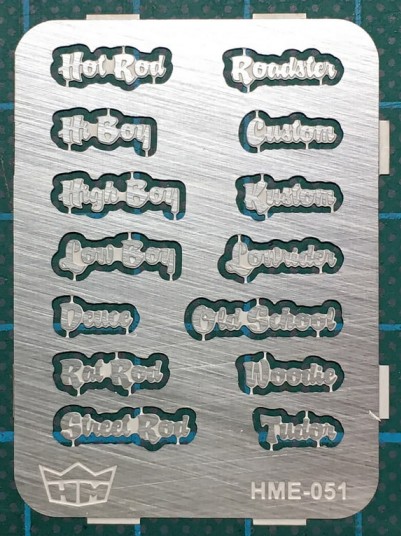 Highlight Model Studio 1/24-1/25 Chrome Emblems (14)
$12.50
Kit includes 14 chrome emblems. Scale: 1:24. Material: 0,2mm nickled brass.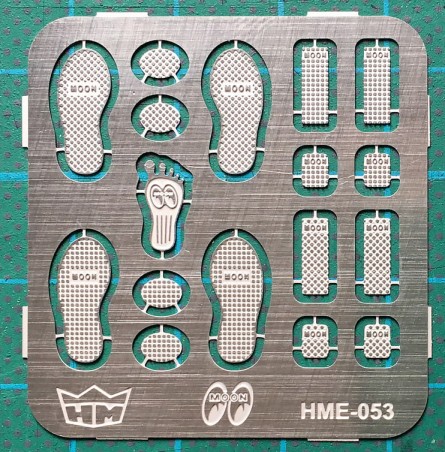 Highlight Model Studio 1/24-1/25 Mooneyes Foot Pedals (various designs)
$15.00
This kit includes various designs of legendary MOONEYES pedals! Officially licensed MOONEYES product. Material: 0,2mm nickled brass.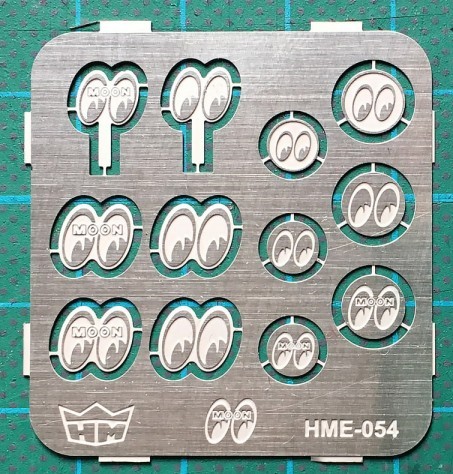 Highlight Model Studio 1/24-1/25 Mooneyes Bumper Emblems (various designs)
$15.00
This kit includes various designs of legendary MOONEYES bumper emblems! Officially licensed MOONEYES product. Material: 0,2mm nickled brass.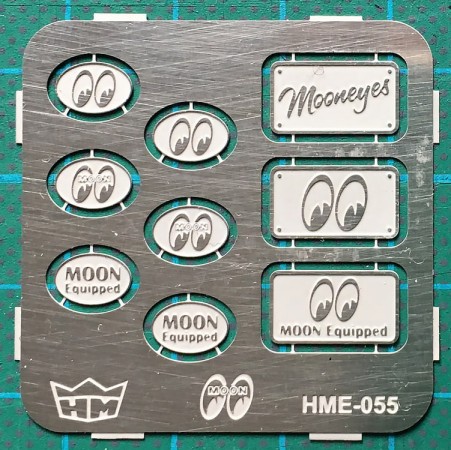 Highlight Model Studio 1/24-1/25 Mooneyes Car Club Plaques (various designs)
$15.00
This kit includes various designs of legendary MOONEYES car club plaques! Officially licensed MOONEYES product. Material: 0,2mm nickled brass.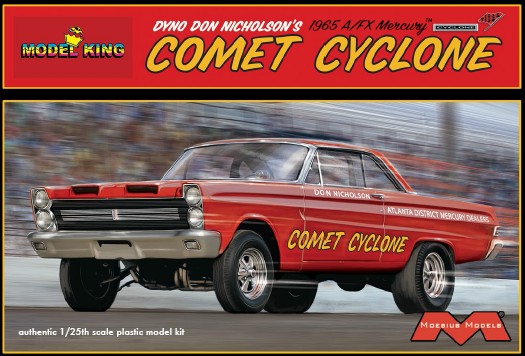 Moebius 1/25 Dyno Don Nicholson's 1965 A/FX Mercury Comet Cyclone Drag Car (Ltd Prod)
$49.50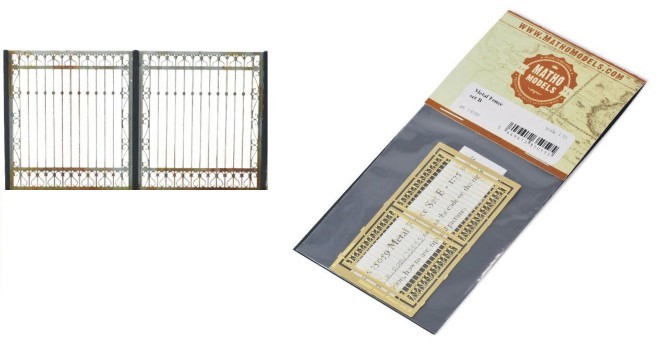 Matho Models 1/35 Metal Fence Sections, Photo-Etch (2)
$16.25
Contains 1 photo-etch fret with 2 highly detailed fence parts. Each part is 3,2 cm wide (1,26") and 3,6 cm high (1,42"). Left and right edges - also detailed with bolts - can be bent 90° for easy attachment to a support column. Use a large photo-etch bending tool for best results.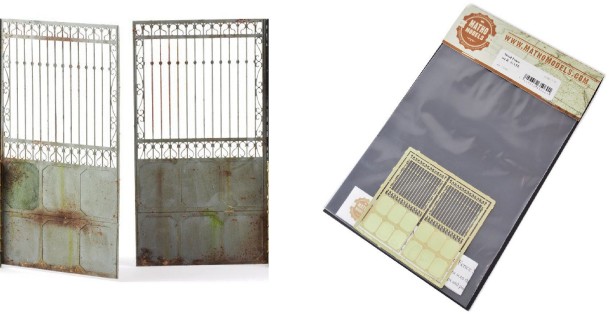 Matho Models 1/35 Metal Fence Gate, Photo-Etch
$23.50
Contains 1 photo-etch fret with 1 highly detailed metal gate consisting of 2 parts. The gate is 6,8 cm wide (2,67") and 6,3 cm high (2,48"). Left and right edges - also detailed with bolts - can be bent 90° for easy attachment to a support column. Use a large photo-etch bending tool for best results.

New Items Available to Order - May 6 - May 10
Monday, May 6, 2019

True Details - Me 109G Wheel Set Ribbed Thread
1/72 $10.50
1/48 $11.50
1/32 $12.50
Beautifully rendered detail and copied from 3-D patterns, resin replacement wheels, a true representation of the real deal, will adapt to any Me 109G

True Details 1/35 Tent Packs/Rucksacks/Bedrolls
$13.50
Detailed representation of WWII equipment, resin assortment of stowage for any armor vehicle in 1/35th scale.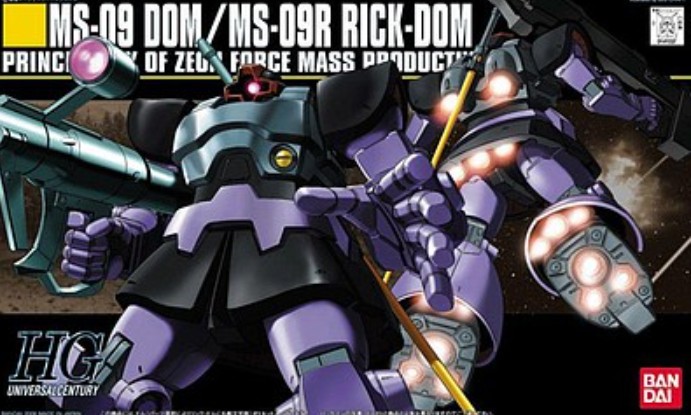 Bandai 1/144 HG Universal Century Series: MS09 Dom/MS09R Rick-Dom
$25.00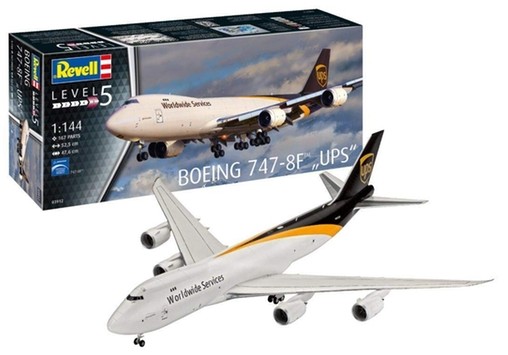 Revell Germany 1/144 B747-8F UPS Freighter Aircraft
$44.50
The 747-8F is the latest generation cargo version of the legendary Boeing 747. The 747-8F sets new standards in terms of efficient fuel consumption and noise reduction. With an extra 16% the cargo carrying capacity is also significantly above that of its predecessor. These characteristics convinced the logistics giant UPS to buy 14 of these aircraft and use them all over the world.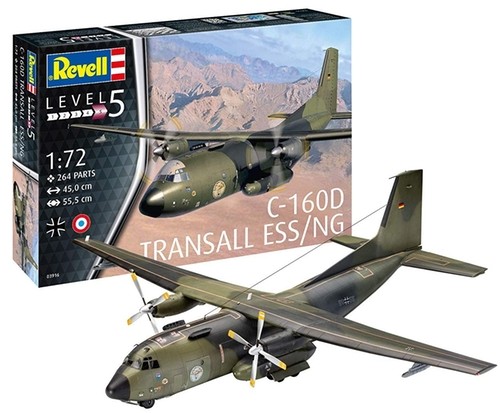 Revell Germany 1/72 C160D Transall ESS/NG Transport Aircraft
$59.25
A model construction kit of the C-160 Transall that can be built in either the ESS version of the German Air Force or the French Air Force NG version. The German C-160's have for many years been deployed primarily to resupply troops in Afghanistan.
Chaff dispenser
ESS pod on the wings
Sensor array
Refuelling probe for the NG version
Detailed cockpit with 4 seats
Interior cladding with conduits
Bench seating and carrying racks
Detailed rear loading ramp
Detailed main under-carriage
Rotatable propellers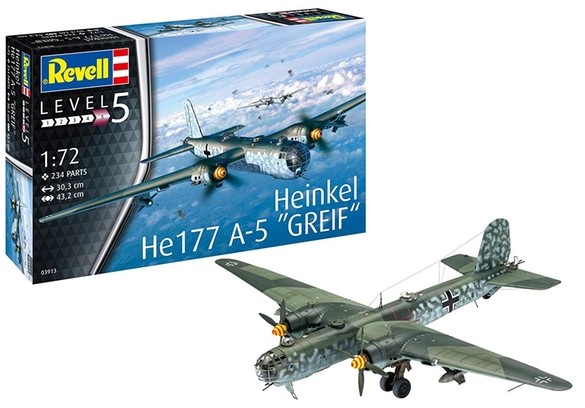 Revell Germany 1/72 Heinkel He177A5 Greif Bomber
$44.50
A model of the He 177 A-5. Delivered from March 1942 onwards the He 177 A-5 was the only four-engine bomber in the German Luftwaffe. There were often problems due to the paired arrangement of the engines. It was also equipped with the remote-controlled gliding bomb Fritz X.

Detailed Cockpit
Gondola under the cockpit with machine guns
Detailed periscope turret
Rotatable upper twin machine gun mount
Defensive gun bay in the tail
Detailed bomb-bay
2 SC 500 bombs
Detailed under-carriage
Rotatable propeller
3 Fritz X remote-controlled gliding bombs
Decal set for 2 Luftwaffe versions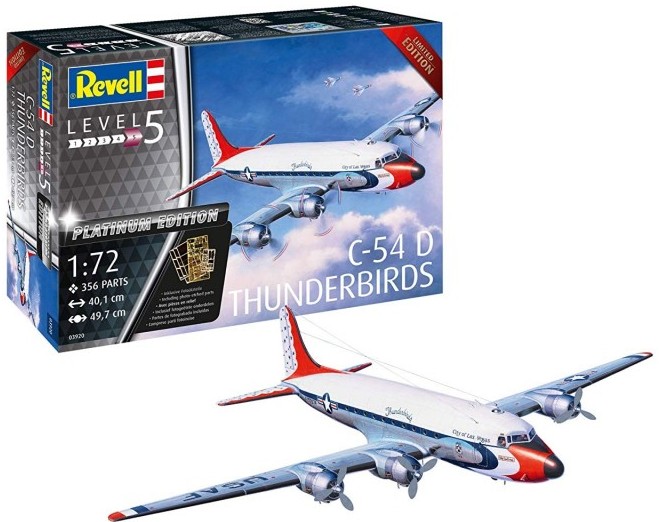 Revell Germany 1/72 C54D Thunderbirds Transport Aircraft
$113.50
A model construction kit of the C-54 Skymaster in the Thunderbirds livery. The legendary Thunderbirds are the aerobatic display team of the USAF. They had their own transport aircraft in order to transport the ground crew and spare parts.
- The kit includes photo etched parts for the cockpit
- The kit includes photo etched parts for the engines and the under-carriage
- Detailed cockpit
- Radio shack including radio's
- Interior seating
- Separate flap's
- Nose-gear
- Separate ailerons
- Detailed main under-carriage
- Rotatable propeller's
- Detailed tandem radial engines
- Super decal for the transport machine of the Thunderbirds

Revell Germany 1/144 A380-800 British Airways Commercial Airliner
$44.50
A replica model of the Airbus A380 the largest mass-produced airliner. In 2013 British Airways received the first 12 A380's to be delivered. In the standard configuration it can carry 469 passengers.
Structured surfaces
Detailed under-carriage
22 wheel's
Cockpit-Imitation
Wings with individual landing light's
Winglets
Detailed rudder and elevator's
Detailed engine pylon's and cowling's
Super decal set with British Airways livery

Revell Germany 1/48 Bristol Beaufighter TF X Fighter
$59.25
A replica model of the Bristol Beaufighter, one of the RAF's most successful twin engined fighters. The TF.X version of this versatile fighter aircraft was used mainly for low-level attacks against shipping. It was armed with a torpedo and machine guns.
• Cockpit with consoles and instrument panel
• Gunners cabin
• Detailed tail wheel
• Separate ruder
• Tailplane with separate elevators
• Fully detailed Hercules engines
• Separate ailerons and flaps
• Detailed under-carriage with retraction struts
• Torpedo
• Decal set for No.489 Sqn and No.254 Sqn RAF

Revell Germany 1/144 Antonov An225 Mrija Military Cargo Aircraft
$139.75
The Antonov An-225 Mrija, with a length of 84 metres, is not only the largest aircraft in the world, but also the only one with six engines. Originally developed to transport the Soviet space shuttle Buran, the only aircraft of this type now flies the heaviest loads around the globe. It currently holds both the record for the highest total cargo transported by air (247 tons) and the heaviest single cargo piece (190 tons). With a length of 84 metres, the Antonov An-225 Mrija is not only the largest aircraft in the world, but also the only one with six engines.
Scale 1/144. 203 individual parts. 58,3 cm length.

Revell Germany 1/32 F/A18E Super Hornet Fighter
$113.50
Model replica of the F/A-18E. The F/A-18E Super Hornet is the most modern fighter aircraft of the US Navy and replaces the F-14. Since 2002 it flies successful combat missions, e.g. during Operation "Enduring Freedom" and in Iraq. Through the use of JDAM and "laser-controlled bombs", it can attack enemy targets much more precisely and also has an extensive arsenal of guided weapons.
- Detailed surface finish
- Cockpit with instrument panel
- Detailed ejection seat
- Movable rear stabilizers
- Detailed chassis
- 6 wing pylons and fuselage pylons
- GBU-31 pod
- Mk83 bombs
- 2 GBU-12 Bombs
- 2 AIM-9X guided weapons
- 2 AIM-120C guided weapons
- One Centerline tank
- 2 wing tanks
- Detailed boarding ladder
- Super decal with 2 US Navy versions

Revell Germany 1/72 PT109 Patrol Torpedo Boat
$35.75
A model construction kit of probably the most famous Motor Torpedo Boats in the Pacific war, commanded by the later US President John F. Kennedy.
- Two part hull
- Detailed superstructure
- Interior cabins
- 37 mm anti-tank gun on the foredeck
- Display stand
- Two paint schemes
Authentic representation of the following versions:
- PT-109, Motor Torpedo Boat Squadron 2, South Pacific, 2 August 1943, commanded by Lieutenant, junior grade (LTJG) John F. Kennedy
- PT-109, Motor Torpedo Boat Squadron 2, Tulagi Island, Solomon Islands, South Pacific, August 1942 - February 1943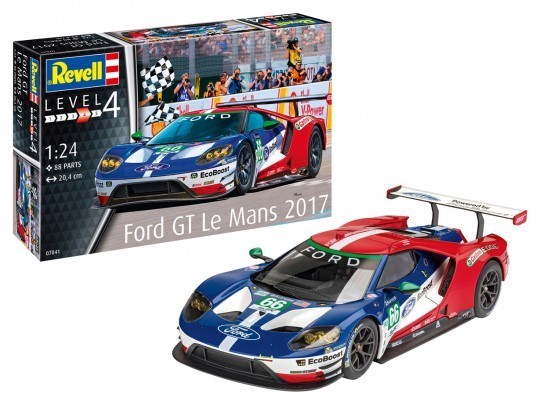 Revell Germany 1/24 Ford GT LeMans 2017 Race Car w/special Cartograf decals
$44.50
In 1966 Ford won the Le Mans 24 Hour race. Fifty years later, Ford built on the legendary success of its ancestor with a brand new GT. In 2017 the GT achieved a fantastic 2nd place in the GTE Pro class.
- Multi-part engine
- Two part body
- Decal set for all four cars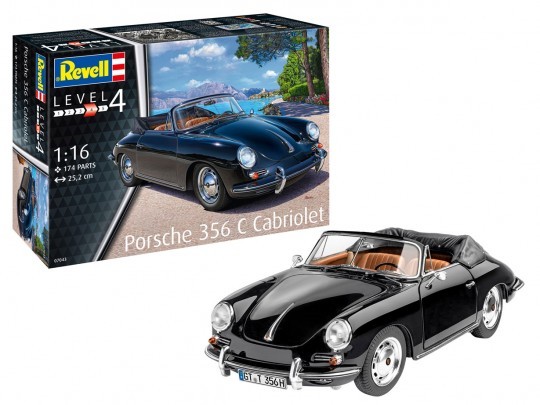 Revell Germany 1/16 Porsche 356 C Convertible
$113.50
A model construction kit of the first sports car to bear the Porsche name. The running design number 356 served as the type designation. The first 356 rolled onto the road on 8 June 1948. In manufacture since 1964 the elegant type C represented the last of the series. The 1600 C produced 75 bhp and achieved a top speed of 175 km/h.
- Multi-part body
- Opening doors and bonnet
- Multi-part engine
- Rotatable wheels
- Various chromed parts, including hubcaps, door handles and mirrors
- Comprehensive decal set

Revell Germany 1/16 VW T1 Panel Van
$99.75
A model construction kit of the VW T1 Transporter van which was built from the early 1950s onwards. The van with its typical V-shaped front end and split windscreen was powered by the air-cooled four-cylinder boxer engine, well known from the Beetle. It produced 30 bhp which gave a top speed of 80 km/h.
Multi-part bodywork
Opening doors and tailgate
Replica engine
Chrome hub caps and front emblem, door handles and windscreen wipers
Decal set with authentic Porsche decor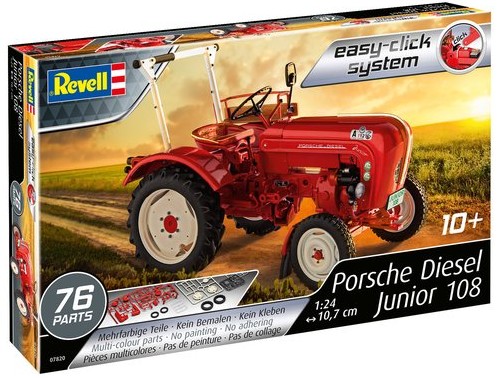 Revell Germany 1/24 Porsche Diesel Junior 108 Farm Tractor (Snap)
$35.75
An easy to build model construction kit of the legendary and robust Porsche Junior 108, which was manufactured by Porsche-Diesel Motorenbau GmbH from the late 1950s.
- Detailed engine halves
- Plug-in kit, no gluing necessary
- Opening bonnet
- Two different seat versions on the rear wheel arch

Revell Germany 1/8 US Touring Motorcycle
$89.00
A demanding model construction kit with many chrome parts. This US motorcycle has a high level of comfort and very good road holding. Despite its considerable size it is very easy to handle.
Detailed two-cylinder engine
Rotating wheels
Twin exhaust system
Movable handlebar
Various chrome parts, including rims, cylinder head cover and exhaust pipes
Authentic decal set
Country versions:

Revell Germany 1/8 BMW R75/5 Motorcycle
$89.00
An ambitious model construction kit of the successful BMW motorcycle that was completely redeveloped at the end of the 1960s. With the 180 km/h (112 mph) fast R 75/5, BMW entered the arena of large-volume engines.
- The first model developed by Revell Germany
- Detailed two cylinder engine
- Rotating wheels
- Diversity of chrome parts including wheel rims and exhaust pipe
- Authentic decal set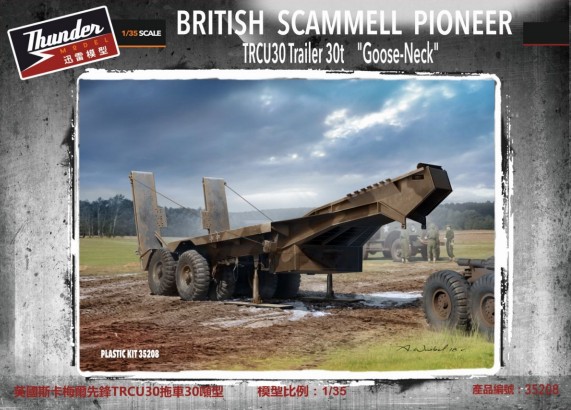 Thunder Model 1/35 British Scammell Pioneer TRCU30 30-Ton Late Goose-Neck Trailer
$74.00
Tuesday, May 7, 2019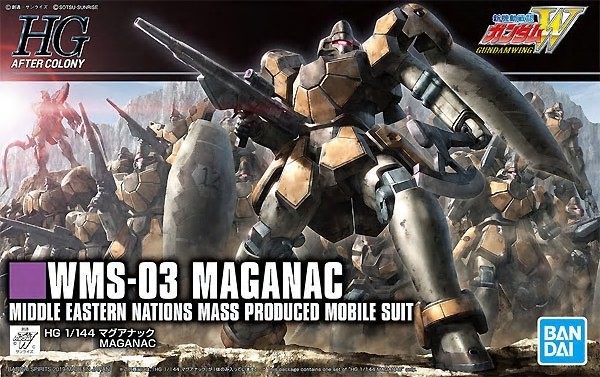 Bandai 1/144 HG Gundam Wing After Colony Series: #223 WMS03 Maganac
$19.50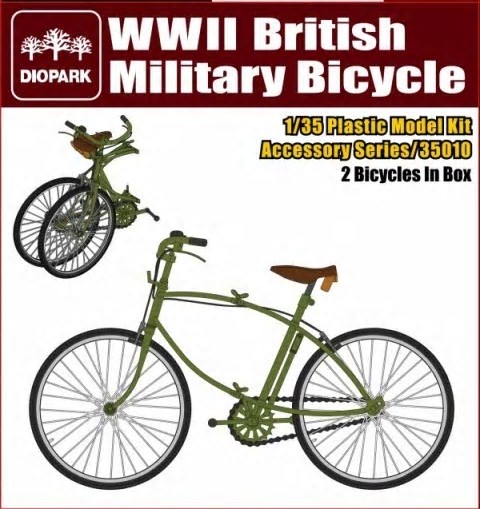 Diopark 1/35 WWII British Military Bicycle (2)
$24.75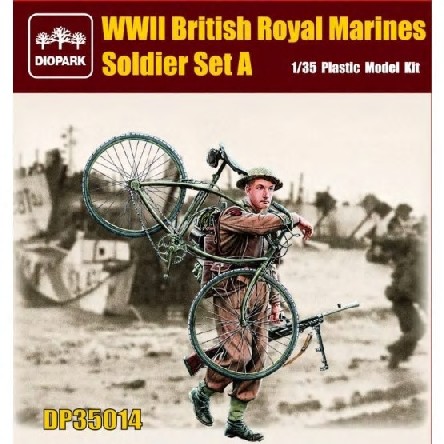 Diopark 1/35 WWII British Royal Marine Soldier Carrying Bicycle & Rifle
$24.75

Diopark 1/35 WWII British Royal Marine Soldier Riding Bicycle w/Gear & Rifle
$24.75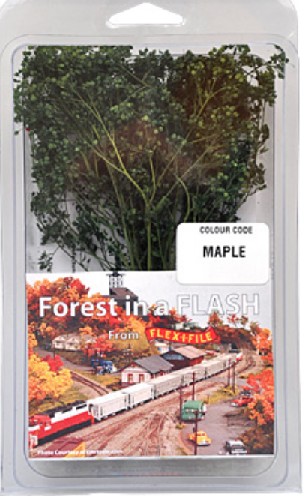 Flex I File - Forest in a Flash: Maple Trees
$37.00
Each contains material to create 20-30 trees depending on your layout scale.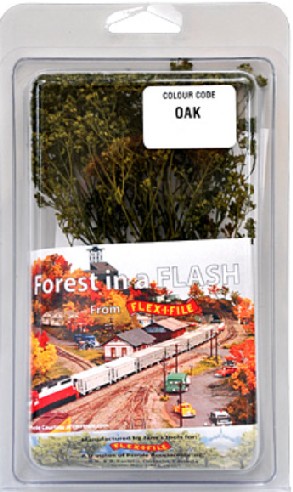 Flex I File - Forest in a Flash: Oak Trees
$37.00
Each contains material to create 20-30 trees depending on your layout scale.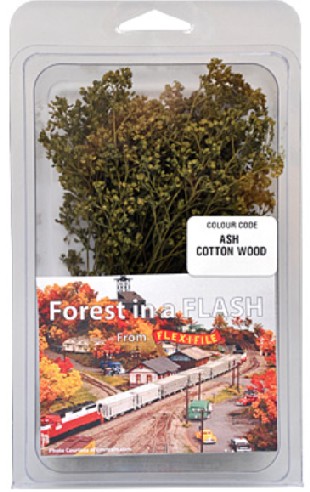 Flex I File - Forest in a Flash: Ash/Cottonwood Trees
$37.00
Each contains material to create 20-30 trees depending on your layout scale.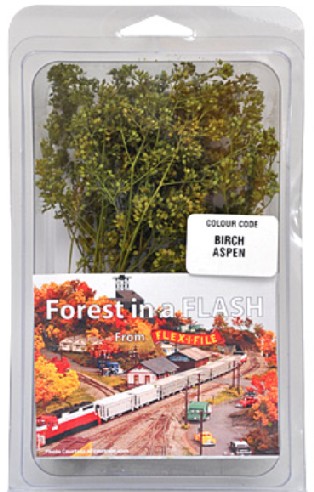 Flex I File - Forest in a Flash: Birch/Aspen Trees
$37.00
Each contains material to create 20-30 trees depending on your layout scale.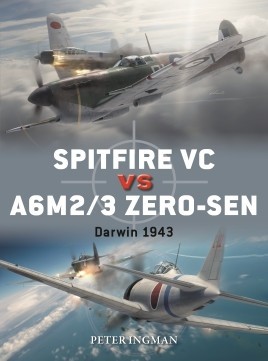 Osprey Publishing - Duel: Spitfire VC vs A6M2 Zero-Sen Darwin 1943
$27.25
Just weeks after Pearl Harbor, Darwin was mauled by a massive Japanese attack. Without a single fighter to defend Australian soil, the Australian government made a special appeal to Britain for Spitfires. A year later the Spitfire VC-equipped No 1 Fighter Wing, RAAF, faced the battle-hardened 202nd Kokutai of the IJNAF, equipped with A6M2 Zero-sens, over Darwin. This was a gruelling campaign between evenly matched foes, fought in isolation from the main South Pacific battlegrounds. Pilots on either side had significant combat experience, including a number of Battle of Britain veterans. The Spitfire had superior flight characteristics but was hampered by short range and material defects in the tropical conditions, while the Japanese employed better tactics and combat doctrine inflicting serious losses on the over-confident Commonwealth forces. Fully illustrated with detailed full-colour artwork, this is the gripping story of two iconic aircraft facing off against each other above Australia.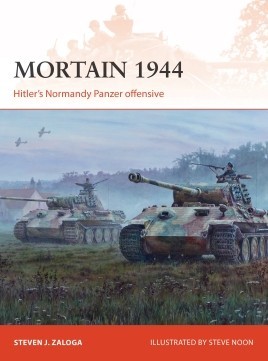 Osprey Publishing - Campaign: Mortain 1944 Hitler's Normandy Panzer Offensive
$29.75
Following the successful landings in Normandy on D-Day and consolidation during Operation Cobra, the Wehrmacht was ordered to begin a counter-offensive named Operation Lüttich. The plan was to send a large Panzer force across the First US Army sector, cutting off its spearheads, and finally reach Avranches on the coast. Had this succeeded, it not only would have cut off the First US Army spearheads, but also Patton's newly deployed Third US Army operating in Brittany. However, thanks to an intercepted radio message, the Allies were well-prepared for the offensive and not only repelled the oncoming panzers, but went on a counter-attack that would lead to a whole German army becoming encircled in the Falaise Pocket. Fully illustrated with stunning full-colour artwork, this book tells the story of Operation Lüttich, the failed offensive which ended any prospect of Germany winning the battle of Normandy.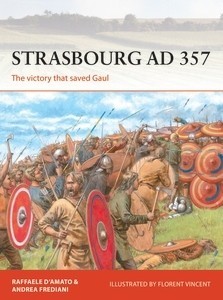 Osprey Publishing - Campaign: Strasbourg 357AD The Victory that Saved Gaul
$29.75
Civil war in the Western Roman Empire between AD 350-53 had left the frontiers weakly defended, and the major German confederations along the Rhine - the Franks and Alemanni - took advantage of the situation to cross the river, destroy the Roman fortifications along it and occupy parts of Roman Gaul. In 355, the Emperor Constantius appointed his 23-year-old cousin Julian as his Caesar in the provinces of Gaul with command of all troops in the region. Having recaptured the city of Cologne, Julian planned to trap the Alemanni in a pincer movement, but when the larger half of his army was forced into retreat, he was left facing a much larger German force outside the walls of the city of Strasbourg. This new study relates the events of this epic battle as the experience and training of the Roman forces prevailed in the face of overwhelming German numbers.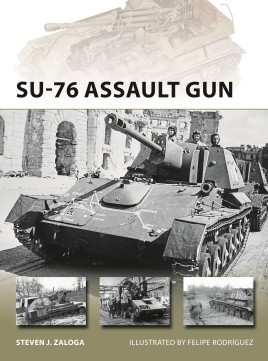 Osprey Publishing - Vanguard: Su76 Assault Gun
$23.50
The SU-76 assault gun was the second most widely manufactured Soviet armoured fighting vehicle of World War II, out-numbered only by the legendary T-34. Inspired in part by the German Marder series of tank destroyers, Soviet designers realized that the chassis of the obsolete T-70 light tank could be adapted to a much more substantial gun if it was placed in a fixed casemate rather than in a turret. This led to the design of the SU-76, which saw its combat debut at Kursk in the summer of 1943. The SU-76 was deployed primarily as an infantry direct support weapon, becoming the infantry tank of the Red Infantry, much as the StuG III became the infantry tank of the German infantry. Featuring full colour artwork and written by an expert on tank warfare during World War II, this fascinating study describes one of the Soviet Union's most important armoured vehicles during its struggle with Nazi Germany.

Osprey Publishing - Weapon: G3 Battle Rifle
$27.25
During the Cold War, the G3 was one of the world's pre-eminent battle rifles. Developed in France and Spain after 1945, the rifle was produced by the German arms manufacturer Heckler & Koch. Adopted by more than 40 countries and produced on licence by many more, it was widely employed during colonial wars in Africa, insurgencies in Latin America and conflicts in the Middle East, but perhaps its widest use was in the Iran-Iraq War. Variants of the G3 have also seen substantial usage among Special Forces including Britain's Special Boat Service and the US Navy SEALs. Semi-automatic versions, especially the HK91 and HK93, remain popular in the United States, and the G3-derived HK11 and HK21 family of light machine guns have also been widely adopted by military and law-enforcement units across the world. Fully illustrated with specially commissioned artwork, this study examines one of the iconic weapons of the Cold War era.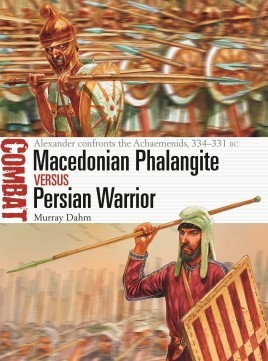 Osprey Publishing - Combat: Macedonian Phalangite vs Persian Warrior Alexander Confronts Achaemenids 334-331BC
$27.25
In August 334 BC, Alexander the Great invaded the Persian Empire and systematically set about its conquest. At the core of Alexander's army were 10,000 members of the phalanx, the phalangites. Armed with a long pike and fighting in formations up to 16 ranks deep, these grizzled veterans were the mainstay of the Macedonian army. Facing them were the myriad armies of the peoples that made up the Persian Empire. At the centre of these forces was the formation known as the Immortals: 10,000 elite infantry, armed with spears and bows. In this study, a noted authority assesses the origins, combat role and battlefield performance of Alexander's phalangites and their Persian opponents in three key battles of the era - the Granicus River, Issus and Gaugamela - at the dawn of a new way of waging war.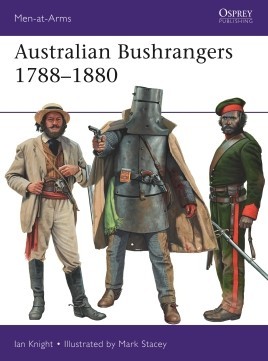 Osprey Publishing - Men at Arms: Australian Bushrangers 1788-1880
$23.50
The first 'bushrangers' or frontier outlaws were escaped or time-expired convicts, who took to the wilderness - 'the bush' - in New South Wales and on the island of Tasmania. Initially, the only Crown forces available were redcoats from the small, scattered garrisons, but by 1825 the problem of outlawry led to the formation of the first Mounted Police from these soldiers. The gold strikes of the 1860s attracted a new group of men who preferred to get rich by the gun rather than the shovel. The roads, and later railways, that linked the mines with the cities offered many tempting targets and were preyed upon by the bushrangers. This 1860s generation boasted many famous outlaws who passed into legend for their boldness. The last outbreak came in Victoria in 1880, when the notorious Kelly Gang staged several hold-ups and deliberately ambushed the pursuing police. Their last stand at Glenrowan has become a legendary episode in Australian history. Fully illustrated with some rare period photographs, this is the fascinating story of Australia's most infamous outlaws and the men tasked with tracking them down.
Wednesday, May 8, 2019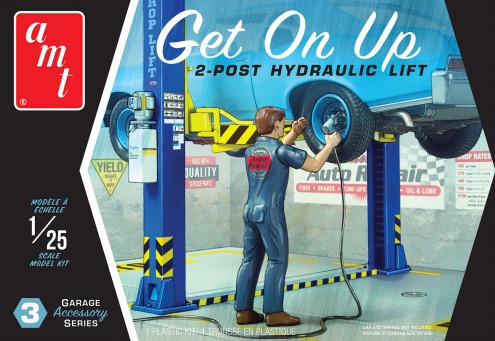 AMT 1/25 Get On Up 2-Post Hydraulic Lift Garage Accessory Set #3
$39.50
Introducing the Garage Accessory Series from the KATs at AMT! Featuring all-new tooling, these kits will add some dynamic dyno-mite detail to any 1/25 scale automotive diorama! Model car displays will come alive with the Garage Accessory Series from AMT!
ITEMS INCLUDED:
2-Post Car Lift with Display Base
Adjustable Height Hauteur Reglable
Telescoping Arms
Figure
Impact Wrench
KIT FEATURES:
• Featuring new parts tooling!
• 1/25 scale accessory diorama kits
• Skill 2, paint and cement required
• Large full-color decal sheet
• Retro-styled packaging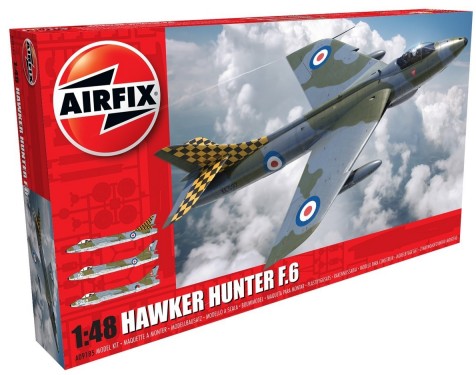 Airfix 1/48 Hawker Hunter F6 Fighter
$64.25
Schemes:
1) XF418 4FTS Brawdy
2) XF509 4FTS
3) Dutch AF
As far as classic British jet aircraft are concerned, few would argue that the beautiful Hawker Hunter should be placed at the head of this group, entering RAF service in 1954 and still providing training support almost 40 years later. The definitive interceptor version of the Hunter was the Mk.6 and by the end of 1958, all of the RAFs day fighter squadrons in Britain and Germany were equipped with these aircraft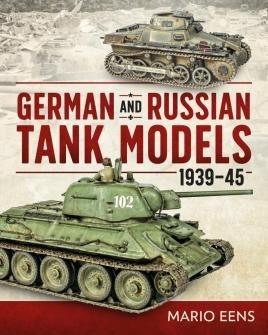 Casemate Books - German & Russian Tanks Models 1939-45 Modeling Techniques Guide (Hardback)
$43.25
The Second World War is a favorite for modelers, and this comprehensive guide to techniques suitable for 1/72, 1/48 and 1/35 scale tank models will be invaluable to modelers wanting to recreate the iconic tanks of this conflict. From the Russian T-34 at the time of the battle of Kursk, and Su-152 in winter camouflage, to the German Panzer I in North Africa, and the gigantic Maus, as it might have appeared just after the war ended, this book offers a wealth of detail into the necessary tools, paints and techniques to perfect a realistic finish.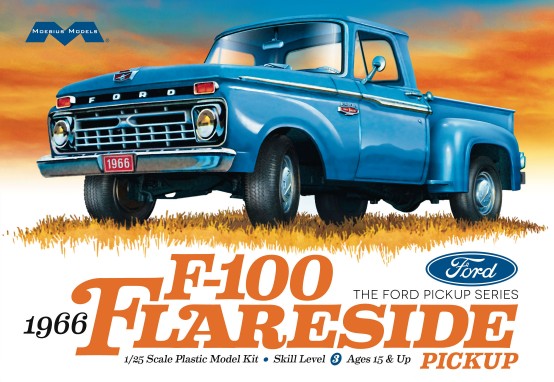 Moebius 1/25 1966 Ford F100 Flareside Pickup Truck
$44.50

New Items Available to Order - Apr 29 - May 3
Monday, April 29, 2019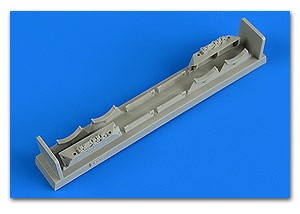 Aerobonus 1/32 MiG23B/27 Tail Pylon Racks for TSM
$11.25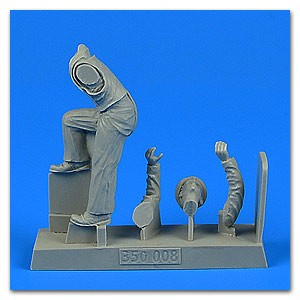 Aerobonus 1/35 WWII German Submarine Kriegsmarine Sailor #5 (One Knee Bent)
$17.25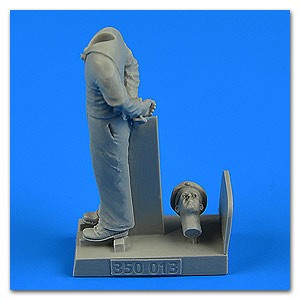 Aerobonus 1/35 WWII German Schnellboat Kriegsmarine Ceremony Sailor #1
$17.25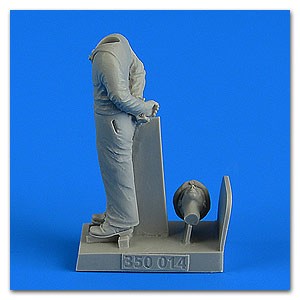 Aerobonus 1/35 WWII German Schnellboat Kriegsmarine Ceremony Sailor #2
$17.25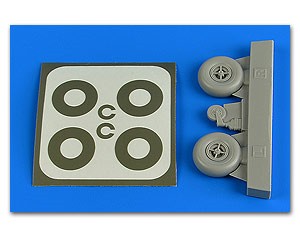 Aires 1/32 Bucker Bu131 Wheels & Paint Masks For ICM
$17.25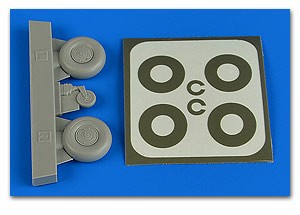 Aires 1/32 Bucker Bu131 Wheels & Paint Masks Disc Cover For ICM
$17.25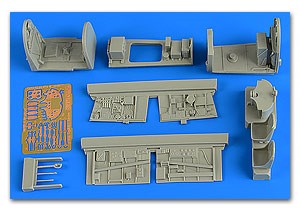 Aires 1/48 Fairey Firefly Mk I Cockpit Set For TSM
$49.50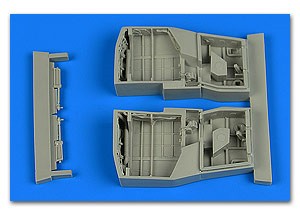 Aires 1/48 Fairey FireflMk I Wheel Bay For TSM (Resin)
$28.50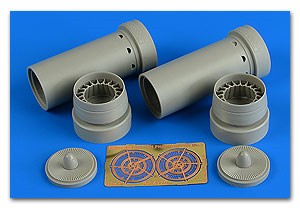 Aires 1/48 Phantom FGR2 Exhaust Nozzles For HSG
$34.50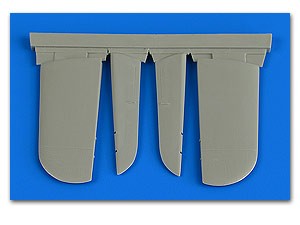 Aires 1/48 Sea Fury FB11 Control Surfaces For ARX (Resin)
$17.25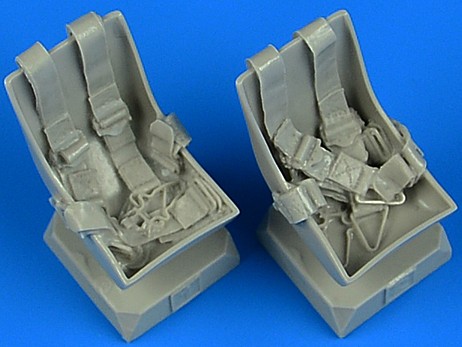 Quickboost 1/32 Bucker Bu131 Seats w/Seatbelts for ICM
$11.25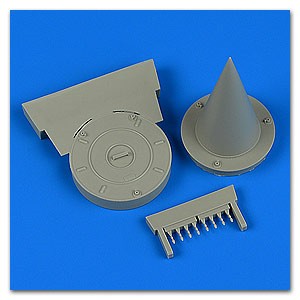 Quickboost 1/32 MiG21 FOD Covers for TSM
$19.75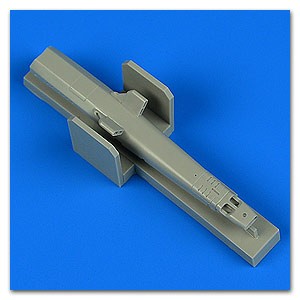 Quickboost 1/32 MiG21 MF Gun Pod Early for TSM
$11.25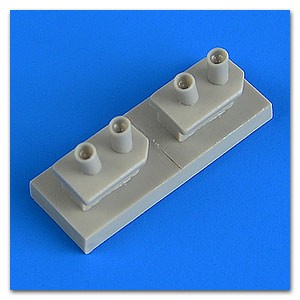 Quickboost 1/48 Hawker Hunter F6 Air Bottle Charging for ARX
$8.75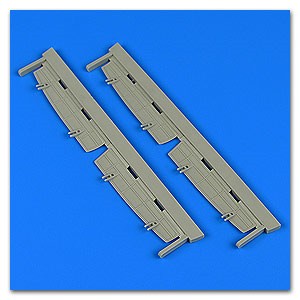 Quickboost 1/48 Dornier Do17Z Undercarriage Covers for ICM
$11.25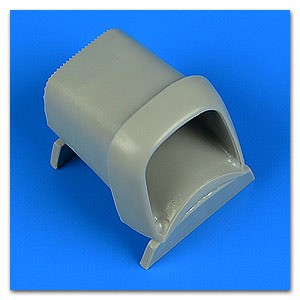 Quickboost 1/48 Fairey Firefly Mk I Radiator for TSM
$8.75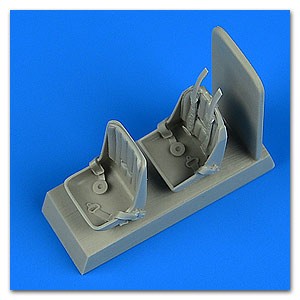 Quickboost 1/48 Fairey Firefly Mk I Seats w/Seatbelts for TSM
$8.75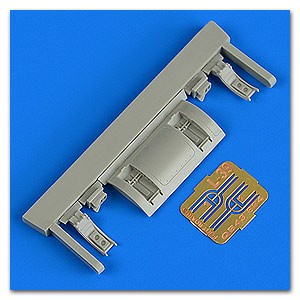 Quickboost 1/48 L39 Albatros Open Footsteps w/Photo-Etch for TSM
$8.75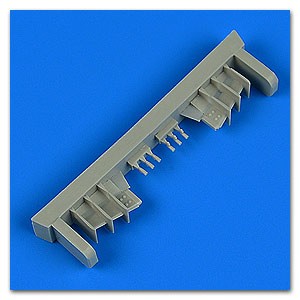 Quickboost 1/48 MiG25 Foxbat Air Ramps Sensors for ICM/RVL/HSG
$8.75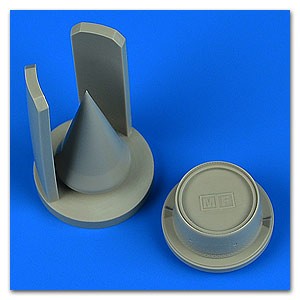 Quickboost 1/48 MiG21MF Correct Radome for EDU
$11.25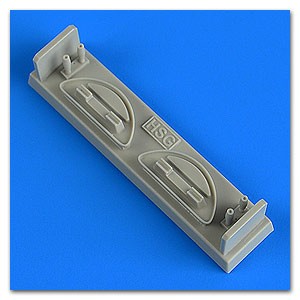 Quickboost 1/48 A4 Skyhawk FOD Covers for HSG/EDU
$8.75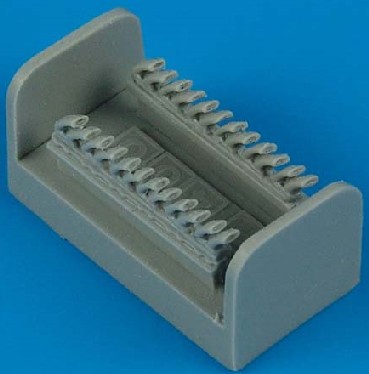 Quickboost 1/72 P400 Exhaust for ACY
$6.75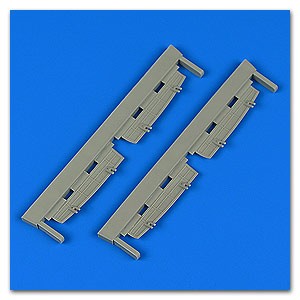 Quickboost 1/72 Dornier Do17Z Undercarriage Covers for ICM
$11.25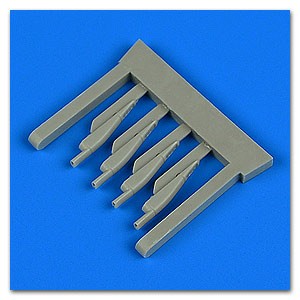 Quickboost 1/72 SAAB J35 Draken Air Scoops for HSG/RVL
$6.75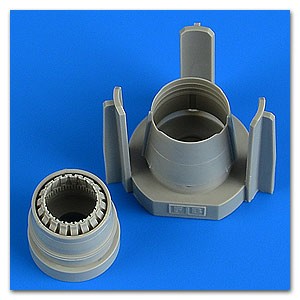 Quickboost 1/72 MiG21MF Fighter Bomber Correct Exhaust Nozzle for EDU
$11.25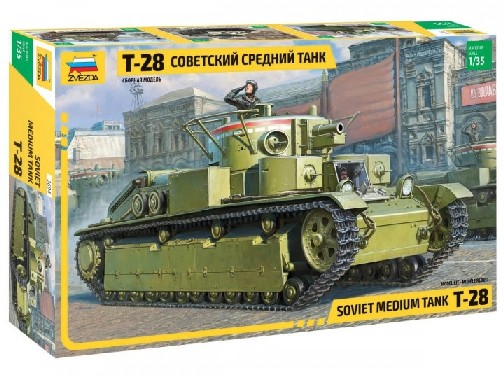 Zvezda 1/35 Soviet T28 Medium Tank
$74.00

Zvezda 1/48 Soviet Yak1B Fighter
$47.00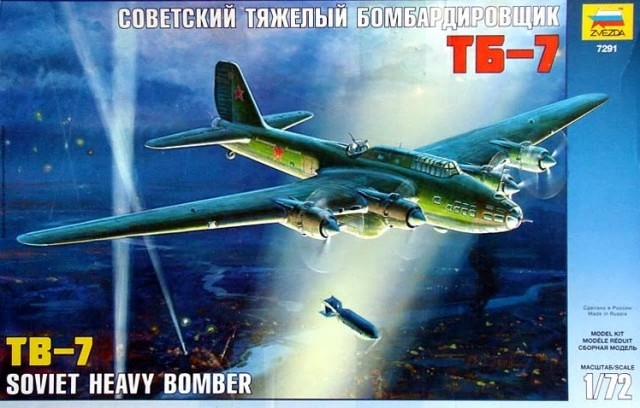 Zvezda 1/72 Soviet TB7 Heavy Bomber
$59.25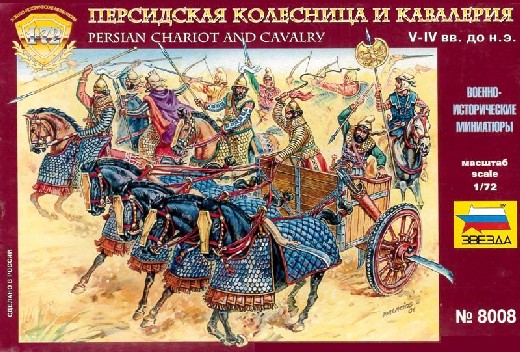 Zvezda 1/72 Persian Chariot & Cavalry V-IV BC (Chariot w/4 Horses, 2 Figures & 8 Mtd)
$22.25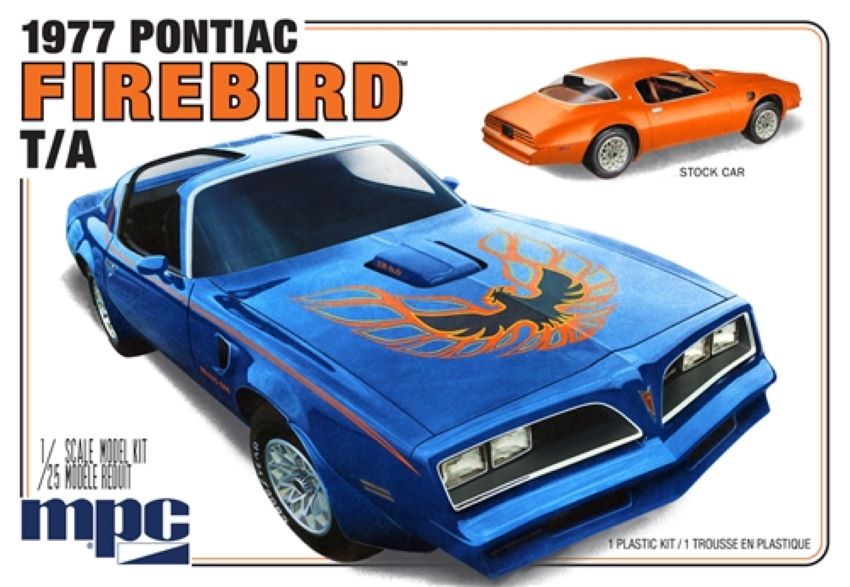 MPC 1/25 1977 Pontiac Firebird Trans Am
$40.75
Tuesday, April 30, 2019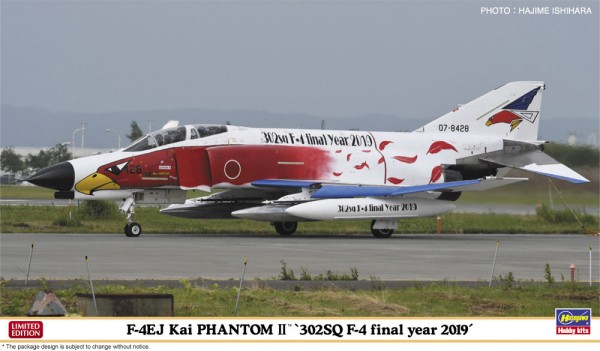 Hasegawa 1/72 F4EJ Kai Phantom II 302SQ Fighter F4 Final Year 2019 (Ltd Edition)
$60.50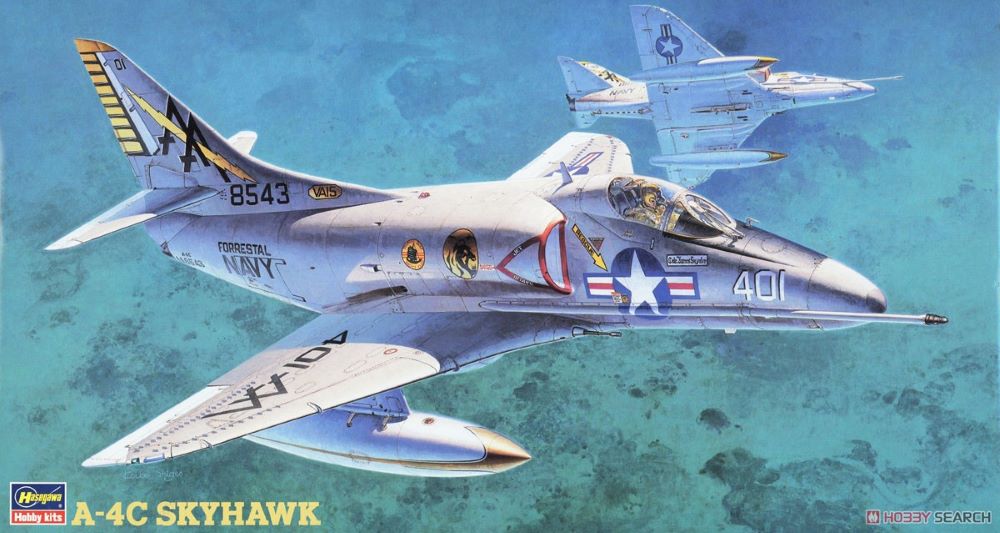 Hasegawa 1/48 A4C Skyhawk USN Attacker
$43.25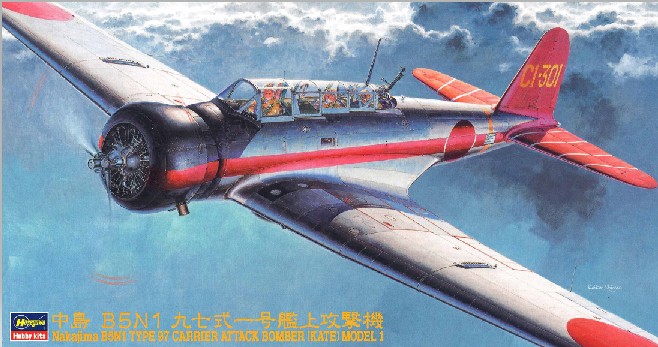 Hasegawa 1/48 Nakajima B5N1 Type 97 (Kate) Model 1 IJN Bomber
$47.00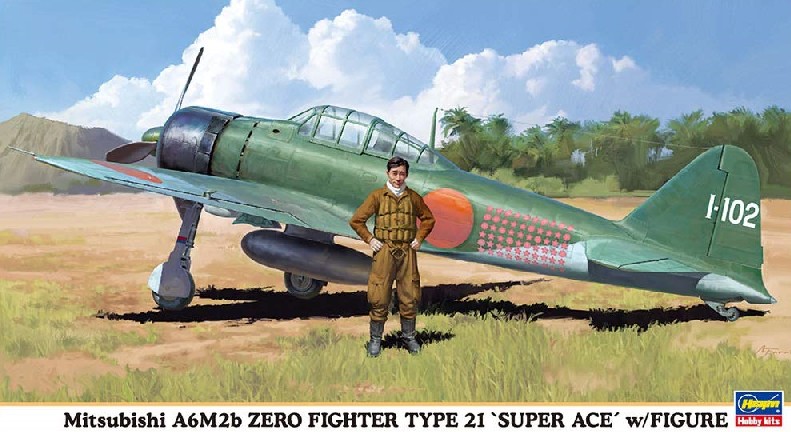 Hasegawa 1/48 Mitsubishi A6M2b Zero Type 21 Super Ace Fighter w/Figure (Ltd Edition)
$56.75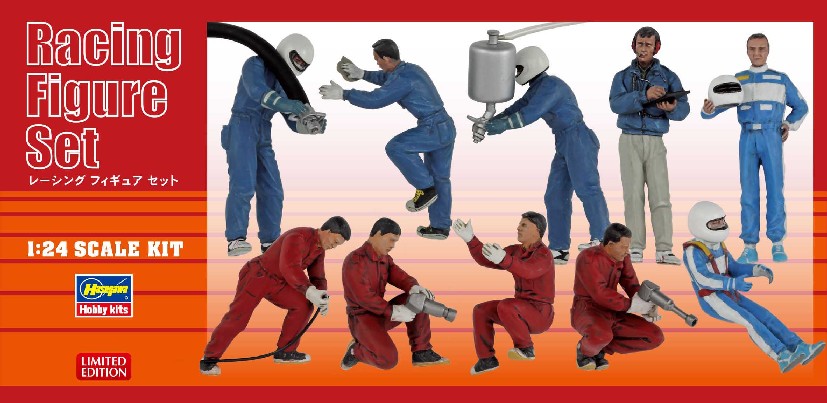 Hasegawa 1/24 Racing Figure Set: 2 Drivers & 8 Mechanics (10) (Ltd Edition)
$35.75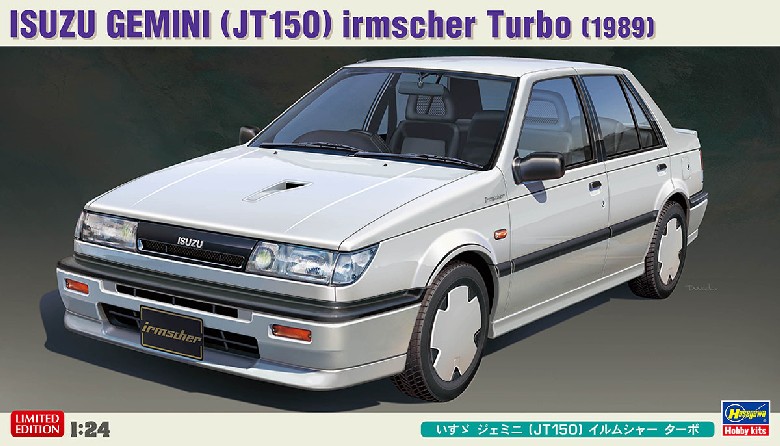 .
Hasegawa 1/24 1989 Isuzu Gemini (JT150) Turbo 4-Door Car (Ltd Edition)
$56.75

Hasegawa 1/24 1987 Nissan Skyline GTS (R31) Early Version 2-Door Car (Ltd Edition)
$56.75

Hasegawa 1/24 1966 Ford Thunderbird Lowrider Car (Ltd Edition)
$60.50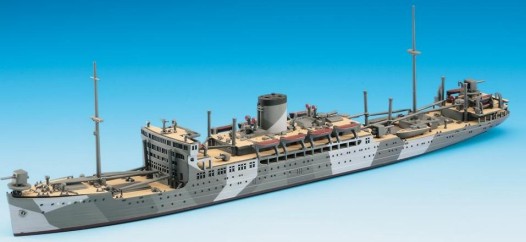 Hasegawa 1/700 Heianmaru Submarine Depot Ship
$27.25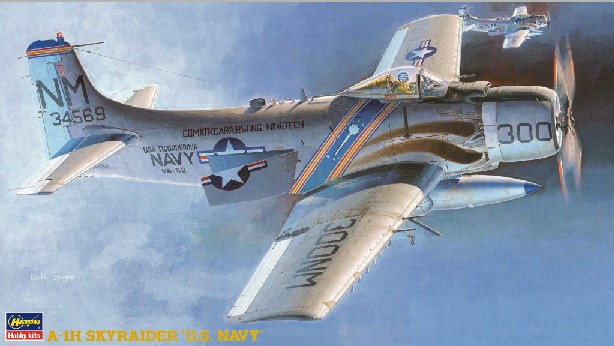 Hasegawa 1/72 A1H Skyraider USN Attacker
$28.50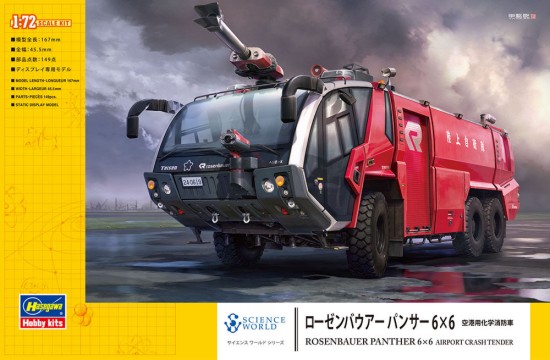 Hasegawa 1/72 Rosenbauer Panther 6x6 Airport Crash Tender
$49.50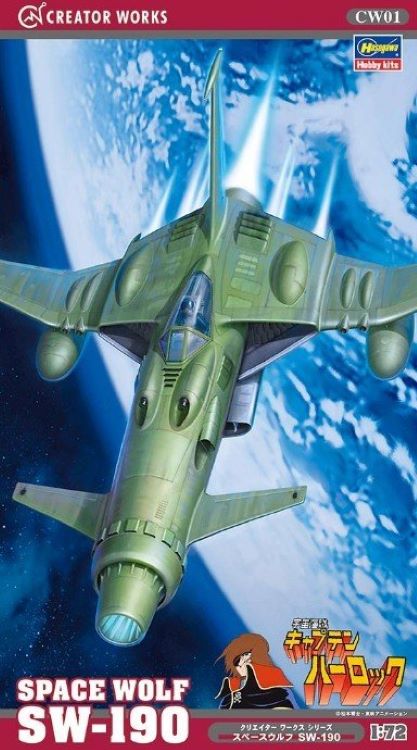 Hasegawa 1/72 Space Pirate Captain Harlock Wolf SW190 Space Fighter
$39.50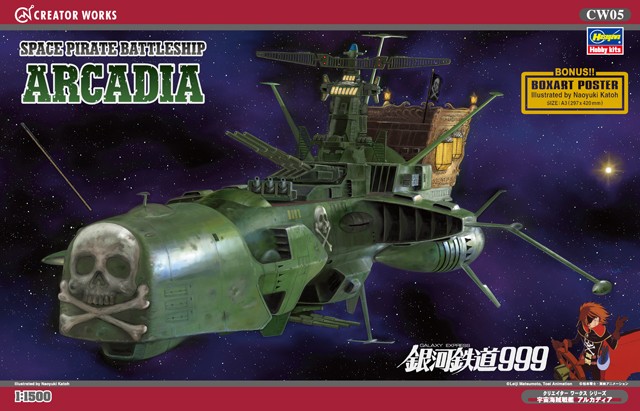 Hasegawa 1/1500 Space Pirate Battleship Arcadia
$86.50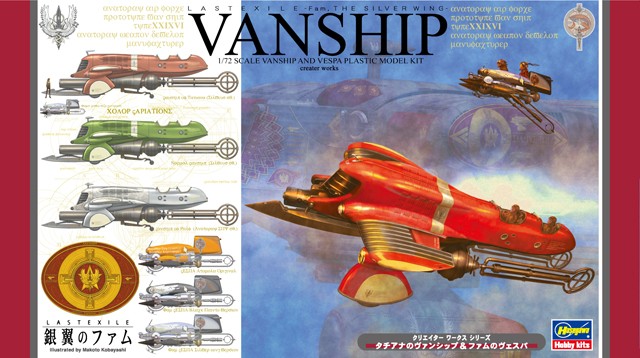 Hasegawa 1/72 Last Exile Fam Silver Wing Vanship & Vespa Flying Scooter (2 Kits)
$53.00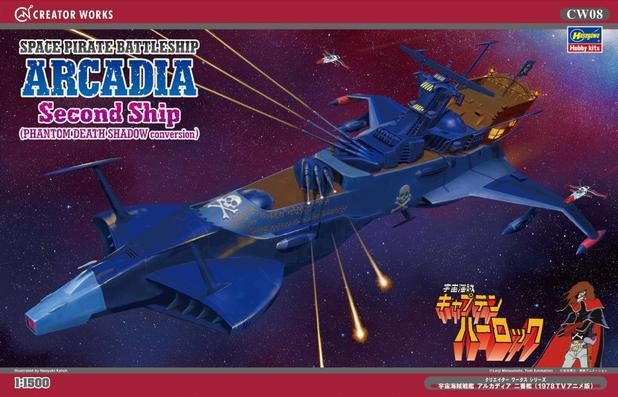 Hasegawa 1/1500 Space Pirate Battleship Arcadia 2nd Ship Phantom Death Shadow Conversion
$86.50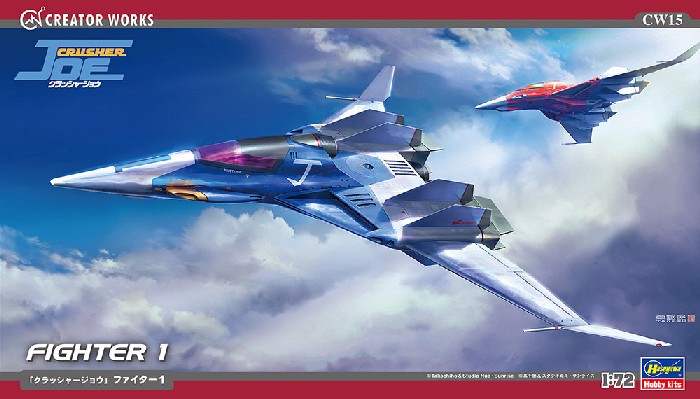 Hasegawa 1/72 Crusher Joe Fighter 1 w/2 Figures
$43.25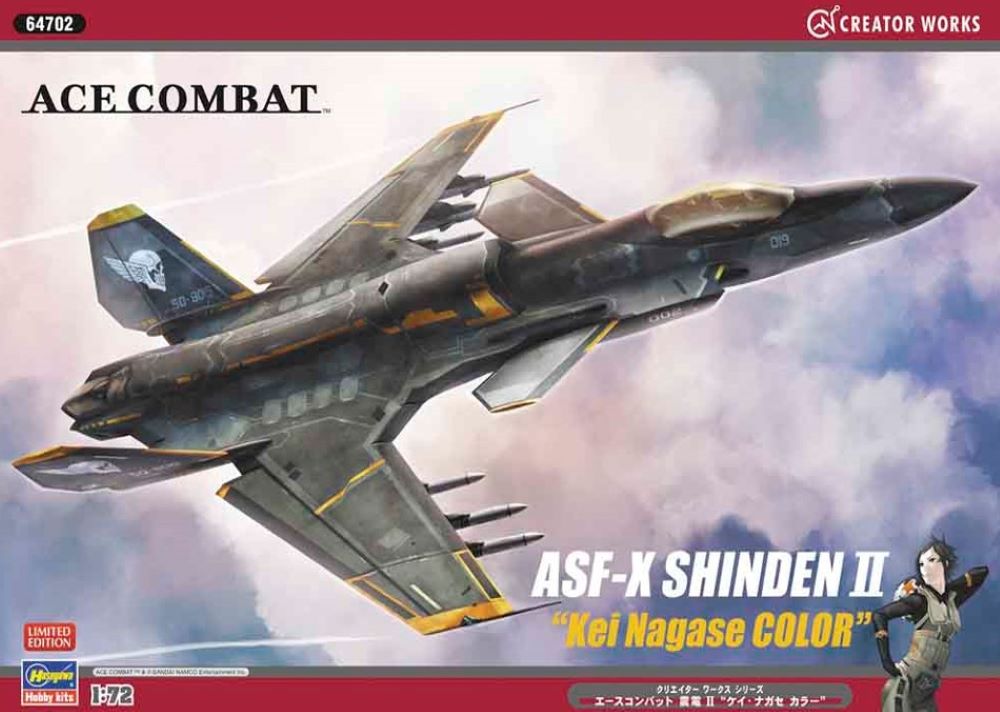 Hasegawa 1/72 Ace Combat ADF-X Shinden II Kei Nagase Color Aircraft (Ltd Edition)
$64.25

Caracal Decals 1/144 KC-10 Extender
$17.50
Based on the DC-10 airliner, the KC-10 Extender has served USAF as a tanker & cargo aircraft since the 1980s. This decal sheet is designed for the old Revell kit, and features accurate markings for six examples representing different schemes worn by USAF KC-10s since the type's introduction.
The options on this decal sheet are:
KC-10 79-1950 "City of Moreno Valley", 22 ARW, March AFB, 1992
KC-10 83-0082 "Bayou Babe", 2BW, Barksdale AFB, 1992
KC-10 84-0189, 1986
KC-10 86-0030, Seymour-Johnson AFB, 1993
KC-10 84-0186, 305 AMW, McGuire AFB, 2017
KC-10 79-1713, 60 AMW, Travis AFB, 2017

Caracal Decals 1/144 Royal Air Force C-130J Hercules
$17.50
Designed for the Minicraft C-130J kit, this decal sheet features three spectacular special schemes recently worn by Royal Air Force Hercules C5 (C-130J) transport aircraft to commemorate various anniversaries.
The options on this decal sheet are:
Hercules C5 (C-130J) ZH880, 47 Sqn 100th anniversary scheme, RAF 47 Sqn, 2016
Hercules C5 (C-130J) ZH883, Hercules 50th anniversary scheme, RAF 47 Sqn, 2016
Hercules C5 (C-130J) ZH887, RAF 100th anniversary scheme, RAF 47 Sqn, 2018

Caracal Decals 1/48 F-117A Stealth Fighter
$17.50
Our first 1/48 sheet for the F-117A features a comprehensive selection of options covering the entire service history of this important aircraft. In addition to examples attached to every operating unit in Holloman during the 2000s, we provide markings for 6 aircraft that flew in Desert Storm; each with unique bomb bay artwork and accurate crew names. Markings for "Vega 31", the only F-117 to be lost in action, are also included.
The options on this decal sheet are:
F-117A 80-0788, 49th FW commander's jet, 2007
F-117A 86-0839, 49th OG commander's jet, 2006
F-117A 82-0806, 7th FS, "Vega 31" - the F-117 shot down over Yugoslavia 1999
F-117A 84-0811, 410th FLTS, Edwards AFB, 2007
F-117A 81-10797, 7th FS commander's jet, Holloman AFB, 2006
F-117A 82-0800, 8th FS commander's jet, Holloman AFB, 2007
F-117A 84-0809, 9th FS commander's jet, Holloman AFB, 2007
F-117A 86-0837, 7th FS, Holloman AFB, 2006
F-117A 88-0842, 8th FS, Holloman AFB, 2003
F-117A 86-0823, 9th FS, Holloman AFB, 2007
F-117A 82-0803 "Unexpected Guest", 416th TFS, 1991
F-117A 85-0814 "Final Verdict", 416th TFS, 1991
F-117A 85-0834 "Necromancer", 416th TFS, 1991
F-117A 85-0825 "Mad Max", 416th TFS, 1991
F-117A 88-0841 "Mystic Warrior", 416th TFS, 1991
F-117A 86-0821 "Sneak Attack", 416th TFS, 1991

Caracal Decals 1/48 B-1B Lancer Part 2
$18.50
Our second sheet for the B-1B features six marking options for overall gray B-1B strategic bombers, each with unique nose art. The aircraft featured on this sheet are:
B-1B 85-0069 "Home Improvement", 127th BS, McConnell AFB
B-1B 86-0133 "Old Crow Express III", 28th BS, Dyess AFB
B-1B 86-0134 "Thunder Bird", 34th BS, Ellsworth AFB
B-1B 86-0135 "Deadly Intentions", 28th BS, Dyess AFB
B-1B 86-0117, 7th BW, Dyess AFB
B-1B 85-0059 "The Last Laugh", 116th BW, Robins AFB
Extensive stencilling (printed by Cartograf) and wing walkways are also provided.

Caracal Decals 1/48 F-15 Eagle 'The Early Years'
$17.50
In our new "The Early Years" series, we will cover prototype and early production aircraft for many important US fighter/bombers. The first sheet in this series is dedicated to the first few years of the F-15 Eagle. Eight marking cover Eagle prototypes, FSD (full-scale development) and early service aircraft.
The options on this decal sheet are:
F-15A 71-0280 first F-15 flight
F-15A 71-0283
F-15A 71-0285
F-15A 72-0119 "Streak Eagle" record breaker
F-15A 71-0284
F-15A 73-0103, 58th TFTW
F-15B 73-0111, 58th TFTW
F-15B 73-0112, 58th TFTW

Caracal Decals 1/48 Britten-Norman BN-2 Islander
$17.50
Designed for the 1/48 scale Valom kit, this decal sheet features four marking options for the successful BN-2 Islander light transport aircraft.
The options on this sheet are:
Britten-Norman BN-2 Islander "G-AXDH", "Red Devils" Parachute Team
Britten-Norman BN-2 Islander "G-HEBS", Hebridean Air Service
Britten-Norman BN-2 Islander "G-AXWR", Aurigny Air Service
Britten-Norman BN-2 Islander "AS9819", Armed Forces of Malta

Caracal Decals 1/72 AV-8B Harrier II Plus
$17.50
This 1/72 decal sheet for the second generation Harrier features up-to-date markings for four US Marine Corps aircraft and one Italian Navy jet with colorful commemorative tail art. The 5 options on this sheet are:
AV-8B+ BuNo. 165354, USMC VMA-542, 2016
AV-8B+ BuNo. 165572, USMC VMA-214, 2015
AV-8B+ BuNo. 165595, USMC VMA-214, 2014
AV-8B+ BuNo. 165421, USMC VMA-211, 2016
AV-8B+ 7224, Italian Navy, 2014
Wednesday, May 1, 2019

Panda Model 1/35 TBMP T-15 with 57mm Gun
$86.50
- The T - 15 Infantry Fighting Car is a heavy duty tracking IFV developed as part of Russia 's Heavy Duty Platform Platform [Almata] series.
- T-14 tanks of the same [Almata] series are common with many components, but the interior layout varies considerably due to the difference in application In general IFV layout, the front part of the body is the engine room, the center part of the car body Is a car room, gunner, three passenger rooms of the pilot, and the rear of the car body is a troop room which houses nine full armed infantry.
- T-15 has armor defense and mobility comparable to T - 14 by sharing platform with T - 14.
- This time the information guide kit is three-dimensionalized with a fire support type equipped with a 57mm cannon in the turret.

Kitty Hawk 1/32 RF-5E Tigereye
$149.75

Kitty Hawk 1/35 MH-60L Black Hawk
$174.75
- UH - 60 Black Hawk is a medium size multipurpose military helicopter with Sikorsky 4 - wing single rotor, twin engine.
- MH-60L Black Hawk is an improved helicopter of a special operational aircraft used in the 160th Special Operation Air Regiment of the US Army.
- T700 - 701C 37 machines were developed based on UH - 60L equipped with an engine.
- The kit comes with etched parts and multiple marking variations are included.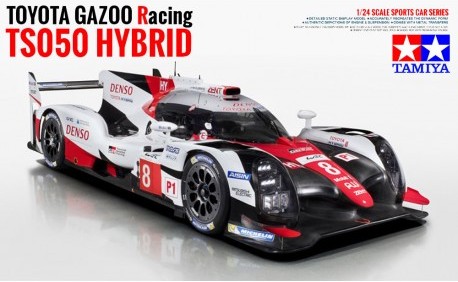 Tamiya 1/24 Toyota TS050 Hybrid Gazoo Race Car
$72.75
This Tamiya 1/24 model replica recreates the 2018 TOYOTA GAZOO Racing and their TS050 Hybrid car, which made a huge splash in the racing world thanks to a refined design with great aerodynamics and a hybrid powertrain pairing a 2.4-liter engine and lithium-ion battery.
• 1/24 scale plastic model assembly kit. Length: 194mm, width: 79mm, height: 44mm.
• The form of the 2018 version of the TS050 Hybrid is captured with superb accuracy: updated aerodynamics components (both exterior and interior), longer front fenders, and tweaked diffuser design.
• Interior features depictions of the driver seat, lithium-ion battery and more.
• Metal-plated part is used to recreate the silver section on the top of the cockpit.
• Also included are decals for the numerous sponsor logos on the number 7 and 8 cars, plus masking stickers for use in the paint job.
• Dedicated metal transfers recreate side mirror surfaces and headlight sections.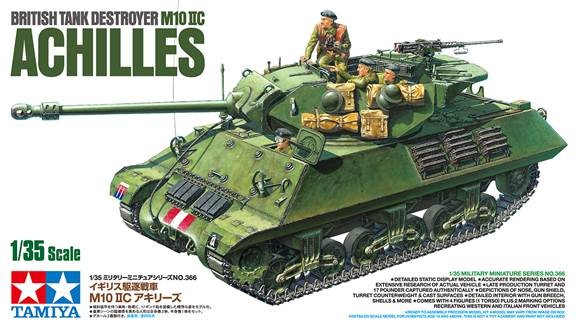 Tamiya 1/35 British M10 IIC Achilles Tank Destroyer
$62.75
This is a Tamiya model replica of the British Achilles tank destroyer. The Achilles was a modification of the M10s which Britain received from the U.S., with the original 3-inch main gun replaced by the fearsome British 17 pounder. The vast majority of M10s were the M10 IIC variant, which was based upon the late-production M10 with distinctive enlarged turret-rear counterweight. Around 1,000 were produced between Spring 1944 and the end of WWII, the Allied forces making good use of it after the Normandy landings, benefiting from the power of the gun which allowed it to tear through Tiger I front armor.
• 1/35 scale plastic model assembly kit.
• Features newly-molded parts depicting the upper hull with its sloped armor, late production M10 turret counterweight, and long 17pdr gun.
• Interior features depictions of shell racks and multi-part 17pdr gun breech.
• Comes with 3 full body figures – gunner and loader seated in the fighting compartment, and commander seated on the turret edge – plus a driver torso figure.
• Lower hull, suspension, wheel and track parts are carried over from the acclaimed Tamiya 1/35 model of the M10 that served as the Achilles' base.
• New sprocket wheel parts depict late M10 components.
• Marking options depict 93rd Anti-Tank Regiment (Italy, 1944) and 75th Anti-Tank Regiment (NW Europe) vehicles.
Friday, May 3, 2019

Squadron Signal Books - A-20 Havoc In Action (SC)
$20.75
A-20 Havoc In Action. Book by David Doyle. Squadron Signal Books. The Douglas A-20 Havoc was a light bomber, attack, and intruder aircraft of World War II. Used by the American Army Air Forces, nearly one-third of the aircraft served with the Soviet military, while many other A-20s fought with the RAF. Taking its first operational shape on the eve of the outbreak of the war in Europe, the 7B prototype actually crashed with a French observer aboard, kicking off a scandal in still-isolationist America where military aircraft were not to be exported. U.S. President Franklin Roosevelt pressed for a change in that restrictive rule and the French, impressed by the plane's rugged dependability and maneuverability, proceeded to place orders for 100 of the aircraft, albeit with modifications that resulted in the DB-7 version. Even before shipments began in November 1939, Paris had increased its order by another 170 aircraft. Many of those, however, found their way into the British RAF, which flew them under the nickname "Boston" after the fall of France in June 1940. The U.S. Army Air Corps issued its first contracts for the aircraft they called the A-20 and A-20A, in May 1939, these were only delivered during the months from late 1940 through much of 1941. A dozen A-20As had recently arrived in Pearl Harbor when the Japanese surprise attack destroyed two of them on the ground. Modifications of the design continued and it was after the U.S. entry into the war when the A-20C version, produced by Douglas and Boeing, first were accepted. Of the first 515 A-20Cs, 108 were retained by the U.S. Army Air Forces, while 407 were shipped off to the Soviet Union. Numerous versions of the aircraft followed. About half of the A-20G were sent to the Soviet Union, as were many of the A-20H. In fact the Soviet air forces had more A-20s than the USAAF. Illustrated with 192 vintage photographs and detailed line drawings. 80 pages.

Squadron Signal Books - A-26/B-26 Invader In Action (SC)
$20.75
A-26/B-26 Invader In Action. Book by David Doyle. Squadron Signal Books. The Douglas A-26 Invader served the United States with distinction in various combat roles during World War II, Korea and Vietnam. Originally created as an attack aircraft, with the designation A-26, the Invader was designed to replace the A-20 Havoc, North American B-25 Mitchell and the Martin B-26 Marauder for the U.S. Army Air Forces. However, production delays prevented the aircraft from reaching the field until June 1944. With as many as 14 forward-firing .50 caliber machine guns as well as bombs and rockets, the Invader was well-suited for ground strikes when the Korean War broke out in 1951. The Invader flew into combat and carried the markings of the U.S. Air Force as the redesignated B-26. Later, the French used the Invader during their war in Vietnam. Shortly after the United States entered the conflict, Invaders returned to the sky over Vietnam in the hands of American as well as South Vietnamese crews. In order to base the aircraft type in Thailand, which prohibited the USAF bombers, the Invader was once more classified as an attack aircraft, and the A-26 designation returned. Illustrated with more than 175 photos, 35 of which are in vintage color, as well as two color profile illustrations and 10 line drawings. 80 pages.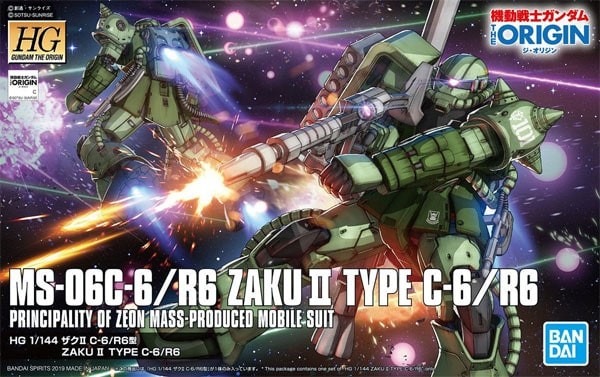 Bandai 1/144 HG Gundam The Origin Series: #025 MS06C6/R6 Zaku II Type C6/R6
$27.75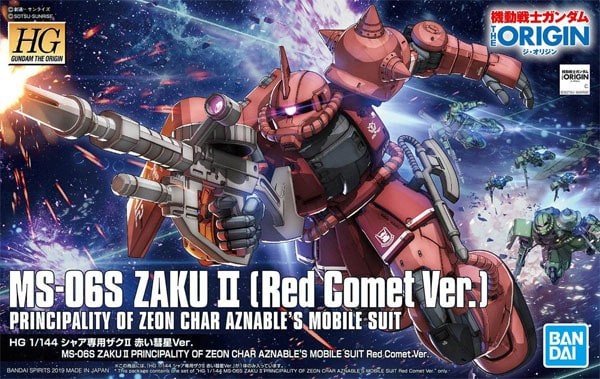 Bandai 1/144 HG Gundam The Origin Series: #024 MS06S Zaku II Red Comet Version
$27.75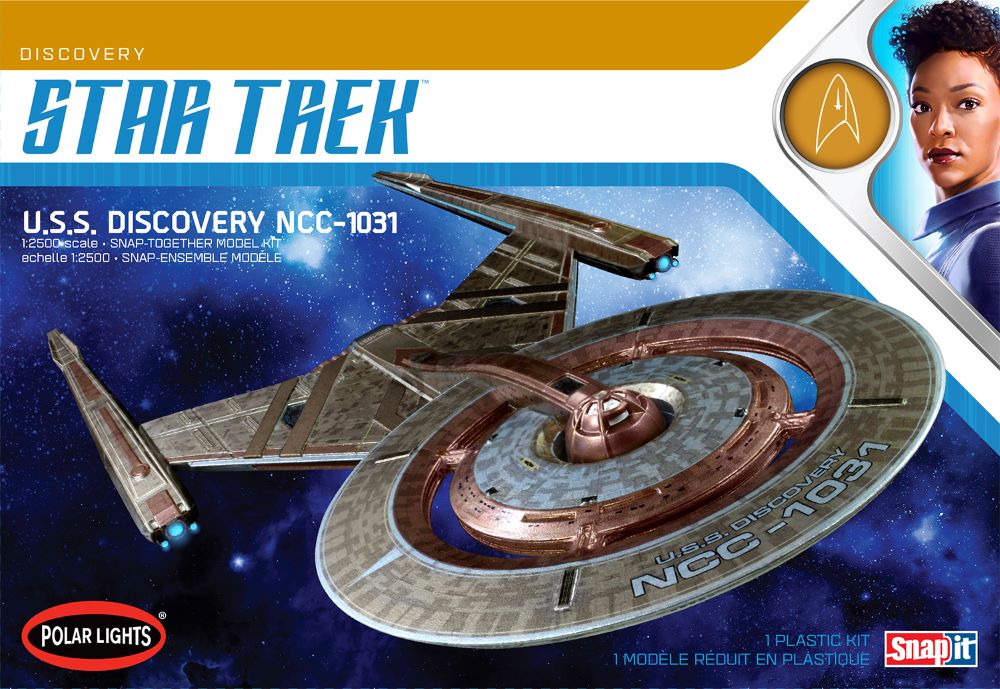 Polar Lights 1/2500 Star Trek Discover Series USS Discovery NCC1031 (Snap)
$46.75

Dragon 1/35 IDF M60 Tank with Dozer Blade
$99.75
Dragon's latest IDF item is a 1/35 scale plastic kit of an M60 tank fitted with an M9 dozer blade. The kit uses the previously released and very popular IDF Magach 6 tank, to which an M9 dozer blade has been installed. This tank also features Blazer add-on explosive reactive armor (ERA). With a dozer blade fitted, such vehicles were very useful whenever obstacles needed to be cleared or where defensive earthworks were required. This 1/35 scale kit has superb features, including the correctly arranged ERA modules. Each module fits onto the turret and hull easily and with precision. Of course, the distinguishing feature of this particular kit is the impressive-looking M9 dozer blade. This element is completely new, and it can be depicted in either raised or lowered position depending on what dioramic scene the modeler is trying to recreate. The blade is cleverly produced from multiple parts in order to accurately render its form. With this kit, no obstacles remain in the way for modelers to produce a stunning Israeli AFV!

Dragon 1/35 Panzerkampfwagen VI(P) / Bergepanzer Tiger(P) (2in1)
$109.75
Continuing Dragon's wave of 2-in-1 kits is this convenient 1/35 scale set that allows modelers to build either a Tiger (P) coated or a Bergepanzer Tiger (P). Only five Tiger (P) vehicles were produced in 1942. They were issued for training and testing purposes and only one saw combat as a command tank on the Eastern Front in September 1942. Three hulls were also converted into Bergepanzer recovery vehicles in September 1943. These featured a raised superstructure at the rear and the only recovery equipment installed was a small derrick crane, rams and timber beams. Modelers can decide which version of the Tiger (P) they wish to build – either the Tiger (P) tank with Zimmerit already molded on, or the Bergepanzer Tiger (P) without any Zimmerit on the hull. That means the kit contains two complete hulls and chassis. Different photo-etched parts for each vehicle type are included in the box too. Either vehicle assembles with ease, and the Bergepanzer Tiger (P) in particular has been out of stock for some time, leaving modelers with some hard choices ahead!

Dragon 1/35 Jagdpanther Ausf.G1 Late/Ausf.G2 (2in1)
$103.75
Dragon earlier released a 1/35 scale 2-in-1 kit of an early-production Jagdpanther, and it proved very popular amongst the modeling fraternity thanks to its versatility. Now Dragon is releasing a second 2-in-1 incarnation of the Jagdpanther, this time offering a later version of the G1 and a G2. Modelers can of course decide which variant to build, as all necessary parts are included in the box. The kit includes two complete fighting compartments and all sorts of other parts such as different roofs, exhaust mufflers and armored covers. To sustain the highest quality of Dragon's kits, the kit comes with a range of photo-etched parts such as tool clasps to enhance details. Given the enduring popularity of the Jagdpanther and the flexibility of this 2-in-1 kit, it will certainly and quickly become a favorite too.

Dragon 1/35 Sd.Kfz.165 Hummel (2in1)
$103.75
Sd.Kz.165 Hummel's combat debut occurred during the titanic Battle of Kursk. Operated by a crew of six, the SPH carried 18 rounds for the main armament and more than 700 were built by the end of WWII. An easy identifying feature between Early- and Late-Production variants of the Hummel is the driver's/radio operator's compartment. On early vehicles, the driver received a small compartment that jutted out of the glacis plate. On later vehicles, this crew compartment was extended the full width of the hull to also enclose the radio operator. This 2-in-1 kit, built precisely to 1/35 scale, allows modelers to create either an Early-Production or Late-Production Hummel. To account for the different production runs, there are two complete upper hulls as well as different drive sprockets, for example. Indeed, everything needed to produce an accurate variant is included in the box. The engineering is top notch too, with Razor Edge techniques utilized for the armored superstructure to produce a true-to-scale appearance. This allows interior fittings to be accurately sized and shaped. Furthermore, an aluminum gun barrel is offered for the 15cm gun. To cap it all off and leave modelers buzzing, the Hummel kit box top features one of Ron Volstad's famous vintage illustrations of this SPH. The flight of the bumble bee has soared to new heights with this 2-in-1 offering!

Dragon 1/35 T1E1 Heavy Tank (3in1)
$99.75
Heavily armed, the T1E1 featured a 76.2mm main gun and 37mm coaxial gun in a three-man turret. There were also two 0.30-cal machine guns in the bow, another in the commander's cupola and a 0.50-cal machine gun on a rotor mount at the rear of the turret for antiaircraft use. It required a crew of six.
Under its Back Label line of plastic kits, Dragon has created a splendid 1/35 scale kit of the Heavy Tank T1E1. Black Label already offers kits of the M6 and M6A1 in the same scale, so this is a useful addition to this interesting family of US tanks.b> The kit features a brand new upper hull with the engine deck details different from the M6 and M6A1, and new lower hull rear plate. Details are carefully rendered and it fits together easily. Moreover, a US tank crew figure set is included as BONUS. This is the perfect chance to scoop up and complete this trio of US heavy metal! Actually this kit is a 3 in 1 version, that consists of parts for building one of T1E1 or a M6 or a M6A1.

Dragon 1/35 Sd.Kfz.10 Ausf.A with 10.5cm leFH18/40
$109.75
As part of its Combo Kit campaign to offer convenient and appealing vehicle pairings, Dragon is offering two complementary subjects in its latest release: a German Sd.Kfz.10 1t halftrack towing a 10.5cm le.FH.18 howitzer. These two are just made for each other, with the halftrack widely employed to tow the artillery piece. Indeed, the Sd.Kfz.10 was conceived as a prime mover for small, towed antitank or antiaircraft guns. This is yet another stunning combination with instant appeal for modelers. The vehicle and weapon kits themselves are the same as when they were released individually, for their engineering quality and accuracy remain top drawer. The halftrack features a complete interior, as well as internal components like the engine and gearbox. The field gun can be depicted hitched to the back of the halftrack, or it can be presented in firing mode. What's more, modelers can obtain this Combo Set more cheaply than having to buy them separately. Two complete kits in a single box! It's definitely a steal at this price!

Dragon 1/35 2cm Flak 38 mit Sd.Ah.51 & Flak Crew
$43.25
Germany fielded a number of antiaircraft weapons during WWII, and one of the smallest was the FlaK 30 and its modernized version the FlaK 38. These cannons were of 20mm caliber and were the most widely produced German artillery pieces of the war with thousands manufactured. The FlaK 38 was mounted on a single-axle Sonderanhangar 51 (Sd.Ah.51) towed carriage. As well as targeting low-flying aircraft, the weapon could also be used effectively in the ground role. Dragon is now offering a very useful 2-in-1 kit of the FlaK 38, offering modelers to build either an early-production or late-production version of it. There are slight differences in the two versions, and Dragon supplies all necessary components to build either one. Modelers can pose the gun at various elevations or degrees of traverse, or it can be assembled in transport configuration. Making the FlaK 38 even more desirable is a complete gun crew and its associated Sd.Ah.51 trailer. A dramatic diorama can thus be built straight from the box, and its 2-in-1 characteristics give more versatility. This may be a small kit, but it offers a huge amount of enjoyment!

Dragon 1/35 Panzer Pz.Kpfw.III Ausf.E/F (2in1)
$99.75
Dragon is releasing another attractive 2-in-1 kit in its 1/35 scale range, this time representing a Pz.Kpfw. III tank, a mainstay of Germany's panzer force in the early years of WWII. This new kit offering allows modelers to build either a Panzer III Ausf.E or Ausf.F variant of the tank. Particularly in the Blitzkrieg campaigns in Poland, France, the Balkans and Russia, the Panzer III was a vital asset. There weren't many differences between the Ausf.E and F, but changes did include cast air intakes fitted on the front hull; splash guard on top of upper hull; side plates of upper hull and alternative road wheels for the two variants are all supplied in the kit's box. Thanks to the widespread application of slide molds, details are beautifully recreated with a minimum number of parts. Photo-etched components ensure absolute realism too. Both two versions now are contained within a single box for maximum modeling appeal. This set is a must-have for modelers seeking to create a diorama or scene from the Blitzkrieg era.

Dragon 1/72 Sd.Kfz.251/2 Ausf.D mit Wurfrahman 40 (2in1)
$33.50
German's Sd.Kfz.251 halftrack series proved highly versatile throughout WWII, and numerous variants were produced over the course of its life. One version was the Stuka zu Fuss mounting the Wurfrahmen 40 rocket launcher system, ideal for providing a heavy bombardment capability to panzergrenadier units. The new Dragon 1/72 kit features such fighting vehicle, offering two options for modelers to build either a vehicle with 32cm incendiary projectiles/wooden crates or a vehicle with 28cm incendiary projectiles in steel crates.

Dragon 1/72 Sd.Kfz.251/7 Ausf.D Pioneerpanzerwagen (2in1)
$33.50
German's Sd.Kfz.251 halftrack series proved highly versatile throughout WWII, and numerous variants were produced over the course of its life. One version is Sd.Kfz.251/7 Pionierpanzerwagen, which was issued to combat engineers in Panzerpionier companies. This new Sd.Kfz.271/7 offers two options for modelers to build either a normal 251/7 w/MG or a 251/7 with 2.8cm sPzB 41 AT gun. The kit features the characteristic assault bridges that are accurately reproduced in 1/72 scale.
New Items Available to Order - Apr 22 - Apr 26
Tuesday, April 23, 2019

Auto World HO Trans America Slot Car 10' Racing Set
$153.00
Starting in the late 1960's, the best of American muscle cars took to some of the most celebrated road circuits across the US, competing for the TRANS AMERICA racing title. Now you can enjoy all of the thrill and excitement of racing these authentic Trans America cars right at home on your very own racing circuit track.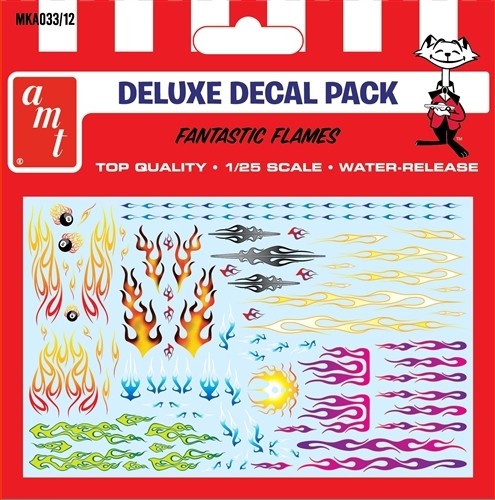 Polar Lights 1/25 Fantastic Flames Decals
$14.75

Great Wall Hobby - Egg Plane F-35A Lightning II USAF/RAAF [SNAP FIT]
$24.75

Great Wall Hobby 1/72 F-15J Eagle JASDF Air Combat Meet 2013
$59.25
- Included Etching Parts attached to SNG 03E in the kit of [SNG 03: F - 15 J Air Self Defense Force Technical Competition 2013] and additional additional weapon parts included with SNG 03 SP and new additional decals.
- New addition decals: AAM - 4, AAM - 5 missile caution marks and belts, the number of eagle manes transferred to the ninth flight of Naha base in 2016 and the 204th squadron high visibility · Bonus entrance of the low visibility mark and the 304 squadron Lobidge mark.
- Kit contents
- Two detachable engine parts are included
· Decal attached: The pirate bear at the time of participation of the 2013 Air General Squadron Battle Technical Competition of the 203rd Squadron (Mark 832, 895) Marking, 204 Squadron of Regular Painting Naha Base 919, No. 203 Flight Team Chitose Base 894 No. In addition to the mark of all belonging units (around 2009 - 15).
· Attached armament: AIM-7 Sparrows air-to-air missile, 90 type air-to-air guided aircraft AAM-3 × 4,600 gallon each with an additional tank × 3
· Attached Etching Part Contents (same as SNG 03E): Nose blade antenna, Pitot tube, Engine rear holder, seat belt, front leg cord, main leg brake pipe, rear body inlet, rear mirror, foot pedal
· Additional weapon (same as SNG 03SP): 99 type air-to-air guided missile (AAM-4), 04 type air-to-air guided missile (AAM-5), AN / ALQ-131 ECM pod, ASQ-T-34ACT-R pod
· 1 machine

Great Wall Hobby 1/72 F-15C Eagle MSIP II USAF & ANG
$59.25
- The third bullet of the Great Wall Hobby 1/72 scale F - 15 Plastic Model is the American Air Force 's single seat F - 15C fighter!
- The MSIPII of modernization renovation type of F - 15C currently being operated on the front line than deployment in 1976 is finally released.
- 1 machine
- Total length: about 270 mm
- Accessory weapons: AIM-120C, AIM-9X × 2 610 gallon each tank × 2
[Accessory marking (all 2 types)]
· Oregon Air Force Aggressor Camouflage No. 502
· No. 18 Battlefield No. 44 Battle Squadron ZZ No. 114
Thursday, April 25, 2019

ADH Publishing - Tamiya Model Magazine Issue 283 May 2019
$10.00
A sublime build of Tamiya's classic 1:48 Gloster Meteor F.3; Tamiya's all-new Ford GT super-car in 1:24; Tamiya's 1:35 LRDG icon; New kit and model product news; Airfix's new-tool 1:72 B-25C/D Mitchell in North Africa camo; Building the Beemax 1:24 Group B Audi
Sport Quattro S1; New and recently issued modelling accessories; New full model kits; Scott Withers builds Moebius Models' 1:6 Robot B9 kit and adds sounds and lighting effects; New and recent books related to scale modelling; Where to buy the products used and reviewed in TMMI; The Editors Page - Zvezda has transformed itself in recent years.

ADH Publishing - Military Illustrated Modeller Magazine Issue 97 May 2019
$14.75
What's happening in modelling and aviation; Lancaster Cockpit Close-Up by Brett Green; Dora Wings 1:48 Percival P.10 Vega Gull and Percival Proctor Mk.III; Part Two - HK Models' 1:32 Lancaster B.Mk.I by James Hatch; Kinetic 1:48 F/A-18D ATARS; Tamiya's new 1:72 Messerschmitt Bf 109 G-6 by Brett Green; MiniArt's 1:48 Fl 282 Kolibri by Tony Bell; Encore Models 1:32 Fokker F.I by Gary Edmundson; Hasegawa 1:32 Junkers Ju 87 G Stuka Kanonvogel by Chris Wauchop; What's coming up in the next issues of Military Illustrated Modeller; TailPiece - Tornado Farewell.

ADH Publishing - Model Military International Magazine Issue 157 May 2019
$12.25
Grosstraktor by John Prigent; Bronco 1:35 M119A1; Tiger Model 1:35 AMX-10RC by Kamil Feliks Sztarbala; Zvezda 1:35 Panzer IV Ausf. E; IMA 1:35 Vickers Mk.IV by Mark Bannerman; Gecko 1:35 A9 Cruiser Tank; Tamiya 1:35 Tamiya 1:48 Panther G by John Bonanni; Italeri 1:35 M6 GMC WC-55; Stormtroopers 1:9 Dacian Warrior, 2nd Century AD by Adrian Hopwood; What's new in the world of military modelling; New model and history related titles; All the latest in figure modelling; News and new releases in 1:48 scale; What to look forward to next time; Australian Army protected mobility vehicles.

Green Strawberry 1/144 2001 Space Odyssey: Discovery XD1 EVA Pods Detail Set for MOE (Photo-Etch, Resin & Decals)
$49.50
Set contains: PE parts: - manipulator arms
Resin parts - 3x EVA pod

Green Strawberry 1/144 2001 Space Odyssey: Discovery XD1 Cockpit & Exterior Detail Set for MOE (Photo-Etch)
$70.50
Set contains:
PE Parts:
- acurate whole cockpit with color panel on sticker
- Exterior detail of air lock door
- engines exhaust detailed grills
- new detail for central antenna

Green Strawberry 1/144 2001 Space Odyssey: Discovery XD1 Hanger Bay Detail Set for MOE (Photo-Etch, Resin & Decals)
$143.00
Set contains:
PE Parts:
- sticker floor for antigravity section
- ladder to fly deck
- cargo door in warehouse
- airlock and computer room doors
- control panel in computer room
- 3x pods rotate platform
- EVA suit holder
Resin Parts:
- whole pod bay

Green Strawberry 1/537 Star Trek USS Enterprise NCC1701A Refit Detail Set for AMT (Photo-Etch)
$77.75
Set contains:
PE Parts:
- impuls engine grills
- details for Warp nacelles
- full detail arboretum including sticker
- full detail officer's lounge
- airlocks
- photon torpedo luncher
- details for scanner array
- new details for aft landing scanners
- navigation beacons
BONUS: - bridge docking assembly for HDAMODELWORX bridge (part number: IN0534)
Friday, April 26, 2019

Eduard 1/48 Bf109E4B/E7/F2 Barbarossa Aircraft Eastern Front Dual Combo (Ltd Edition Plastic Kit)
$116.00
Limited Edition kit of Bf 109 E and Bf 109 F-2 aircraft in 1/48 scale.
The kit is focused on a/c flown in Soviet Union during Operation Barbarossa and fall of 1941.
plastic parts: Eduard
No. of decal options: 11
decals: Eduard
PE parts: yes, pre-painted
painting mask: yes
resin parts: yes, seat, undercarriage wheels

Eduard 1/48 Mirage IIIC Shachak IAF Aircraft (Ltd Edition Plastic Kit)
$74.00
Limited Edition kit of Mirage IIICJ jet aircraft in Israeli air force service in 1/48 scale.
plastic parts: Eduard
No. of decal options: 5
decals: Cartograf
PE parts: yes, pre-painted
painting mask: yes
resin parts: yes, tail cone & exhaust nozzle

Eduard 1/72 Fokker D VII (OAW) Aircraft (Profi-Pack Plastic Kit)
$24.75
ProfiPACK edition kit of German WWI fighter aircraft Fokker D.VII in 1/72 scale.
The kit is focused on aircraft built by OAW factory.
plastic parts: Eduard
No. of decal options: 5
decals: Eduard
PE parts: yes, pre-painted,
painting mask: yes,
resin parts: no

Eduard 1/48 Fw190A3 Aircraft (Wkd Edition Plastic Kit)
$37.00
Weekend edition kit of German WWII fighter aircraft Fw 190A-3 in 1/48 scale.
plastic parts: Eduard
No. of decal options: 2
decals: Eduard
PE parts: no
painting mask:no
resin parts: no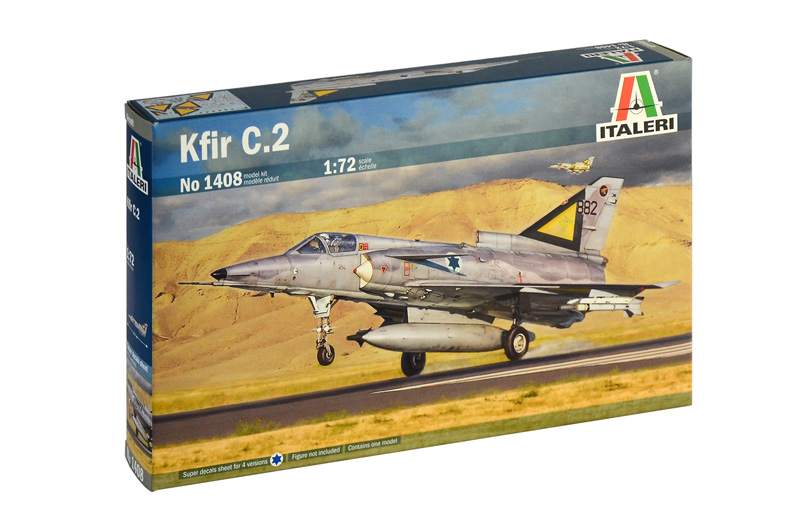 Italeri 1/72 Kfir C2 Israel Jet Fighter
$38.25
SUPER DECALS SHEET FOR 4 VERSIONS
The Kfir is an all-weather multirole combat aircraft produced by the Israel Aircraft Industries. It was mainly based on the French Dassault Mirage III / 5 airframe, but it adopted several improvements as the Israeli-built version of the powerful and reliable General Electric J79 turbojet engine or a complete new set of avionic equipment. Kfir programme has been originated to develop a more effective version of the IAI Nesher. The Kfir entered in service in 1975 and was assigned to fighter squadrons. During the time, some updated versions came out as the Kfir C7 charcterised by a powerful engine, better avionics and inflight refuelling capability. However, with the introduction of the new F-15, the reliable and robust Kfir changed its main role and it was used to perform strike missions. It is armed with two 30 mm. guns and it can load several types of missiles, bombs and rocket launchers.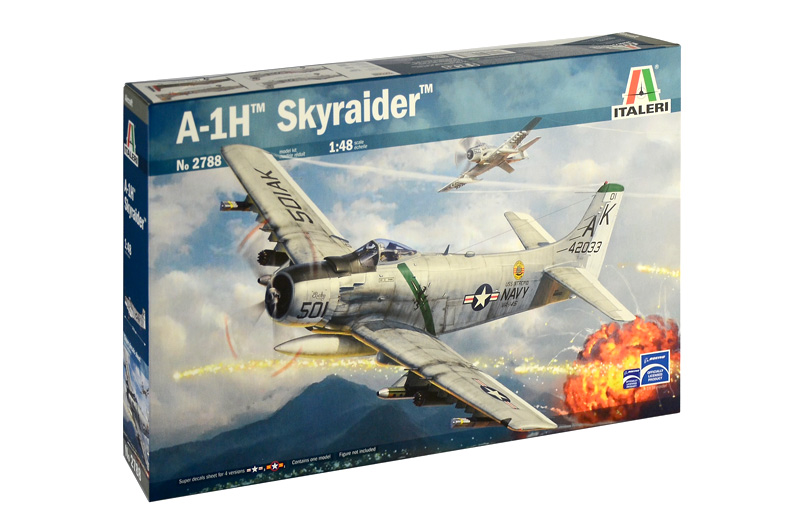 Italeri 1/48 Skyraider A1H USN Fighter/Bomber
$56.75
SUPER DECALS SHEET FOR 4 VERSIONS - COLOR INSTUCTIONS SHEET
The Douglas Skyraider was manufactured immediately after War World II. Despite its traditional piston motor, in an age when jets were spreading, the Skyraider had an extraordinary long career. It made its first flight in 1945 and it was retired from service only in 1975. It has participated to several conflicts, demonstrating its value in Korea and in Vietnam. Characterised by low speed manoeuvrability, it was able to transport impressive war cargos of over 3,500Kg. Perfect for ground attack missions, it was provided with robust armour to minimise fire damages from the enemy. The Skyrider A-1H, thanks to its powerful 2,700 HP radial engine, was able to reach the max speed of 322 mph and it was able to load an impressive variety of armaments. Further more it was equipped with four 20 mm. guns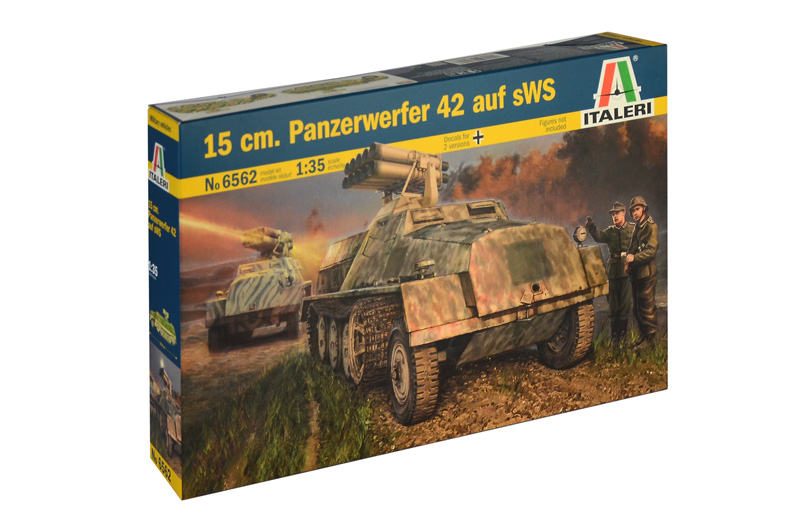 Italeri 1/35 Panzerwerfer 42 w/sWS 15cm Nebelwerfer German Rocket Launcher
$56.75
COLOR INSTUCTIONS SHEET
The Schwerer Wehrmachtschlepper (sWS) was developed as a medium half-track and used to transport supplies to front-line troops or as a towing vehicle for the light artillery. However, on the large rear flat load compartment some other applications have been developed. One modification was the Panzerwerfer 42 auf sWS, a 10 barreled 15 cm Nebelwerfer 42 rocket launched placed over an armored ammunition storage compartment. The rocket launcher, developed as device to create smoke screens, was soon used as real artillery able to launch high-explosive ammunitions. It could shoot the rocktes with impressive and deadly effects. The original structure of the transport vehicle was strengthened with additional shields to protect the crew from the enemy fire and from the negative effects of the rocket launcher.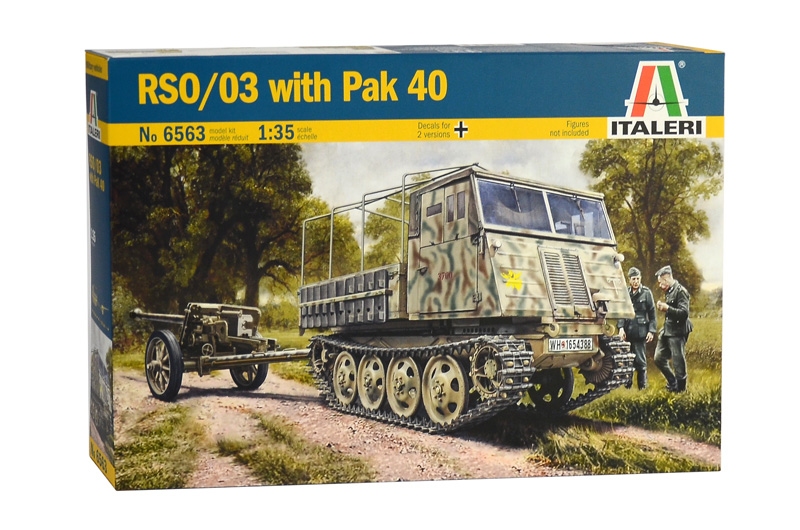 Italeri 1/35 RSO/03 German Tracked Vehicle w/75mm Pak 40 Gun
$66.00
COLOR INSTRUCTION SHEET
In order to cope with the poor road conditions on the Eastern front, the Germans built tracked tractors to tow all types of vehicles and also serve to carry various loads from ammunition and food supplies. The official description of this vehicle was "Raupenschlepper-Ost" (tracked tractor-East).The RSO was built by the Austrian manufacturer Steyr-works. It had a commercial-type pressed steel cab and a wooden cargo body. The next versions, as the RSO/03 built by Klockner-Humbolt-Deutz AG, had a simpler, soft-top, slab-sided metal cab. It proved ideal for the mud and slush conditions of the Russian front. Thanks to its "off road" capabilities it was used as artillery and anti-tank gun as the largely used 75 mm. Pak 40 towing tractor.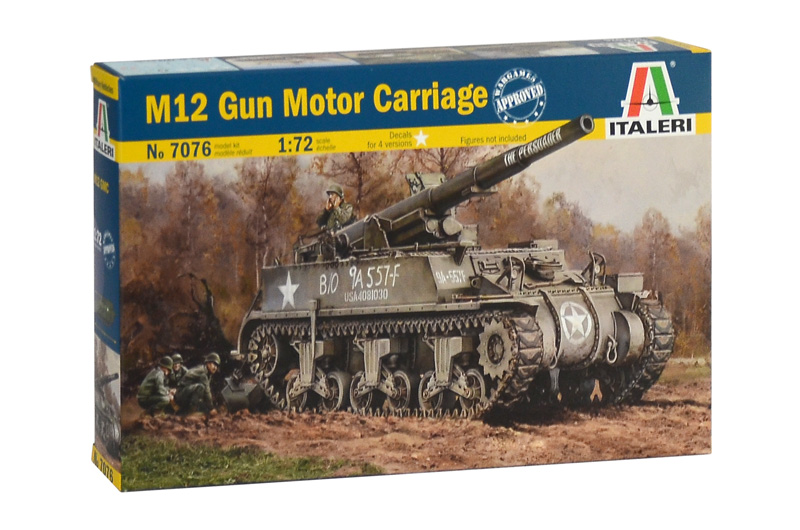 Italeri 1/72 M12 GMC US Army Tank Destroyer
$29.75
COLOR INSTRUCTION SHEET
The self-propelled gun GMC M12 was used during the Second World War by the U.S. Army. It was developed on the hull of the M3 Lee / Grant tank on which was installed the original French GPF 155 mm gun. The main armament, the ammunitions and the gun crew were located in an open topped area at the back of the vehicle. Only the driver's and the radio operator's seats were protected. To absorb the effects of the recoil when using the artillery piece, the M-12 was equipped with a rear blade that was lowered and fixed into the ground.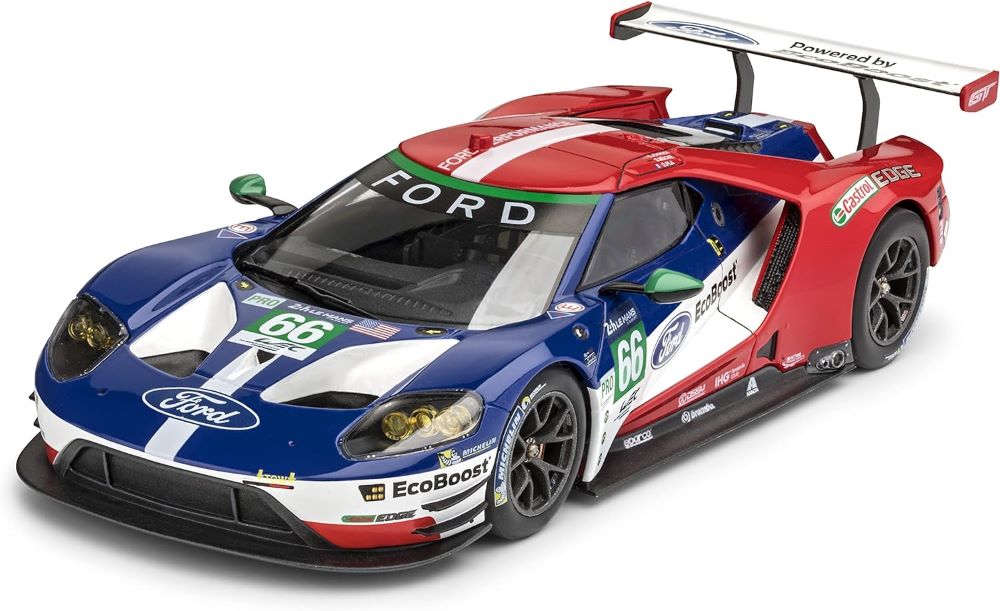 Revell USA 1/24 Ford GT LeMans 2017 Race Car
$33.25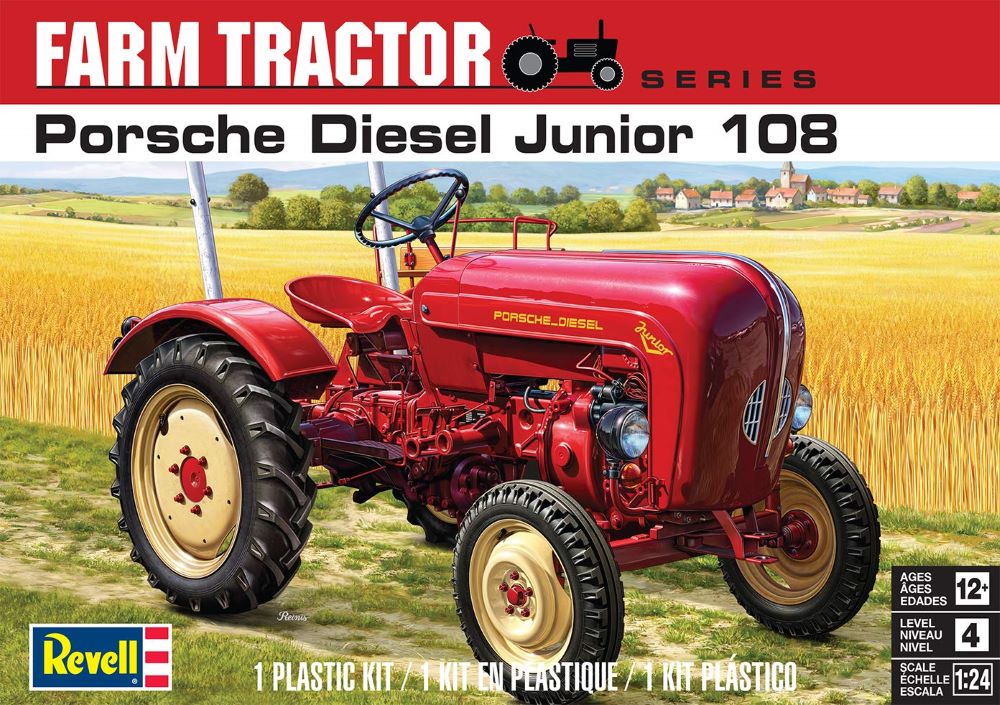 Revell USA 1/24 Porsche Diesel Junior 108 Farm Tractor
$24.75

Ammo by Mig - The Weathering Magazine #26 - Modern Warfare
$18.75
The Weathering Magazine is the only magazine completely focused on the painting and aging techniques of scale models and figures, created to meet your modelling aspirations. In this issue of The Weathering Magazine, we want to show you a cross-section of subjects representing modern battlefields, such as the veteran T-72 tank, the ultra-modern PUMA IFV, the M9 armored bulldozer, the fast CB-90 assault boat, and many more. Our contributors have created a series of innovative articles for you to learn from while demonstrating the techniques used to accurately and realistically represent modern combat machinery while integrating narrative elements of the environment surrounding them. Modern vehicles present a great opportunity for the modeler thanks to the amount of reference images available in color and in a high definition format that which also includes video recordings of the vehicles in action. The knowledge and experience gained will easily translate to any other era or subject while enriching your modeling skills.

Ammo by Mig - The Weathering Aircraft #12 Winter
$19.75
The Weathering Aircraft, your favorite publication focused on the techniques of painting and aging aircraft is proud to follow our twelfth issue by exploring the always popular subject of aircraft deployed to the harsh conditions of winter environments. The machines used during the winter season are an excuse for modelers to depict a large number of distinctive weathering effects on their models. For this, we will use different techniques in order to represent worn paint, oxidation, wet areas, chipping, mud, grease and dirt accumulations, and the scars of operating from frozen airfields.

Ammo by Mig - Modelling School: Railway Modeling / Painting Realistic Trains
$40.75
The growing desire of railway modelers to transform their electric railway models into super realistic vehicles in scale has finally found the perfect complimentary guide. This book is designed so that you can learn how to transform the clean toy-like appearance of pre-painted commercial railway models into realistic vehicles featuring the appropriate effects of wear and tear typical of these machines as seen throughout their operational life. We will show you how to create all the possible effects that appear on both locomotives and the many different types of railway stock of all eras. You will also learn how to improve your scenery and setting with simple and effective techniques that provide a more realistic appearance. Some of the best railway modelers in the world will show you how to apply the right products and techniques step by step, in order to achieve each effect in a fun and simple way. No matter if you are looking to transform your entire layout into completely realistic scenes or if you only want to create a small static diorama with a train model, this is the book for you.

Ammo by Mig - Solution Book - How To Paint WWII USA ETO Vehicles
$18.75
US military vehicles are one of the more interesting and attractive WWII subjects for lots of modelers. American armor and soft-skinned vehicles offer almost infinite possibilities with a range of models, versions, and settings from all over the world to be depicted in scale. Europe was arguably the most extensive theater of the war, it was here that a huge range of all types of equipment were put into service including artillery pieces, trucks, halftracks, tanks, and auxiliary vehicles such as bulldozers and cranes. With this guide, you can paint any olive drab-colored vehicle that operated in Europe. Although we have chosen an M4 Sherman tank as an example for this step-by-step guide, the same processes can be applied in exactly the same sequence and methods to any other US vehicle including trucks, jeeps, halftracks, or a tank or self-propelled gun. Now you just have to grab your favorite model and start painting without further delay! Keep in mind that all US vehicles in Europe were exposed to the same weather conditions, although some to a greater extent than others. You simply have to adjust the intensity of the weathering effects (mud, dust, dirt, oil and grease, chipping, etc.) to your subject and setting and then simply follow this easy to use guide. All the products shown are rather basic and the most adequate to recreate the effects shown. If you maintain the order of application and drying times stipulated, you will be rewarded with great results. Now buckle up and enjoy the experience of being guided by the hand of a master modeler!